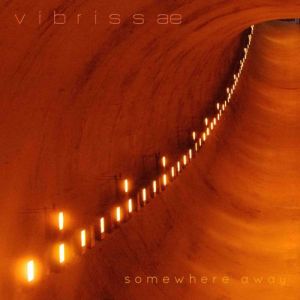 20 July 2016
Portland, Oregon-located modern rock band Vibrissae will be releasing its captivating and transporting debut album Somewhere Away on August 19th via Vipchoyo Sound Factory. Vibrissae offers up a sonically accomplished and stylistically varied batch of songs that travel between the electronic rock realm, synth-based landscape, and the guitar-centered shoegaze genre with assured ease.
This melding of and alternating between different musical styles is influenced by the band members' disparate environments, yet shared love for specific types of music. Imber Lingard (vocals on Somewhere Away) comes from Australia, Emma Bell (various instruments) was born in Malaysia, and Aaron Bell (various instruments) and Sandi Leeper (vocals for live performances) call the U.S. home.
The Bells are a married couple who founded Vibrissae in the late 2000s, but they didn't solidify into a fully working band until Lingard was asked to sign on as the vocalist. The trio spent over three years rehearsing and recording Somewhere Away at Jackpot! Recording Studio in Portland, with Aaron Bell (also of music project Degree Absolute) additionally producing and mixing the album. Lingard is the vocalist who appears on the album, but she has since been pulled away by other responsibilities. Leeper has come on board as the current vocalist for Vibrissae's live performances.
Brief album intro "Whiskers" lightly grazes Vibrissae's surface, dropping in with a touch of bell-tone notes that quickly fades away. EDM/trip-hop hybrid "Never Again" quickly kicks it up a notch, gearing through a rhythmic refrain of clanking, metallic beats and sharp reverb shimmer. The track is poised on the edge of noise, but is smoothed out by a flow of heightened, elongated synth lines and Lingard's vocals that sound like a calling bird perched atop a lofty tree branch.
The mood turns more foreboding on "Incident Report" which mixes shadowy to ghostly synth notes, Emma Bell's 'innocent-child' murmured vocals, and a brightly clattering beat. Emma Bell's delicate vocals are difficult to suss out, with only certain fragmented phrases, like "I forgive you." and "It no longer matters.", floating to the song's surface. The short instrumental interlude "Bulan" hovers on a calm wave of gentle guitar lines and a wispy, yet still piercing synth note.
The meditative vibe slides directly into the next number and album highlight, the Lovespiralsdownwards -like "Not Forever". It reflectively cycles with two lightly chiming guitar lines and a measured drum beat. A softly radiant, reeling guitar line materializes, along with Lingard's gorgeously sky-high, pining vocals. As she cries with an aching sigh, a wash of poignant synths arches heavenward along the same trajectory.
The fleeting, 1980s-era electronic track "Crooked Stripe" thumps along with a steady drum beat and a grimy, but dawning synth sound before vanishing into the ether. It's replaced by the similar, but slightly faster beat of electro-funk number "Crooked Smile", which moves with a pulsating groove. The retro-80s instrumental features arcade game-like electro-notes, winding synths static, and swift cymbal ticks.
Tumultuous to tensely tranquil lead single "Need" goes off in a completely different direction than the rest of the album's tracks, churning at times with restless post-punk agitation that recalls certain early 90s Lush tunes. A furious flurry of guitar distortion at the song's start strikes sparks, then burns out, leaving a stark ambience made up of a supple and deep cresting and ebbing bass line, warped guitar chime, and a tapped cymbals and drum beat. Skeining guitar jags reappear occasionally, along with Lingard's matter-of-fact sung-spoken vocals that turn into a hypnotic chant on the chorus, "This is what you want / This is what you need."
The epic, atmospheric post-rocker "Somewhere Away" undertakes a weighty and ruminative journey through the electronic and rock fields, combining circling, burnished and craggy guitar lines, subdued cymbal ticks, and a tempered drum beat with a continual underscore of electronic notes. Lingard exclaims plaintively about, "…dreaming through time…" of "…somewhere away / when I close my eyes." as a searing guitar line ascends and slices through the sky. At some point after the midway mark, a swell of pulled synth strings and fulminating guitars gather into an electrifying storm that eventually dissipates into spare electronic notes.
LIVE DATES
July 29 – Seattle at Seagaze Festival – The Lo-Fi Performance Gallery
(with LSD and the Search for God, C'est la Mort, Erik Blood, Tender Age, Spirit Host) Seagaze Festival Facebook
August 3 – Portland at The Lovecraft Bar (with Kite)
August 19 – Portland at The High Water Mark Lounge (with Skeleton Hands)
August 27 – Portland at The Analog Café & Theater (with After Nations, Oceanside Static, Light Creates Shadow)
October 7 – Portland at The Steep and Thorny Way to Heaven (presented by Brickbat Mansion)