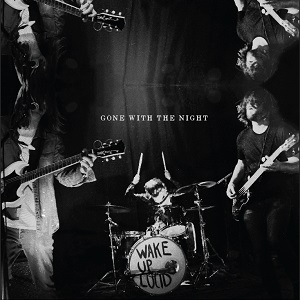 19 February 2015
Gritty Los Angeles power trio, Wake Up Lucid, offer their fourth release in six years, showcasing a maturity as songwriters.
Despite opening with a generic rocker, "White Collar Love," that probably would have served better as a B-side somewhere, "Gone with the Night" continues the group's blues-based onslaught of heavy rhythms and fuzzy wah-wah guitars. Guitarist/vocalist, Ryan Baca, invokes Jim Morrison and Iggy Pop as he shifts from sneering confidence to an unbridled shout, his guitar emanating loud, psychedelic riffs and emotional, pentatonic solos like one who learned to play on Jimi Hendrix records. Behind him, cousins Ian Baca (bass) and Jamie Baca (drums) keep the songs tight and steady with solid, driving beats that also allow for Ryan to veer into space from time to time. It's just Stooge-y, Blue Cheer, Grand Funk goodness served with a side of Led Zeppelin and early Black Sabbath.
Not many bands can harness the sound of classic rock while still keeping it fresh and energetic. Wake Up Lucid have done it, though, and their upcoming LP should be a smash.
comments powered by