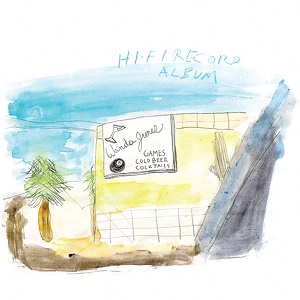 30 September 2015
Tuscon, AZ's Wanda Junes deliver an astonishingly powerful debut that examines the darkness and sorrow of country music.
Hi Fi Record Album exudes sadness with graceful beauty, drawing us into intimate thoughts that most people would rather keep to themselves. Rugged production only adds to this, like the band recorded it for themselves without considering a public release. Stark songs of loss and longing betray a bitter anger, resentment rising with each disappointment and failure, as in the gently rolling "Two Birds," where a female voice softly sings, "The way you treated me/I wouldn't treat my worst enemy/And I can't wait/To piss on your grave." Even the transformation of Webb Pierce's 1953 hit, "There Stands the Glass," into a rowdy drinking song only reveals the pathetic state of the protagonist. This isn't Mumford and Sons boring us to death with mediocre pseudo-folk; it's real pain and raw emotion drawn from futility and error. "We ain't born alone, but alone we die."
Such intuitive genius can't be learned – you either have it or you don't and The Wanda Junes definitely have it. Sometimes life punches you in the gut, so have a drink and know that others feel it, too.
comments powered by