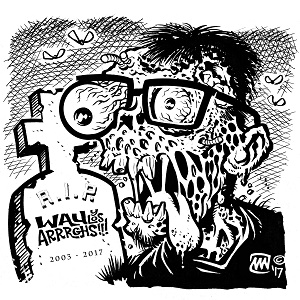 30 January 2018
In May of 2017, Spain's Wau y los Arrrghs!!! played their final show, ending an uncompromising fourteen-year garage onslaught. They pressed a 7" for the occasion, which soon became a coveted collector's item selling for an arm and a leg, thus making this affordable reissue all the more essential.
Basically, you get four and a half minutes of explosive trash punk straight from Valencia. Stick The Sonics, The Mummies and DMZ in a blender with the top off and then set the room on fire. That's pretty much it. Do you want your ears to bleed or not?
Their tenure is over, but not forgotten. And if this is your introduction to Wau y los Arrrghs!!!, you'll have the pleasure of catching up to one of the greatest garage bands of all time.
comments powered by