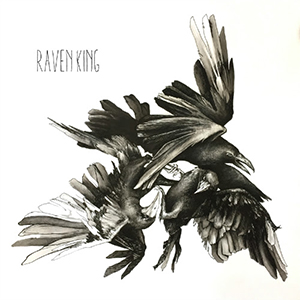 29 January 2018
Raven King, an "art-grunge" trio from Providence, Rhode Island, has obviously taken a note or two from apparent idols Soundgarden and Nirvana, but the band also isn't afraid of adding touches of jazz to its sound or even occasionally stripping back the typical wall of distortion to something far cleaner. Their self-titled debut also happens to be self-produced and self-recorded, and the album is DIY in just about every sense of word. Consequently every second passes by with the weight of a band giving it everything they have, and it's filled with an experimental "whatever works" attitude that both amuses and surprises the listener.
The lead single "Drool" is fittingly the best representation of the group's style, sounding as if Tom Verlaine had been the front man of Nirvana, not Kurt Cobain. Some songs like "Carnival" are pulled straight from the grunge textbook and are certainly serviceable enough, but Raven King's strengths truly lie in their more melodic moments. "Marble," for instance, is a perfect blend of screaming guitar solos and brilliantly poppy harmonies, and the album closer "Armilia" combines these lush vocals with neo-psychedelic leanings.
Raven King is an album that is tied to experimentation, and it is this that is ultimately responsible for both its successes and its (relative) failures. Ultimately, however, this bold exploration into the deep end pays off for the group on an expansively immersive debut.