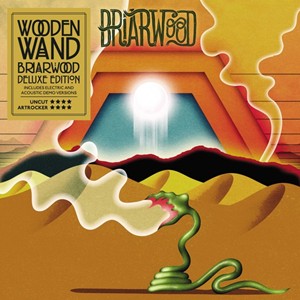 23 April 2012
For the 'zine Dagger, I had this to say about Briarwood:
The insanely prolific James Jackson Toth presents the world with a new record with a new backing band, The Briarwood Virgins, and though it's his latest record, it's one of his most cohesive, and, oddly enough, most straightforward records I've heard in a while. Maybe he's tired of the psych-rock/folk scene of the late 60s and has discovered the Outlaw Country movement of the early 1970s, because what's here is barroom country-rock, and though the lyrics kind of go funny here and there, such as on the goofy "Scorpion Glow," for the most part Briarwood isn't up to anything funny. "Winter In Kentucky" kicks off the record, and, honestly, it's like a lost Dylan/Tom Petty collaboration—which isn't a bad thing! I'm also fond of the Skynyrd-esque "Big Mouth USA," the Southern rock love song "Be My Friend Mary Jo" and the blues ballad "Good Time Man." The songs are kept to respectable lengths, and the one extended jam, "Motel Stationary," sounds like the man's been holed up with a dime bag and a copy of Harvest and On the Beach. Quality control's always been an issue, but here, he plays it straight—and the results are wonderful. If you are reading this, Mr. Toth—follow this new found instinct. It will serve you well.
I stand by that review, and found it interesting that only a few months later, Fire Records has decided to reissue the album, with a bonus disc presenting the album in demo form. The most surprising part of this surprising repackaging? It's not redundant at all, and the demo version of this record—which removes everything great I said about the backing band and their Southern Rock arrangements—is equally wonderful. Toth sounds great when he's just by himself, no one else in the room. In one or two places,like on "Winter in Kentucky," the stripped down arrangements really bring out the Dylan comparisons, and the overall melancholy on these demos do recall the original version of Dylan's wonderful Blood on the Tracks. The biggest shocker is the change in "Motel Stationary," which in finished version is an epic blues-rocker with some of guitarist David Hickox's best work, and perhaps the greatest arrangement Toth's ever done. Stripped down to just him, his guitar, and his harmonica, the song's longing and loneliness is much, much deeper.
Sometimes arrangements make all the difference and turn merely okay demos into something magical. Considering Toth's catalog of songs, it'd be easy to think that about Briarwood. That is most definitely not the case; these songs were and are special, irrespective of what the arrangements may be.
comments powered by