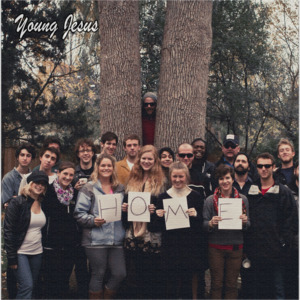 26 January 2012
The first thing that come to mind when listening to "Family And Friends", the opening track of Home, is Nick Cave & The Magnetic Zeros. The folk element really informs the storytelling of each track. Singer John Rossiter's baritone delivery and phrasing are similar to that of Cave or Ian Curtis but he can also croon and scream to equal effectiveness. Each member of Young Jesus deliver great performances on the LP. The guitars of Rossiter and Cody Kellogg are intricate and not overbearing. "David," is a stand-out track and a wonderful tribute to such an awesome name, which comes up again later in the album on the Pixies-ish beginning of "The Greater Boulders," and "Earthquake,".
I'm just going to say it. I love "New Cool,". The rhythm section is the lifeblood of the track and it reminds me of an actually joyous Joy Division. The band turns on the distortion on "Away," and the results are wonderful. The title and closing track turns the dial down again with only a piano and vox to carry the weight. It is the perfect farewell and serves as a loving obituary to the album. Home itself is electric without being overly energetic or, well, electric. It's exciting and eclectic and probably more adjectives that begin with "e". Emotive! Another one! In our jaded times, Young Jesus proves that Home can be where the heart is.
Stream or download for yourself for free below. Spread the word.