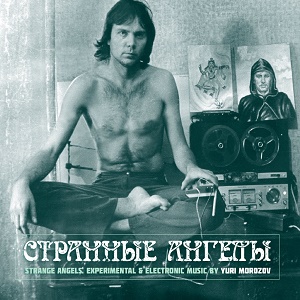 25 May 2017
Through the '70s and into the '80s, Yuri Morozov recorded over 46 albums in numerous genres that were passed around Russian underground music circles in defiance of Soviet control. His recurring themes of worldly spirituality and ancient history made him a KGB target, resulting in his recording sessions being closely monitored and a ransack of his apartment. For the first time, his music is made available in the West via this compilation assembled by Alan Gubby of Revbjelde.
A more concise sampling of Morozov's music seems futile as Strange Angels comes across as a coherent album. The first half concentrates on mostly instrumentals, which range from Goblin-esque prog to Sun Ra's Nubian psychedelia to Alain Goraguer's heavy soundtracks and further into early krautrock freedom, especially in terms of extreme electronic experimentation. Things get even weirder on the second half, where vocals now accompany medieval industrial folk, freakout stoner metal, primitive cyber glam and things that sound like The Residents and later Russian noise pioneers ZGA. Quite frankly, it's the most mind-blowing, engaging album you've never heard from a legend on the other side of the world.
Yuri Morozov succumbed to melanoma eleven years ago, leaving behind a legacy of genre-bending recordings that have yet to be heard outside of Russia. Let this be your introduction.
comments powered by