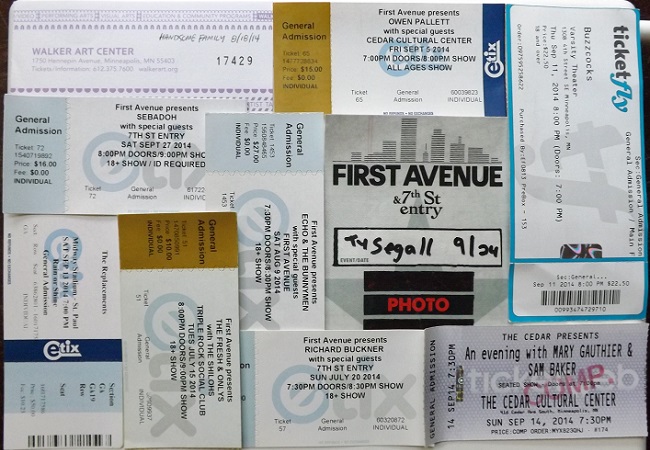 More Shows, July to September

1. The Fresh & Onlys with The Shilohs – Triple Rock Social Club (Minneapolis) – Tuesday, July 15, 2014
Three lists:
a. Songs that played from the P.A. and neatly suggested the parameters of the upcoming band's universe, while I waited, all the better because these are some of my favorite songs ever:
Push (The Cure) / I Am the Fly (Wire) / Needle in the Camel's Eye (Eno) / Blue Thunder + Strange (twice!) (Galaxie 500) / Spring Rain (Go-Betweens)
b. Licks that Wymond Miles played as he checked his guitar:
Rebel Rouser (Duane Eddy) / See No Evil (Television)
c. What the band played:
Waterfall / Summer of Love / Dream Girls / House of Spirits (full album) / Foolish Person / Encore: Fog Machine / Euphoria / Peacock & Wing
Their tear through the new House of Spirits was one of my favorite albums of the year, in its live incarnation, and also one of the loudest (no accident). Tim Cohen, a sometimes-heralded lyricist but under-recognized vocalist and melodist, animated plain patterns of rock 'n' roll at holy, room-quaking levels, suggesting that the music's volume was its most important feature. His melodies, too, refuse to go beyond a certain degree of complication, and the way they consistently run up against barriers to expressive tumbling made them only sweeter.
The Shilohs have three songwriters, and I had a good deal of fun trying to match them to corresponding members of Teenage Fanclub, but in the end couldn't make it work. Too many of them were Gerard Love, I guess. It might've been Real Estate the last time unknown, languid guitar tunes in a live setting met so few obstacles in my brain. Between The Shilohs' set and The Fresh & Onlys, some other band intervened, and though under different circumstances I might've tolerated this band's handclaps and group choruses and too many members, their overly confident interruption of a vibe kept me from being able to summon the appropriate democratic spirit.


2. Richard Buckner – 7th Street Entry (Minneapolis) – Sunday, July 20, 2014
"I thought I was a ghost last night," Buckner said about a show he'd just played in Iowa City for an audience of almost no one, his songs punctuated by the sounds of a pinball machine. I'd already been wondering how the solitary touring musician maintains sanity on the road, especially without audiences to serve as islands of positive reinforcement, and then Buckner's comment made that kind of life seem lonelier still. It's lucky that he's funny, and luckier still that he drew such a supportive crowd for an intimate set at the Entry. At the end of quite a few songs I heard the same trio of guys, dispersed throughout the audience, exclaim in sequence: "Damn." "Jesus Christ." "Thank you." Buckner's songs are efficiently devastating, but he seems to not know how he achieves this. A memorable exchange:
—Sometimes songs just kind of end. When in doubt, get out.
—Are you in doubt?
—Fuckin' constantly.
The songs on 2002's Impasse "kind of end" more than most, and bookended his 20-song set, fragments of a larger narrative jumbled yet again, losing no power in their new open-ended sequence. He began with stark guitar arrangements of "hoping wishers never lose" and "born into giving it up," and by the time he returned to Impasse's brilliant opening stretch, ending his set with "loaded @ the wrong door," he had the mechanics to make it a showstopper, looping the chords, playing a solo, and then dropping the whole works and returning to his given devices for one last run through. In between, he played a lot of things: a Casio, its textures a surprising but totally convincing backdrop for his songs (saturated, lonely); early masterpiece "Blue & Wonder," his voice trailing off as he repeated the chorus, breaking down one of his most finished songs into the evocative chunks of language he now prefers: "It's the one that means."


3. Echo & The Bunnymen – First Avenue (Minneapolis) – Saturday, August 9, 2014
Despite promoting a new album that's gotten as little attention in the U.S. as any of their 2000s output, Echo & The Bunnymen were able to draw a nearly (or totally?) sold-out crowd at First Avenue, something that eluded them playing the much smaller Fine Line in 2005. What changed? Everything else being equal, I can only assume that people, conditioned by almost a decade of reunion mania, place a greater value on live music than they did nine years ago. But, except for my inability to get anywhere near the stage, the show itself was very much the same: Ian McCulloch, Will Sergeant and two highly capable younger guys attending to the band's classic 1980-87 material with no lack of grace, mixing in strong new material from Meteorites that'll be promptly displaced from the next tour's setlists, alas, and doing all this in poses of misleading tranquility while hidden in fog. I've still not seen McCulloch's face, in person; a notable departure, this time, was the absence of a glowing cigarette to trace his movements.
Songs from 1980's Crocodiles were especially lean and dynamic, and the band, emboldened, ventured into extended grooves, fragments of "Sex Machine," etc. Their version of The Doors' "People Are Strange" made an appearance, as did "Seven Seas" (McCulloch's finest vocal moment, his voice breaking in such a way on the word "kneeling" that I nearly wept), "The Killing Moon" (an odd arrangement wisely not saved for the finale, the band pulling way back during the verses as if massively overcompensating for a delicate vocal), and "The Cutter" (a smashing finale). An encore covers medley showed that the band's romance of rock 'n' roll (e.g. the "Runaway" quotations of "Over the Wall") has hardly ossified, as "Walk on the Wild Side" gave way, its rhythm continuing, to lines from "Don't Let Me Down," "In the Midnight Hour," others. It all sounded great, and I'm very grateful for every opportunity to see my favorite bands live, but an Echo & The Bunnymen show remains high on my list of coveted experiences… in the early 80s, when they were by many accounts the greatest live band on the planet.


4. The Handsome Family – Walker Art Center (Minneapolis) – Monday, August 18, 2014
They'd been scheduled to play across the street in Loring Park as part of a free movies and music series, but got moved due to a forecasted rainstorm that never happened. Thus, their set took on the form of a real concert, albeit one carried out in a brightly lit screening room. The general public became concertgoers, and the band became the star attraction (as it should be). They'd flown in from Albuquerque early in the morning, and I was glad Brett Sparks, his house shoes still reflecting the light of the Sunport at 6 a.m., mentioned it. They've become such a quintessential Albuquerque band (I decided to place their song about drive-thru onion rings at the Whataburger on Candelaria) that I felt very far away, hearing them play in a different city. But they seemed unaffected by the distance, their set not so different from the one I saw them play there. This time, Brett Sparks' voice took on a fuller set of tones, from a whisper to a bellow, and "Weightless Again" ranked as the least morbid song they played (!), not the most. But its prickly arrangement remained, and the banter style of Brett and Rennie Sparks could still be described as The Married Couple Argues (hilariously).


5. Owen Pallett with Foxes in Fiction – Cedar Cultural Center (Minneapolis) – Friday, September 5, 2014
I felt like poultry, a buzzing somewhere in my comb or gizzard. No, I traced the feeling to its source: As Pallett began "Midnight Directives" with his band, after four songs without them, the accumulating sound rattled with such intensity that I thought my entire being might explode out of my throat. From there, the band continued through "Keep the Dog Quiet" and "Mount Alpentine" and I thought they'd commenced the Heartland full album setlist of my dreams. Not so, but touring for the first time in a decade with one of his formative trios (the amazing Robbie Gordon on drums and Matt Smith on guitar/bass), he brought to songs from Heartland and the new In Conflict a dynamic full-band sound that nearly undid me. The solo performances with which he began the show, on the other hand, wouldn't have been possible without the seamless integration of looped violin and keyboard. For many artists the ease of looping means the danger of overdoing it, carelessly introducing too many elements, but since Pallett's fondness for ornate arrangements never banishes his music's austerity, I wouldn't say he's capable of overdoing it, even as I counted five, six, seven elements.
If slowcore hadn't already been coined, Foxes in Fiction might've given a sound to the term and become its principal artist. Instead Warren Hildebrand's hazy and intimate compositions get compared to Atlas Sound, understandably, though the music subdues emotional turmoil and vanquishes ego a bit too thoroughly for the analogy to make much sense. Which isn't to say those things aren't there, and the way they surface through barely discernible musical action made for quite an experience. The high point came toward the end: it might've been one song or two, when the sound of rewinding tape (a less aggressive effect than when Boredoms do this) slowly gave way to a tender, confounding melody, like an Alex Scally line plunked out on keyboard, collected as moisture by a rag and wrung out.


6. Buzzcocks with The Magnolias – Varsity Theater (Minneapolis) – Thursday, September 11, 2014
As with Ian McCulloch, the higher end of Pete Shelley's voice is his most beautifully preserved register, which of course goes without saying for this eternally adolescent singer. It sounded quite natural to hear him moaning and screaming in the middle of "Orgasm Addict," and his rolling eyes, the visual counterpart to his sly words and melodies, were a lovely sight. With the exuberant Steve Diggle and two highly capable younger guys, he played the best Buzzcocks show I could've hoped for in my lifetime. All-time pop hits (singles and otherwise) ran together without pause, and often ran into songs from this year's The Way, which alternates, one-for-one, between Diggle's rousing mantras-as-songs and Shelley's more melodically developed new tunes. Material from 1979 masterpiece A Different Kind of Tension was badly missed (only side A smash "You Say You Don't Love Me" made an appearance), but the original group's experimental first finale, 35 years ago, likely wouldn't have squared with the efficient blitz they're intent on delivering in 2014. As they left the stage, Diggle implored the audience to keep rock 'n' roll alive, a sentiment that felt a bit hollow until he followed it with the names of Little Richard and Chuck Berry. Who still live, like these guys.
Submit, if you will, to the office of old Minneapolis bands I'm still learning about even as I approach my second decade of life in and out of the Twin Cities: The Magnolias, a sharper, more Buzzcocks-indebted band than I thought this drunk, clanging city likely to produce.


7. The Replacements with The Hold Steady and Lucero – Midway Stadium (St. Paul) – Saturday, September 13, 2014
Notice a trend on this list: Beloved old bands touring with only two original members, thus bolstered by two new members who play impeccably because unlike the original members they have everything to lose. The new touring members of The Replacements have more to lose than most, and though that's not the main reason the band sounded great, it's definitely one. There were charming imperfections, of course, via Paul Westerberg and Tommy Stinson, but no attempts to stoke ancient lore, and the band seemed quite aware that the reason they're able to play a sold-out stadium show, three decades on, is that they had better songs than everyone else. They played almost everything anyone could've reasonably expected or hoped to hear (and covers, too: "Maybellene," "Borstal Breakout," a too quickly abandoned "I Want You Back"). I could write chapters on each one, but, to choose one relevant example, the silence after Westerberg's first utterance of the title of "Can't Hardly Wait," when the music drops out, was the fullest and longest suspension of a song's massive energy I've ever experienced, whatever fraction of a second it occupied. It was a moment built for an arena, and if this is the final analysis, then Westerberg and Stinson will go down as canny professionals, always sensitive to the spaces they were playing in. No, sorry, that was a joke.
Lucero and The Hold Steady were supposed to take us to the realm of The Replacements by degrees, I suppose, but I don't even see these bands as being in the same dimension. I can still enjoy The Hold Steady, and "Your Little Hoodrat Friend" and "Stuck Between Stations" haven't lost the ability to provoke and thrill, but the romance has died. And if romance is mortal then it has nothing to do with The Replacements.


8. Mary Gauthier and Sam Baker – Cedar Cultural Center (Minneapolis) – Sunday, September 14, 2014
Two songwriters delineate the differences between songwriters and musicians, by playing songs as perfect as have ever been written, in particular Gauthier's "Mercy Now." Full review coming soon.


9. Ty Segall with La Luz – Turf Club (St. Paul) – Wednesday, September 24, 2014
Good show, and a perfect inauguration (for me) of the new Turf Club… but not enough to keep me from weeping with regret when I learned the next morning that Australia's The Stevens had been playing simultaneously in Minneapolis. Full review coming soon.


10. Sebadoh with Grant Hart – 7th Street Entry (Minneapolis) – Saturday, September 27, 2014
The only established acts who'd choose to play the Entry when larger venues beckon are those with a historical or emotional connection to it, and so it was last month when Bob Mould sold out the space within a few minutes, and again last night when Sebadoh packed the room for a long set further lengthened by guitar tuning and re-stringing, reminiscence. "I've wanted to play the Entry since I was 15," Jason Loewenstein said, and thanked invited guest Grant Hart for being the reason he knew about the place. Lou Barlow confirmed: the first time he met Loewenstein, he found a longhaired, barefooted kid playing the drums who didn't know what else to do with his life and had decided to be Grant Hart. I can confirm, too, with somewhat flimsier evidence: when I saw Sebadoh for the first time, at the 400 Bar in 2007, Loewenstein wore a New Day Rising t-shirt. Absent the inspired lunacy that Eric Gaffney brought to that show, Sebadoh remained the tight, powerful trio they've been ever since Bob D'Amico joined on drums. They sometimes played at sloppiness and hijinks but an unmistakable professionalism kept the audience from really believing it. The set contained, once again, a good balance of Barlow's and Loewenstein's songs, but instead of the continual swapping of guitar for bass they tried at the Turf Club last year, each led the band through a set of his own songs. Highlights, in seeming perpetuity: "Careful," "Beauty of the Ride," "Soul and Fire."
Grant Hart's hour-long, 19-song opening set differed little at first from the show I saw him play at the Triple Rock last winter, but slowly external factors started to transform it: The room was full and the audience adored him! Also, the members of Sebadoh watched from various spots in the crowd. Funny how much that makes a difference. Things started to turn around during the first Hüsker Dü song he played, "Books About UFOs," and peaked when someone shouted that he'd been waiting 25 years for Hart to play "Back from Somewhere" live. Hart named the feeling "fellowship," and said the room contained just the right amount of it. Where was all this fellowship last year? For my part, I also loved the newer solo material with which he began the set, enlivened by his persistent tinkering with the saturation of his guitar effects. Generally, songs from Hot Wax smothered his voice, while The Argument's most tender songs again revealed it as his finest instrument.
Hart: My Regrets / California Zephyr / You're the Reflection of the Moon on the Water / Shine, Shine, Shine / So Far From Heaven / Is the Sky the Limit? / She Can See the Angels Coming / Awake, Arise / Books About UFOs / Barbara / Green Eyes / 2541 / Back from Somewhere / Don't Want to Know If You Are Lonely / Admiral of the Sea / Little Miss Information / Evergreen Memorial Drive / Never Talking to You Again / Be-Bop-A-Lula (Gene Vincent)
comments powered by