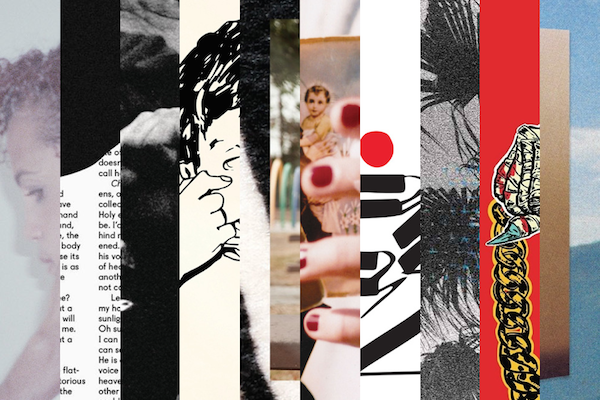 10 Favorite Albums of 2014
1. Neneh Cherry – Blank Project
Cherry handles such a wealth of lived experience on her new album and binds it to such ineluctable words (poetic: "slow like some reruns on a mother's TV"; plain: "until one day she reached her hand inside her coat") and spontaneous, super-cool sounds that I imagined Blank Project as the default album of the year for anyone who didn't dig Yeezus or anyone who did and wanted to hear its abrasions transformed in the hands of a different human and artist. Album of the year for everyone, that is. It's the only one that sounds like it's being made as you're listening to it (mentioned elsewhere), which I don't mean as any kind of aesthetic imperative but as praise of the way Blank Project, aptly named, leaves evidence of the empty file that preceded it in full and constant view, so that what's heard is an exact record of the creative work that went into its making. Slight mis-timings abound in the music, each one a major thrill.
2. Owen Pallett – In Conflict
Someone called it landmark queer rock, a more fitting categorization than I could have come up with, and so, if you didn't already know, queer introspection has a fucking massive sound. Working with a core band that doesn't underplay Pallett's ornate arrangements but still finds a way to make them come off as severe, the maestro ends up with a work so specific and communicative that every sound and word doubles as ink on paper.
3. D'Angelo & The Vanguard – Black Messiah
I haven't tended to the lyrics yet so the primary tone, even on "1000 Deaths," is still joyous, a vibrating so mighty that the heart becomes an overworked filter awaiting the burst. When "Ain't That Easy" wheels away in its opening moments only to return with a smack and a rough chorus of voices feeling out their harmony, it's probably the earliest promise a masterpiece ever made. Last year Deerhunter's "Monomania" elicited from me a response along the lines of "remember when rock songs were weird" and Black Messiah does something similar, so I pricked the word "weird" and figure it's just a way to describe an artist beyond the veil who trusts that his fluency in old, illimitable musical gesture, spoken in noise-song, will translate in a popular way. This does.
4. Wye Oak – Shriek
Like last year's Pet Shop Boys album there's one big nod toward the electric guitar on Shriek. This time it's in the squealing that introduces and hovers on the edges of "Paradise," a reminder that the album is built on top of a history of distortion and feedback, not over to the side. No mere reinvention, Shriek finds a great band continuing to be great in a somewhat different way. "Glory" and "Sick Talk" in particular add up to the year's most momentous ten-minute block of music, the former featuring a wild breakdown and Jenn Wasner channeling the vocal dexterity of Elizabeth Fraser, and the latter concealing the band's biggest moment since "Please Concrete," around 2:15 when the song's itchiest motif resurfaces.
5. Freddie Gibbs & Madlib – Piñata
Came for Madlib, stayed for Gibbs, although technically the opposite is true, since I used to walk around with Gibbs' Cold Day in Hell but never knew Madlib from Adam, always arriving at the kind of inner vision and flight of which he's king via Warp Records, not Stones Throw. But the experience of listening to Piñata is, without fail, that of being seduced by the beats and samples, then being thankful that the music isn't left as an empty vessel for my memories and wandering and self-reflection, i.e. my mental illness, but is generously filled up by a great MC with lots of stories. The world's a chaotic place; noted, that without its final few minutes of extraneous chatter, the album would end with Mac Miller saying "O'Doyle rules."
6. Foxes In Fiction – Ontario Gothic
32 minutes that proceed at a pace so slow and assured and with a hush so monumental that I can't believe I've ever before heard music played at this tempo and volume, or at least not since Sigur Rós's Ágætis byrjun, which only comes to mind because of the way I remember listening to it underneath a blue night light as a teenager. The way songs lock together, one with two and four with five, sounds like creative windfall but is more likely a map of toil and transcendence, awaiting travelers.
7. Shabazz Palaces – Lese Majesty
Reviews made it sound difficult but there was no other album this year I enjoyed so immediately, certain proof of the music's deep pleasures, not my acuity. The most blissful mystery megamix since A Sunny Day in Glasgow's Ashes Grammar, with scrapings and echoes from 8,000 sources ruptured by an immense clarity, as prescient, in ways as currently unknowable, as the sound and message of Kraftwerk in their time. I didn't know how much I wanted a Shabazz Palaces album with as many tracks as Wowee Zowee; gosh I was dumb.
8. A Sunny Day In Glasgow – Sea When Absent
Speaking of A Sunny Day In Glasgow, formerly a hazily masterminded masterpiece-creation machine, it reemerged as a six-piece rock group this year, elevated Breeders-style by the knowledge that they exist in a tradition as musically rich as any other.
9. Run The Jewels – Run The Jewels 2
Starting with rhetorical marauding and humor (the "field of dicks" line has not yet failed to make me laugh) before getting to the heart of the matter e.g. crazy sex talk, the whole thing has a "how to listen" precision, toughened by idiosyncrasy, that would've helped me out a lot back when I wasn't listening to rap music. I still slightly prefer R.A.P. Music, mainly because I get a bit anxious when music is so well-dressed for the present and isn't at least 50% historical, but for once I'm happy to go with consensus and say RTJ2 is what 2014 sounded like.
10. Devon Williams – Gilding The Lily
I don't have much to add that I didn't cover here. Williams is a great songwriter with a big imagination and I still think Prince should make that invitation.