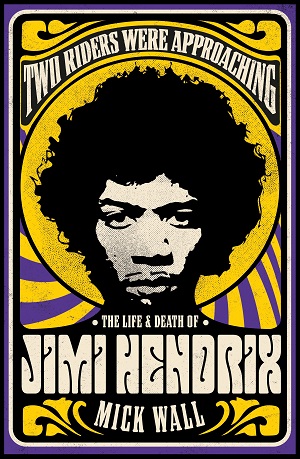 10 December 2019
"..Circus magazine, Mick Wall at Kerrang!.." – Guns N' Roses "Get In The Ring"
That quote taken from a GN'R track sums up journalist and author Mick Wall perfectly. His honesty and truth is not self-serving, and he tends to call it like it is. Although he did write a no-holds-barred account of the band in The Most Dangerous Band in the World, his inclusion and notoriety in the track stems from an interview for Kerrang! magazine in 1990 that included Axl Rose's threat to harm Vince Neil of Mötley Crüe. It is that fearlessness that makes Mick's work so engaging, tackling aspects of bands warts-and-all to present the truth and not a fluffed piece to simply please his subjects. 
While his past works include the acclaimed account of Led Zeppelin in When Giants Walked the Earth and his dive into the world of Black Sabbath in Symptom of the Universe, his latest subject stretches back further than both aforementioned bands, the late guitarist and innovator Jimi Hendrix. 

"I don't think there's any music that you hear on the radio today that would be possible without Jimi Hendrix." Joe Bonamassa
His latest work; Two Riders Were Approaching: The Life & Death of Jimi Hendrix offers up something different, another view and aspect to a story that is well documented over the past fifty-years. However, similar to his previous outings, Mick Wall makes this perhaps one of the more interesting reads surrounding the character. There is a theory which like most has fueled over the years a different view of what happened to the late guitar hero that night in September, 1970. That theory is in some respects examined fully, bringing it out of the zone of conspiracy and letting it breathe. In the past few years similar books such as Alan Parker's magnificent No One Is Innocent (2007), which presented a more believable account of the Nancy Spungen murder. Parker used testimony to make his point through thorough investigation. Since then, it has lead to a credible belief in the public's understanding. 
Through interviews with ex-partner and writer Kathy Etchingham, and producer/engineer Eddie Kramer Mick delivers some new insights into the legend. Told in flashbacks (which can confuse) with a stylish street-slang which provides an authentic feel for the reader. Although it is not as comprehensive as some, and it has caused a bit of a stir amongst fans of Hendrix, it is quite simply an engaging read. Many may consider the theoretical approach overbearing but others (like myself) will find it more enjoyable. 
From the Back Cover;
It is widely considered in music, there are two eras: before Hendrix and after Hendrix. Regarded as the greatest guitarist of all time, Jimi Hendrix is the embodiment of rock 'n' roll. His career only spanned four years but in that time he managed to influence generations of musicians from Freddie Mercury to the Red Hot Chili Peppers and Slash. Born Johnny Allan Hendrix in Seattle in 1942, Jimi had a difficult childhood living in the care of relatives with only sporadic visits to his mother. Music became his sanctuary and in the mid-60s he had his career breakthrough creating The Jimi Hendrix Experience. Renowned for his incredible performances, Jimi played the guitar like never before. Famous for playing the guitar with his teeth and lighting his instrument on fire, Hendrix's innovative and experimental sound won over UK rock royalty and legions of US fans. But there was a dark side to Hendrix, he would become angry and violent after days of mixing alcohol and illicit drugs. Tragically in 1970 he was found dead in a London flat. The real reason behind his death is still disputed. Hendrix managed to change music forever in just four years. With access to key members of Jimi's circle, critically acclaimed writer Mick Wall will deliver an explosive and celebratory biography offering fans a chance to see the real Hendrix and learn the truth behind his untimely death.