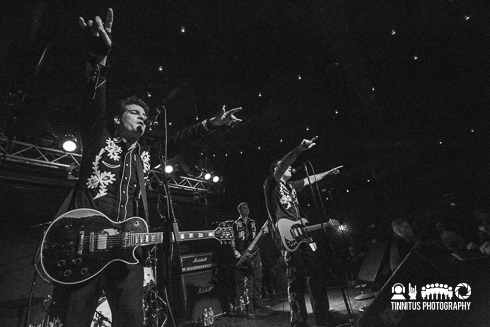 6 April 2014
Add one more to the "what the hell, let's get back together and play shows" pile. A couple of years ago the blistering Hot Snakes show at All Tomorrow's Parties was a much-needed shot of adrenaline, and maybe that prodded John Reis into planning last year's US-based festivals and European shows. Apparently they had so much fun they've dusted off their matching band uniforms once again and scheduled a more comprehensive headlining tour that hit Australia and a couple of West Coast dates before kicking off the East Coast run with Boston.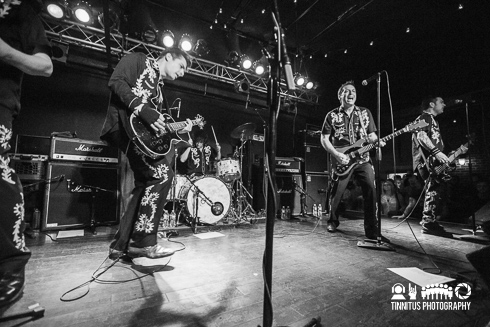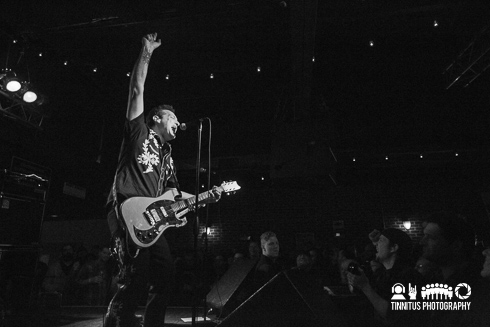 Reis has been involved with a lot of projects, but RTFC is notable for the lack of his usual sidekick Rick Froberg, who lends a spikier edge to the blend. The first few RFTC records held my interest, and especially the endless stream of seven inch singles, but by the time they got signed to Interscope, the self-titled record wasn't what I was looking for and moved on to other things.
After seeing them play a lot of that material, perhaps I made a mistake. No frills, high energy rock action. Tough to beat! No guitar pedals, just plug those suckers straight into the Marshall stacks and let 'er rip. The two piece horn section lent a really nice fat sound to the mix, and with Mario Rubalcaba behind the drums, you know that however frenzied things get, it'll never fly off the rails.

And so it went. The packed room was a bit more animated than your typical middle-aged Boston crowd, with a small but boisterous pit that roiled in front of Reis' mic stand. Had Rocket been around in 1986, they would have been the perfect choice for the party band in the scene where Rodney and his son Jason happen upon Oingo Boingo. I bet their energy would have translated to a quadruple Lindy.
Mary Timony's gotta be just a little peeved with the popularity of Portlandia, unless I'm totally misreading the disbanding of Wild Flag, which is entirely possible. She's bounced back quickly with a new band, recycling the name of a 2005 solo record and re-branding it as a rock trio. Though they just have a 7" single out, a full set was cranked out with the riff-heavy, catchy songs that had more than a hint of Runaways to them. Bass player Betsy Wright was high kicking like a trainee in the Robert Pollard school of athleticism, and drummer Laura Harris was banging away and flying her blonde locks like Debbie Peterson. With their chosen final song being a Johnny Thunders song ("You Can't Put Your Heart Around A Memory"), it became a soothsaying segue into the rebirth of Rocket From The Crypt, who were about to forge new memories.
comments powered by