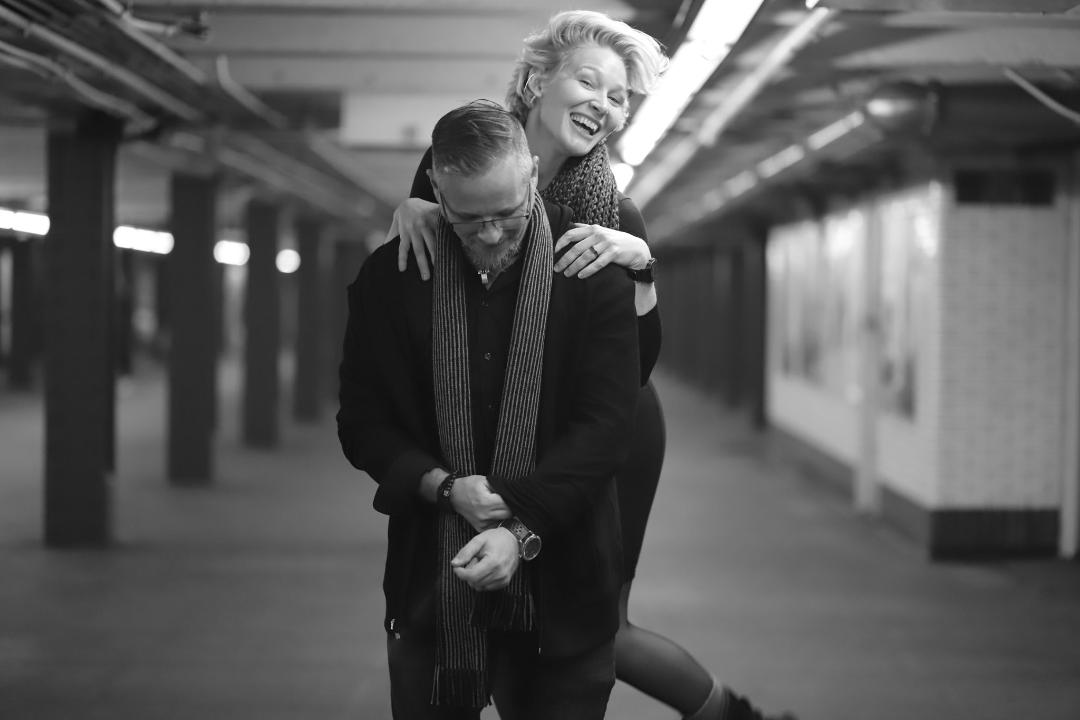 19 August 2020
As musicians you seem to be a perfect match, what brought you together and can you tell me a bit about the individual journeys which got you to this point?
Nicolaas- I originally came to Sarasota to attend Ringling School of Art and Design as an illustration major. Ari was 8 years old at the time. While there I fell more in love with the guitar and was introduced to the album, Friday Night in San Francisco. Soon after I dropped out of school to pursue music and switched from electric guitar to Flamenco guitar. I was in several Rumba Flamenco bands over the years that performed in Sarasota. It was during the formation of a group called Cabal that my percussionist Christopher Austin said we should get a singer (all of my previous bands were instrumental). Not long after I was walking down Main Street and heard this amazing voice singing Besame Mucho with a local band. I walked up to her and asked if she wanted to be in my new band, she said "yes, can I sing in Spanish?" to which I replied "yes" and we have been together ever since. In that first group we played Rumba Flamenco, Swing, Tango and all kinds of music. 
Ariella: I believe what brought us together was divine, like all meetings. Nothing happens in this world by mistake, but it was clear from the beginning we were entering into an intense and meaningful relationship. The first time I came over to his house to write music, we were not well acquainted. I came through the door, said hello and hugged him like we were old friends. Neither of us let go… for a while. That was a pretty big flag, though we didn't discuss it for some time after. We never knew if our journey was going to last so we just took every step one day at a time, and we still do to this day.
As he mentioned above, Nicolaas and I are ten years apart in age so he was a little ahead of me in life. He had been performing music for over a decade by the time we met. I had only a few gigs under my belt with a head full of dreams and a yearning to follow every one. To answer your question simply, I think we're like fire and gasoline. That's why after 11 years of playing music together, moving in together, raising the children together, going on tour, performing with the band, quarantining, streaming, and constantly recording either video or audio, posting and sharing our hearts' stories and lives in song with the whole wide world through the internet, it remains as it was in the beginning- an intense and meaningful relationship.  
As well as working as the duo ARIELLA, you often expand the number of players into the ensemble Ari and the Alibis. What is it about one format that you enjoy that perhaps you don't get to explore in the other?
Nicolaas: With the Alibis we get to jam a bit more and get into more complex arrangements, some of our songs are fifteen minutes long with over half of the song being instrumental. With ARIELLA we get to bring it way down and it's much more intimate. 
Ariella: I've always enjoyed having the full sound of a band. The energy is so high and booming that people usually respond quickly, hopefully from liking it. Conversely, when performing as a duo there's no tricks or sounds to hide in. It's less show and more tell. It's raw and vulnerable. Every note is exposed like a nerve. Every gesture is suggestive of the story behind the lyrics. They are both facets of music I love dearly- being loud, bold and unapologetically fun vs. kneading each element of music and being intimately expressive. 
Your sound is pretty iconic, one which reminds the listener perhaps of the likes of Etta James, Patsy Cline and Sarah Vaughan. Why do you think that there is still such an enthusiastic market for such a long established sound? 
Nicolaas: Great music never goes away, it always has an audience. In a world where it is so easy to feel alienated music is there to remind us we aren't alone and that we all have more in common than the media would like us to believe. 
Ariella: That's quite a compliment. I don't know why people like what they like, but I appreciate what you're alluding to. I could never compare my music to any of the greats, I just like singing about feelings. It helps me feel them, then change and grow as a result. Reminding me that I'm human, I guess.
And who are the main inspirations for you both, both musically and in other fields too?
Nicolaas: Bob Fosse (I grew up in a dance studio), Astor Piazzolla, Slash, Paco de Lucía, Trey Anastasio, Al Di Meola, Victor Wooten. With Victor, it's not only his playing but his ability to be an exceptional human being that inspires me. 
Ariella: I continue to be inspired by Motown, and Jazz. I love Spanish music and whatever Tom Waits is. He is one of my favorites for many reasons and God Bless his wife and her lyrics as well. What a team! I'm usually most inspired by either genius or terrible art. Either way, it is a comfort to know I am not the best or the worst- I just have to keep being ME and that's enough. 
The release of Terrified will see you live-streaming a series of shows, is there anything that you have learned from the recent lockdown, such as live-streaming, which is changing the way you promote and perform your music going forward?
Nicolaas: Totally. Once the lockdown started we had a choice, hide and be scared or go all out and try to up the ante with our online streaming game. We basically turned our house into a studio/ sound stage and have been upping the level of our content every week. We also used the time to get all of our stuff current, bio, website, etc. Now we just keep adding content. We have made more videos in the last three months than we have in the last seven years.
Ariella: Sure, blessed are the flexible, for they don't get bent out of shape. Meaning, just go with it. Times are weird, embrace the weird and remain grateful. It's more fun that way.
And finally, what does the future hold for ARIELLA, for the Ari and the Alibis and for the two of you individually away from the music?
Nicolaas: We will be working on new albums and videos for both projects. Outside of that we look forward to touring again once things are under control.
Ariella: My future is bright. Full of music and merry making. I intend on enjoying it every way I can, and you're totally invited.
Thank you very much for making the time to chat and good luck with everything in the future
https://www.ariellamusic.com
https://www.ariandthealibis.com