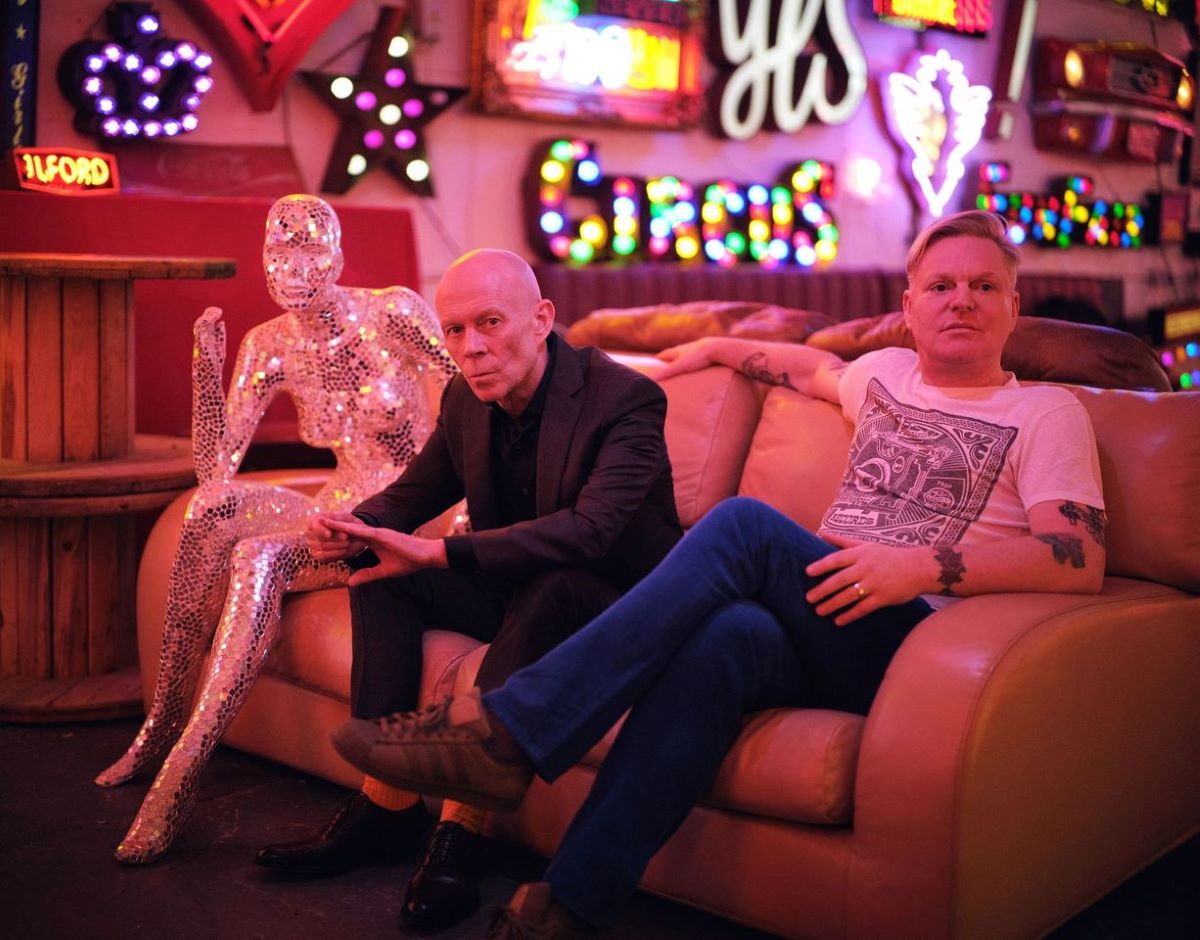 4 August 2020
Photo by Phil Sharp
In the 1980s, Vince Clarke began establishing himself as one of the most influential musicians in the synthpop scene. He started out as a member of Depeche Mode before leaving to form Yazoo (known as Yaz in the U.S.) with Alison Moyet, among other projects – but his most enduring band has been Erasure, which he formed in 1985 with singer Andy Bell. The duo quickly became enormously successful in the U.K., U.S., and several other countries with hits like "Chains of Love," "A Little Respect," and "Oh L'amour." Now, three decades into their career, they are considered one of the most adored and influential synthpop bands. On August 21, Erasure will release their 18th studio album, The Neon. Calling from London, Andy Bell talks about what inspired this latest release, how he started perfecting his performance skills when he was still a child, and the way in which he and Clarke first met.
What was it like working on this album, compared to your earlier ones?
ANDY BELL: Vince and I, it's our 18th album, so we've done loads of things together. Every writer or artist, you go through periods when you're bored and you have your gloomy black periods, and blue periods, whatever. But I think this one seemed like a fresh start. It wasn't intended to be like that. But I had a really good feeling about this album; I don't know why. Vince was in the same space. It just happened that it reignited my passion of when you're a 15-year-old going out and buying records for the first time. We used to go to the record shop and have a look through all the vinyl. It was always like an event. I wanted to bring some of that excitement back, rather than just releasing another record.
It seems like there's a real optimistic quality to the album. Would you agree with that?
ANDY BELL: Yeah, definitely. That wasn't the intention, that's just how they came out. Vince lives in Brooklyn, so I went and listened to the music that he had made, and I thought, "Oh, wow – this is really great – it's not just a lot of chords stuck together; he's worked really hard on this." Even after 35 years [together in a band], you do get shy when you meet each other again. We meet up probably every year and a half or so. Especially when you're the singer, you're the front person, it's like you're an actor and you really have to let go. So it's that thing of not wanting to be embarrassed in front of your friends, but you just have to let go in order for something good to come out. You have to not care about what you look like.
Are there any particular themes you're hoping to get across with these new songs?
ANDY BELL: I didn't think in the way of themes. I just thought of the originality of bands that were around when I was a fan of music. I'm still a fan of music, but you know, when you go and buy your first records. For me, it was The Pretenders, B-52's, Talking Heads, Siouxsie and the Banshees. It was called New Wave for a reason! Because there was like a cutting edge to it. It was at the end of punk music, and it really had something different about it. I'm not sure what it was, but it was just very original. I don't know if you've heard the album Dare by The Human League? That's their most famous album. From the minute it comes on, I'm just transfixed by it.
But you took those influences and made it into something distinctively your own.
ANDY BELL: Yeah, we can't help it, with Vince's sounds, analog synthesizers, which he goes back to every now and then. He's got a whole host of variations that he uses. So this time, he said he's going to use his analog synthesizers. They're quite warm sounding. And you can't repeat the sound: every sound is always unique that you create each time. So we had that. And I hadn't really recorded in a proper old-fashioned recording studio for quite a few years, so that was exciting, as well. But I think it's something that we can't escape, we are Erasure and that's how we sound.
What made you decide to record this album in Atlanta?
ANDY BELL: It was really by fortuitous circumstance. My partner and I have a little apartment there. I just thought it would be really fun to go and record in Atlanta. They have nice cafes, nice different districts where you can hang out. I thought it would make a change. It was a bit like London was maybe 10 years ago or so. I've been [living] here in London now for maybe forty years. Atlanta's much more friendly, I suppose! [laughs]
And you're in London right now?
ANDY BELL: Yeah. Unfortunately, my partner and I got parted during COVID. He goes between Miami and Atlanta. So he's in Atlanta at the moment, with our Doberman called Angel. I had my April flight cancelled and now my September flight canceled, so God knows when we're going to see each other. I just like to be with him, that's it. He was there the whole way through when I was doing my vocals and my lyric writing, and he was such a great support. So I'm just very grateful.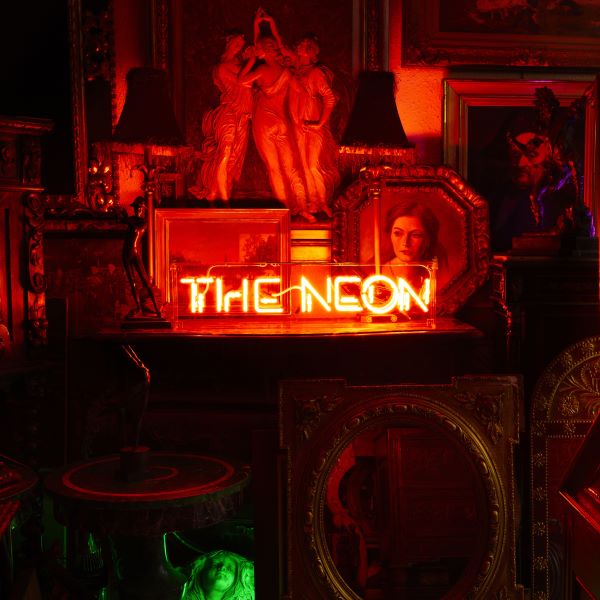 What does this album title mean to you?
ANDY BELL: Really, we were thinking of things off the top of our heads and that just came into my head. I thought it sounds like it could be an '80s club, or it could be an art gallery. I love the effect of an old stone wall with a neon sign on it. To me, that always looks like the clashing of antiquity and modern-day. I prefer the soft neons rather than the harsh reds and yellows. I prefer the purples and blues.
A lot of artists seem to run out of inspiration after a while but it doesn't seem to happen to you. How do you avoid that?
ANDY BELL: It does happen to us. I think it happens to everybody. You have fallow, dry periods. But you have to go through it – otherwise, you just don't do anything. This time, we were very lucky. We struck at the right moment.
You seem to have an unusually dedicated fan base – but that also means they have high expectations for you.
ANDY BELL: They do! It gets a bit disconcerting when you're reading these comments on YouTube, because you think, "What else could I do? Can I give you my blood?" [laughs] But you can't help it – you go onto YouTube because you want to see the reaction to the tracks that you've released.
And then there are those songs you're going to be expected to play for the rest of your life…
ANDY BELL: You have to – people have all paid their ticket price, they've come to see you. I mean, I would hate to become complacent, I really would. It's a cliché for artists, but all they want is to be on the stage, but that's the God's honest truth. In the end, it just boils down to, when I'm not working and I've been at home for a while, I start thinking, "Hmm, what can I do? Maybe I can do a little DJ session at the pub up the road." You start getting itchy feet and you just want to go out and be on stage – that's all you want. You want the spotlight.
Is that what made you want to become a musician in the first place?
ANDY BELL: I think you're born with it. Even though I was a really shy child, like lots of musicians, I liked making people laugh and entertaining people. I mean, singing was second nature, so I didn't think that it could be a career because I just did it all the time, anyway. Literally, I would be singing in bed every night. My parents would say, "Shut up – go to sleep!" [laughs] For any singer, my advice would be to sing when you're under the blankets. Because you can feel the vibrations in your rib cage and in your body, and that's a good exercise for you. But I would put on shows in our garden where we lived. I drew the tickets. I put all the chairs out, made the stage. And then when nobody came, I didn't realize that you had to promote the show! It's the same now: I still don't know how you promote a show. [laughs]
How did you and Vince actually meet in the first place?
ANDY BELL: For me, it was kismet because I was a huge fan of his. He was in Depeche Mode and Yaz afterwards. I thought, "Who would be great for me to work with? Maybe I should write Vince Clarke a letter and see if he needs a new singer." This was when he was doing his project called The Assembly, using different singers. But they decided to get another new singer. So I answered an advert in one of the music papers which just said, "Established songwriter looking for singer, call this number." And I called and it was for Vince Clarke! And I was like, "Hey, how is that?" He was one of the first famous people I spotted when I was [first living] in London, because I'd been to another audition which happened to be at his studio that he half owned. He was playing on the Space Invaders machine, with his big long fringe [bangs] hanging down. So maybe that's what put him in my mind. But also, I would rehearse along to [former Yaz singer] Alison Moyet records. One of my flatmates said to me, "That's going to be you in a year's time in London." And then it just happened. And here we are!
The Neon will be released on August 21.