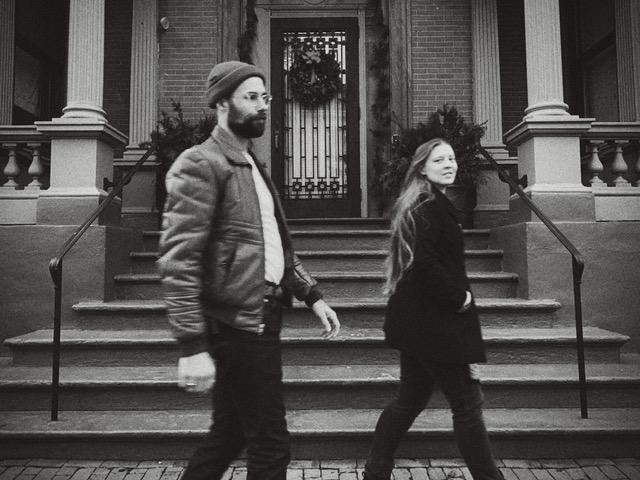 7 February 2022
Can we start with a bit of background? How did you come to be working as a duo and what musical paths brought you to this place?
Eric: I grew up in a musical family with lots of people playing music around me. My parents were doing music in church my whole life. My dad has 14 siblings and they'd all sit around with guitars singing James Taylor, Bread, CSNY, and other singer-songwriter stuff at family gatherings. My dad taught me how to harmonize in the bathtub as a little kid. I picked up his guitar around 12, got my hands on a chord book, and started teaching myself how to play songs. Through middle school & high school, I was playing in the church and started collaborating with kids in school. Never did any serious projects, but there was a lot of jamming. I wanted to write & record music as early as 8 but didn't really start writing until my 20s. I met Ash while we were (again) doing church music, around 2012. There was undeniable musical chemistry between us, along with a mutual interest in wanting to create singer-songwriter music. Ash was writing a lot of songs and I was helping her develop them. We loved The Swell Season & The Civil Wars. I was at a crossroads at this point in my life and the opportunity to start taking songwriting & performing seriously…
Ash: We fell in love really quickly and became a band at the same time. The chemistry between us was just crazy. Our harmonies were tight from day one and it all blossomed into a beautiful relationship. Eric and I met during my senior year of college where I was studying voice. My Capstone project was an EP of original songs, which I had no idea how to arrange or produce. So, Eric stepped in and took the project over the finish line. I don't know if that was technically allowed, but I graduated with the highest honors, so I guess my teachers liked the EP. We started playing bars and eventually recorded a few of our originals together, which turned into the first album and tour. As they say, the rest is history. We got married and have been on the road, making music ever since.
What would you say are the biggest influences on the music that you make, both musically and in other walks of life too?
Ash: My dad was a musician in the 90s. He was in cover bands as the bassist and background singer, so I learned harmonies driving up and down 95. I studied classical music in college but was writing songs from a very young age, with my dad's encouragement. I was working in studios with his band when I was 13 and was always aware that doing music for money was a possibility. I was very privileged in that sense. I didn't actually become familiar with folk music until I met Eric. His family's love of the 60s & 70s singer-songwriters inspired me and helped me hone in on this folky sound that we now have.
Eric: The deepest influence was that innate musical sensibility in my family. It was so natural for us to all be making noise with our voices and there was always someone in the room with a guitar. The next layer for me was growing up in the church, where music was seen as a connection to something much bigger than myself. Connection in music is at the center of why I write; to share my story and try to find ways that it connects with the bigger pattern of my life and the lives of those around me.
Ash: I didn't grow up in church, but that same connect-ability was really what got me writing, too. When I was 13 crying to Alicia Keys, it was pretty immediate that I thought, "Oh, I want to make other people feel this way." Not that I wanted to make people cry (which our music does all the time, our fans say) but I wanted to make them feel.
There is something gorgeously understated about Autumn Hymn, is that by choice or is it more to do with the musical limitations of being a duo?
Ash: Eric produced the song, so he'd have more to say about that than me, but we did have time & space limitations creating the album. It was pretty DIY and we didn't have the luxury to call up any musician who could play any instrument we could dream of. We had a small team of folks with us, so we kept things sparse.
Eric: It was definitely intentional. The nature of working as a duo lends itself to an understated presentation, but the aim in what we do together is to create a lot of power using words and dynamics. I've never been attracted to anything that's flashy, and I always love to see how much we can do with as little as necessary.
Ash: I loved emo music growing up. It's so dang fun to be in a giant pit with so many people and watch a full band vibe on stage. But when someone can rock your world with just their voice and a guitar, it's the best. We are pretty minimalistic people in life, too. So we try to do as much as we can with what we've got, and oftentimes, our fans say they can't believe how full the sound is with just the two of us on stage.
Can you tell me a bit about the songwriting process? Do you come together with fixed ideas for songs or do they more evolve in the creative space?
Ash: We never write together. We have tried, and admittedly are getting better at communicating through song ideas as we grow as writers and more secure people, but we don't usually start from scratch in the same room. I'm methodical and private about songwriting. I try to practice writing a bit every day and don't share my songs with Eric until I'm 90% sure it's a keeper. I think Eric's the same. We have a million ideas that never see the light of day in our marriage, but when we think something is really good, we'll bring the other person into the room. There's something deeply intimate about songwriting, and even though we share so much as a couple, it's a space I like to keep for myself.
Eric: While we don't write together, there is an evolution that happens when we take the song into the duo format. Generally, some lyrics are smoothed out and the structure and dynamic of the song take more concrete form once we come together to start working on how we will perform the song live, or record it. In the studio, at this point, I do the arranging of the other instrumentation and have the biggest creative impact on how it would sound on a record.
Do you think that your music has changed album to album and if so has it done so consciously or has it been a more natural path?
Ash: On our first record, Eric's primary instrument at the time was the electric guitar. He was playing that in church mostly and so we naturally had that instrument on the songs. On our first tour, we put an electric guitar, pedalboard, amp, 2 acoustics, merch, food & clothes in a little Jetta and quickly realized how much easier it would be to stop performing with the electric live. As we naturally found ourselves playing more folk venues and house concerts, the 2 acoustic guitar format – now with only a single Ear Trumpet mic – is so economical and intimate. We've been able to create a really big sound with just the two of us and our acoustics. The records followed. Our second album under our old band name The Promise is Hope, Every Seed Must Die, was very purposefully stripped back to reflect that intimate sound we were creating live. It was our post-electric moment, really honing in on the fact that we were now a folk duo. We've maintained that format. This next record isn't electric by any means, and still really represents what we create on stage, but Eric was a bit braver with instrumentation and production on this one. More so than Every Seed.
Eric: Early on, I felt that Ash was the real powerhouse of what we did. Her voice is so amazing and she has very strong musicality. On the first and second records, I felt like I was still trying to find my voice and discover my strengths in the duo. The electric guitar was a way for me to mask my insecurity because I could rely on pedals to compensate for a felt lack of skill with my guitar-playing. While I had been singing for years, I still didn't really connect with my voice as an instrument that I could use to evoke the emotions that I wanted in my music. Once we dropped the electric and went fully acoustic, I felt so much more at home. I think because of the nostalgia that the acoustic guitar in singer-songwriter music has for me and my family roots. So to answer the question, it's been both conscious and natural for me, as we develop our skills as players and writers. In the years between Every Seed and this record, we really focused on honing the duo sound playing around one mic. So, we wanted to find a way to capture that energy on the record. This is the first time that we tracked our vocals & guitars live in the same room, as the foundation for each song. I think the result sets this above recorded work we've done in the past.
And what can we expect from the forthcoming album, A Song For Every Sadness, from which the latest single is taken?
Ash: Actually, A Song for Every Sadness is the title of the film that will come out accompanying the album. That will drop this summer or fall. The film is absolutely incredible. I have nothing more to say about that except I can't wait for you to see it. The music video for "Autumn Hymn" is coming out on March 1st and is a tiny chunk of the full film. The album is called "Sure". It was recorded in a boarding school in Western Massachusetts, just the two of us in a classroom for a month, and fully arranged and produced by Eric. He's been listening to it every day doing the final mixes, so he has a lot more to say about what to expect than I do because he's so intimately involved in the record right now. I will say I do honestly believe it's our best yet.
Eric: I agree. I think it's our best yet. The songwriting is our most vulnerable. The performances are more skillful.
Ash: It's got 7 years of touring under its belt and I think it shows.
Eric: I think it's fitting that it's our first album as Ash & Eric. It feels like, in some ways, our first real record. I don't know if that's fair to say, because we love our previous producers, but it just feels so deeply us. What to expect from it? I would say, it's an opportunity to listen deeply, to soak in a beautiful sonic scape that is understated but very rich.
Just returning to Autumn Hymn for a moment, there is a wonderfully subtle message running through the song about returning to nature. What other themes and messages are you keen to get out there via your songs?
Ash: We really give a crap about people giving a crap about their lives. Something we've always connected on in our relationship is "intentionality". We are super intentional people. We chose the path of being professional musicians, even if it isn't always the easiest or most lucrative path because we want to make good art and share it with people in the hopes that it helps them get more intentional, too. We want to live a purposeful life and encourage everyone toward that, too. We want people to be allowed to feel their feelings, and we make music that fosters the experience of a full spectrum of human emotion.
Eric: I loved that you used the word "return" in your question. There is a theme throughout the album about going back to understand our history as people in order to live more fully in the present, to look to the future with a sense of hope and possibility. There's an exploration of our childhood experiences and family histories in order to make sense of who we are today. I think that's important work for all of us to do from time to time. To look back and reflect on where we've come from.
And where next for Ash & Eric, both musically and as people?
Eric: Definitely looking forward to touring and playing the set live, to sharing the film, and our next phase of writing for the next album. At the same time, celebrating what we've accomplished, coming through this past year with all the changes the pandemic brought, and recognizing what we were able to do in spite of those challenges. I personally have grown so much as a recording & mixing engineer through this process and look forward to working with other artists to help them bring their music to life as a producer and engineer.
Ash: I'm writing a lot right now. In the past, it's been hard to start writing new songs while promoting a record. It takes so much brain power to put albums out that it doesn't always foster creativity, but that's why our albums have had 3-4 year gaps in between. So, we're trying to keep creating more consistently and put out records more often if we can. Otherwise, I've been meditating a lot. I'm very into mindfulness right now and working on nipping my phone addiction in the bud. It's definitely not helping me write more. I don't know if anyone can relate…
Thank you so much for taking the time to talk to me and best of luck with the current single, the forthcoming album and everything else.
Website
Patreon
Instagram
Facebook
Twitter