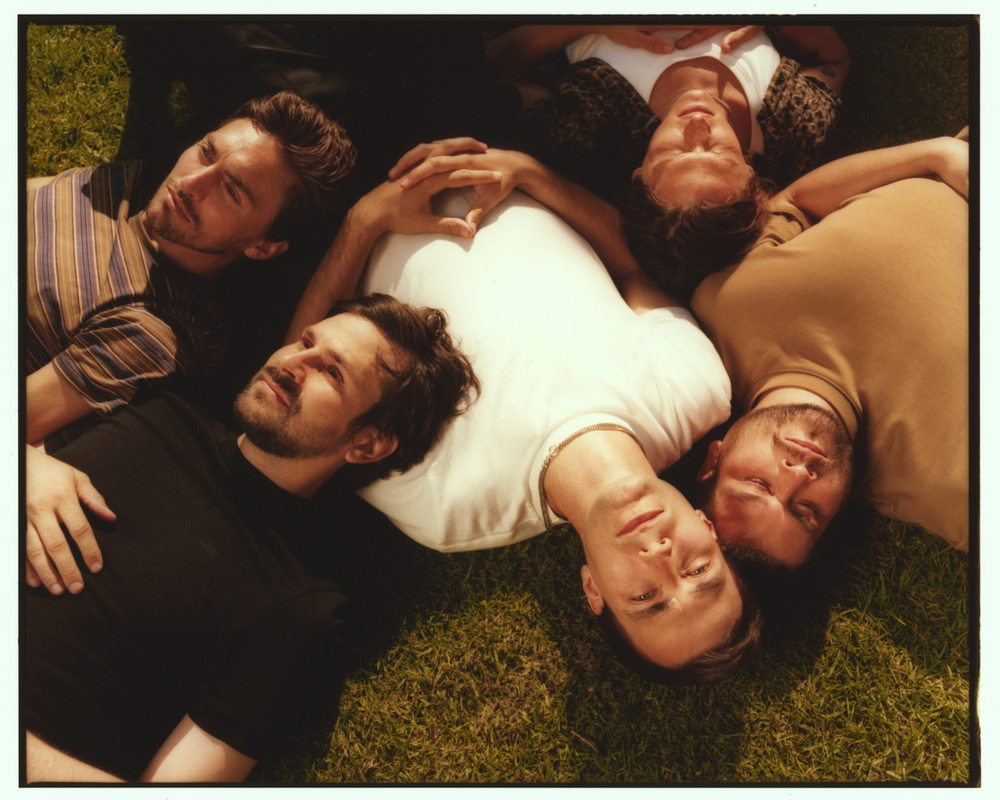 4 February 2022
Photo by Jonny Marlow
In 2012, a new music festival launched in Cincinnati, Ohio called the Bunbury Music Festival. I was writing for a blog at the time and decided I would try to interview all 105 bands on the lineup. I sent all the bands the same 5 questions and then anxiously awaited responses to start filling my in-box. One of the first bands to respond was one that I was not familiar with, Quiet Corral, from Lawrence, Kansas. Quiet Corral was a six-piece folk-rock band that shared similarities with more established acts like Mumford & Sons, The Lumineers and Of Monsters and Men. A year later, Quiet Corral quietly disbanded with a number of the musicians refocusing on a new project called Hembree.
Since forming in 2013, Hembree has gone through some lineup changes and now features former Quiet Corral members Isaac Flynn (vocals, guitar), Garrett Childers (bass) and Eric Davis (synths, keyboards) in addition to brothers Alex (guitar) and Austin Ward (drums) who joined in 2018. Hembree's debut album, House on Fire, followed in 2019 with the debut single, "Holy Water", leading the way.
With a delayed start to recording a sophomore release, Hembree spent much of 2020 writing and recording, the end result being the irresistibly catchy It's a Dream!. Taking cues from everything from '80s synth-pop to The Talking Heads, the album has an extremely fresh and modern feel as evidenced by the lead single, "Reach Out."
As time has lost all meaning during the pandemic, it seems impossible that I first met Flynn ten years ago and he reminded me, during a Zoom call, that he wasn't old enough to drink at that time!
I've known you since you were the band Quiet Corral. Hembree's music is so different, but I imagine this is more the kind of stuff that you always wanted to do.
ISAAC: I would say that it's more true to who I am as a songwriter. In previous bands, I wasn't as much of a songwriter as I was a part writer, producer and arranger and that sort of thing. When Quiet Corral ended, it was one of those things where I was like, "Oh, I didn't even know I loved songwriting so much." I completely fell in love with that a few years back. I started writing songs in my early 20s where I feel like a lot of people start a little earlier than that. I became obsessed with it and didn't even realize there's a whole world for songwriting and a whole career in that too. That's what I do now, write a lot of stuff for other people, do the writer/producer thing and then do the band as partially my career and as a passion thing too.
What other kind of writing are you doing?
ISAAC: I live in Los Angeles now, I've been out here for 3 years, though it feels like I just got out here because of the last 2 years. I'm doing a lot of stuff for film and television and for other artists, co-writing and things like that. I love that a lot of artists are writing their own stuff but there's still a lot that like to collaborate or have an outside co-writer. It's been great for me because I love collaboration and it's in my nature to be outgoing. Meeting new people is something I really enjoy. It's been a dream scenario for me to constantly be in the studio, whether that's Hembree or writing for other people or film and TV.
When did you start working on It's a Dream!?
ISAAC: I was jumping in between touring and writing. We were playing so much, it's kind of wild to think about how many shows we were playing in 2019 carelessly, without a worry in the world other than touring expenses and things like that. Just normal things that bands used to worry about! I would come home and write like crazy. I was really nervous because we were supposed to start recording the album in March 2020. We had made plans to start the new record. I only had 15 songs. That's a healthy batch of songs but I really wanted to get to 20 or 25. Ask and you shall receive for time. We were given an eternity, we were given a mountain of time with COVID to write. I ended up writing 30 songs by the time we started production on It's a Dream!.
We started that remotely in the summer of 2020. It's no different than what we're doing right now. I was on a Zoom with our co-producer, Eric Hillman, who's essentially the sixth member of Hembree. He's so involved and a great collaborator that I've loved working with over the years. We would do Zoom sessions. There's a plug-in that you can put into your session that transmits the audio to someone's computer. So, he was listening in his studio to what I was tracking in real time or what one of the other guys was tracking in real time. Eventually, maybe December 2020, it was very clinical. We took tests, wore masks in the studio and everything and we went in and did the real drum tracking and guitar tracking and stuff. At the beginning of 2021, we finished it up. It kind of took a while because everything was being done remotely, people were sending files. I was the editor overseeing all of it. "Send me your files and I'll piece this thing together."
I think, weirdly, this sounds like our most collaborative and live record that we've ever done. It sounds less produced to me than some of the previous stuff even though that was all done in the same room. It really forced us to think outside the box and, honestly, it was a really great experience. I think the next one, just because we miss each other, we'll get in the same room. We all just watched Get Back, so I have a feeling we'll rent an Air BNB and play music for a month or something and that will be the next record.
When you said March 2020, I was thinking, "Oh, so you were supposed to start working on this a year ago." And then I realized that was almost two years ago!
ISAAC: It's so bizarre. Clearly this probably hasn't been the greatest thing for our minds, the perception of time and reality.
Do you remember what you were thinking in March 2020?
ISAAC: This is embarrassing now, now that we're two years into it, but I definitely was like, "Okay, we take a break for a couple months and stay home and we'll get through this thing." My wife could see into the future and had that foresight because she was following it in early 2020. She was like, "This could really happen here." It's funny, it felt like Doomsday prepping or Y2K prepping but she made sure we were stocked up on some essentials. I just trusted her judgement and she was right. I was like, "Okay, we'll just stop, make this record, get back to touring sooner than later." As we learned more and more, we realized it was going to carry on for quite a while.
I feel fortunate in that I've always worked at home as a songwriter so my work life didn't really change other than I was doing more things over Zoom. Being optimistic and looking at the bright side, it weirdly opened up the doors to collaborate with people in Sweden and all over the world. We got used to working like that. It's not the same as being in a room.
It was really challenging but once we figured it out, we were like, "Okay, we can do this." The generation just below me, I feel like they've been doing Facetime forever. A lot of the younger writers I work with, they're like "Facetime me. Hit me up now." Now, it's just what we do. It did break some of those comfort zones and that was a good thing.
You're getting a lot of great radio support in some key markets. Are those relationships you've been building with stations as you tour?
ISAAC: It's funny with our band. I love making music but I think I'm being genuine when I say that everyone in the band is very extroverted. One of our favorite things about being in a band is making these friendships and relationships and creating a music community around the country and even now starting to see some stuff in the UK. It comes natural to us. It's been awesome that people have stuck around and continued to follow us and talk about what we're doing. I definitely don't take it for granted.
Since it's been a couple of years, are you starting to build those relationships back up with the stations that supported you?
ISAAC: We're starting to send the music out to people. With two years of not seeing people, we're sort of climbing out of the COVID pit that we've all been living in and saying, "Hey, we're alive. You're alive. Wanted to share what we've been up to." I hope we can do it on a higher level and traveling whenever that makes sense.
Are the lyrics on It's a Dream! reflective of the last two years?
ISAAC: It's interesting because a lot of them sound like they could have been written in the last couple of years but I had written a lot of the lyrics for the record prior to the pandemic. I think we can all sense things were getting weird, even if it wasn't the virus, socially and the way people were treating each other. Everything going on in the world, it was just getting more and more chaotic and you could feel that tension building. I think I was writing with a lot of that anxiety in mind. There are certainly moments on the record where I'm talking about life experiences during the heart of it. At first, I was like, "Is that going to be too on the nose? Is this one specifically tied to 2020?" It's clearly gone on for so long, it's a pretty insane thing that's gone on in human history and the human experience. Now I'm kind of glad there are a few tracks that are directly related to what we've all gone through. A lot of it shifted my focus to writing about mental health and ways to get through the days because it was so trying for so many people.
Lyrically, the album's called It's a Dream! and we have a song on the record called "It's Real" and we like the juxtaposition between the two and we liked that the album weaves in and out of the narrative that you can't decipher what's reality and what's a dream. It ties into the passage of time that's hard for us to nail down at this time. I'm pretty happy with how it all came together and not necessarily a pandemic record but I also didn't stray away from it.
Have you seen amongst your peer group, other bands and stuff, the last two years being too much and too tough? Do you have friends that you think may never make another record or won't go on tour because this has broken them?
ISAAC: I didn't necessarily think that would happen, but it's gone on so long that I think that it might. Bands and artists all had to become logistics experts. We're certainly not infectious disease experts though I've been very happy to see how my peers have taken every thing. It's been really difficult. I never want to over-exaggerated how difficult it's been because I'm happy and I'm healthy but it's wild how being an artist and being in a band was already a kind of difficult dream to pursue and then COVID just added another layer of difficulty. Just the stress of having to try to figure out if you can even play safely, and just the way music is changing – I never want to be a naysayer on how the generation below me is consuming music – I think a lot of us got into songwriting, music production, community and everything like that. It's just been a big shift to everything being on line and TikTok and everything going digital. It's very far from when I started a band. All of our first bands, Spotify existed but you didn't have to worry about monthly listeners, you didn't have to worry about Instagram or TikTok or any social media. It was more like you go play your concerts and that's how it goes. I think the new way of doing things can be fun and cool too, I'm not trying to shoot down the future, it's just wild how it all changed.
You've got a really good knack of writing songs that are instantly memorable. If I hear just 30 seconds of a Hembree song, it sticks. I'll hear it when I wake up. I'll hear it when I'm driving.
ISAAC: That's something that I learned about my writing. My tendencies will always be to write something somewhat catchy. I learned, from a production standpoint, but then I can build anything around that melody and not stray away from that. There will always be something kind of catchy in there so then I can experiment around it. I've refined my craft but I haven't sat around trying to figure what will get stuck in people's head. It's just naturally the way my mind writes, those sensibilities are what come out of me when I write.
It's a Dream! starts off sort of energetic and on a high note and then, as it goes along, it starts to mellow out towards the back half of the album.
ISAAC: It does. We opted to go with the energy right up top. I think that's how we all heard it in our heads. The Ward brothers would always go on runs to the record, so as they have that initial burst of energy, they're ready for the jams but then they want to get deeper when they're slowing down. We definitely wanted the sequence to take you up, take you down, go up a little bit but then you kind of slow back down towards the end. That comes from wanting to show more depth in our songwriting. When we first started, and there's still some of that, the first three songs are all up-tempo jams, but I think we got into different stuff and had different influences and wanted to showcase a range of songwriting and a range of emotions.
We spent so much time, we had the time, but the band text thread about the sequencing of the record, it feels like it was weeks of conversation. "This one after this one doesn't feel right." I think we just wanted it to feel like more of an experience but that's with the realization that so many people consume things just on playlists. They might only hear 3 or 4 of these songs. Hopefully they'll seek the record out. But, for the people that were going to dive in and go all the way through, we wanted it to be a cool headphones experience.