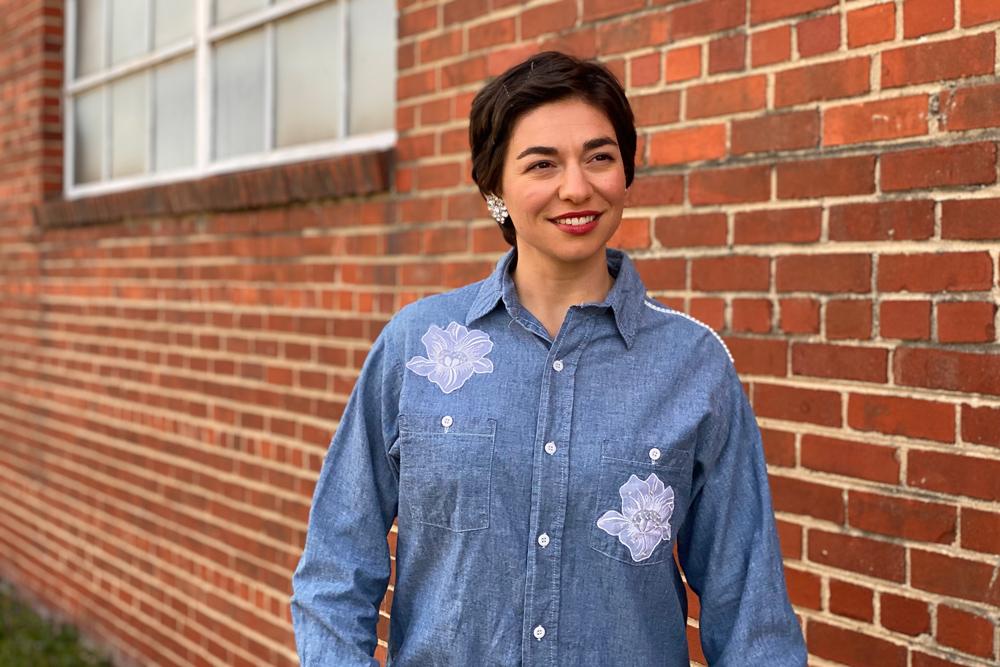 4 November 2022
Can we start with a bit of background? How did you get started in music, and what have been the defining moments that have helped get you to where you are today?
Teni Rane: I'm a Tennessee girl, although you may not hear too much twang in my voice! I grew up around music and singer-songwriters and listening rooms in Chattanooga, TN, and looking back on it now, maybe it was inevitable that I'd end up trying my hand at it eventually. There was this amazing little coffeehouse called Charles and Myrtle's, where I spent a LOT of Saturday nights in my early childhood years. My parents enjoyed going, and so I always had a front-row seat to a cozy show by really talented singer-songwriters that were passing through on tours. Folks like Buddy Mondlock, Cosy Sheridan, Pierce Pettis, and Beth Wood, it was really an incredible place to grow up around and the community that supported it was our extended family. A huge overlapping section of that community also had a "Sunday Jam" or "Sunday Pickin'" that was a staple in my early childhood. It's still going, and my parents have been going for almost 30 years now!
Though we had been going for years and years to live shows and the Sunday Jam, it wasn't until my dad was 60 that he picked up a guitar to try to start learning. He taught me my first chords and gave me an electronic chord finder. Then he had to get me my own guitar because I was keeping his away from him :) He always jokes that he taught me how to play but I don't joke when I tell people that he DID teach me how to play! His curiosity to learn something new and the support from both my parents has always been a really special part of my musical journey and my life. They are still some of the first people I share new songs with before they go out on gigs!
In life, I always hope that each experience helps teach me something about myself and leads me towards another experience that continues the journey. So, weirdly, a defining moment in my music that helped me get to today was the chance to play soccer abroad in Sweden after I graduated from university. I made lifelong friends and connections while I was living on Gotland 6 years ago, and as I navigated the emotions around making a big life change and trying to dive deeper into music, I had those connections to build on and create space for myself to move into. Without that I would never have been there again; worked with Roger (Gustafsson) at Sandkvie, and now have some great new releases to send out into the world!
Are there any specific influences, both musically and otherwise, that have helped keep you on the path or which you have learned from?
Teni Rane: Someone once told me that any artist's sound is just a summation of all the inputs and sonic experiences they've had. In that vein, I often find myself channeling for the vocal strength of Gaga, the finesse of Norah Jones, and the vulnerability of Amanda Shires. I love the gritty uniqueness of Natalie Merchant and the honest tone of Gillian Welch. I feel the open vocal tones of 1995 Jewel and the earthy western twang of Brennan Leigh. I could go on, but that's probably enough for now! In the music space, I'm still assembling my voice and hope to continue searching, learning, and refining forever.
In the broader picture of life, I'm also still searching and learning, and refining! (Aren't we all?!) I'm in constant awe of the "everyday people'' all around me and the courage that they are leaning into life with. There are so many big and ugly challenges facing communities and individuals on a macro and a micro scale. My neighbors, my friends, my family, their stories of heartbreak and victory… and yet there are those that go on every day leading with kindness and love and building communities and working their tails off. I learn from them all the time.
Can you tell me about your stay at Kneippbyn Resort Visby, how that came about and what you learned and created during the stay?
Teni Rane: Oooohhhh yes! First off – Sweden in the summer: if you haven't been, GO! It was a great place to work over summer 2022. I ended up there because of soccer which I played all the way through university. After that wrapped up I had a chance to go play soccer abroad. It seemed like a wacky and wild thing that I would never have the chance to do again so I said yes! I ended up on this little jewel of an island called Gotland in the middle of the Baltic Sea in the summer and fall of 2016 – never been anywhere else like it before or since. It was an amazing experience, and there was a lot of excitement in me about it there was also a lot of feeling homesick and out of place, and lonely. I wrote "Meet Me in Stockholm" then. It was so lovely to record it this past summer when I was back again! Anyway, when I finally got up the courage to change direction a little in life (taking an indefinite break from a career as a chemical engineer currently…), I had the relationships there at Kneippbyn to reach out and ask if they were looking for summer help with the resort: specifically for musicians and yoga teachers. I was fortunate that they were and that I was a good fit for what they were looking for :) It was incredible to be back, and those pesky feelings of loneliness and displacement still popped in to say hello sometimes. One of the things I've definitely learned from being back in that working abroad environment is where I go when I am feeling fragile and how to give myself a little space to feel strong again.
I was determined to make the most of my time on the island and started asking around and researching about studios – that's how I learned about Sandkvie Studios AB. It is a really well-respected studio in Sweden and is right in the Visby harbor. Micke Lyander, who is the owner of Sandkvie, introduced me to Roger Gustafsson as a potential project partner and we started chatting about working together. As soon as I stepped into the studio, I was so excited to be there – the vibe is just right for me. "Meet Me in Stockholm" being on the track "to-do" list was a no-brainer for me. It was really full circle to record it while back in the same place where I had originally written it and while experiencing that same division of emotions – being so grateful and excited and happy to be back and getting to do something so incredible and also feeling very lonely and separate and down sometimes.
I also needed a little jumpstart on getting recording projects back underway. I had tried to get some things moving in 2021, and there were a few unmovable barriers for the folks I was working with that kept delaying the process. I thought about diving back in at Sandkvie with Roger on those partially recorded tracks, but it felt fresher and better to move in a different direction for a while. I had these holiday tunes at various stages of "finished" also and had been wondering when I might get those onto the airwaves. I knew I wasn't prepared for a whole album going into the process and felt like I was really testing the waters with some additional instrumentation than I've done in the past. Choosing my holiday originals gave me some space to play and experiment and be brave. It helped me practice asking for what I heard and felt, and wanted for a song without shying away or negating my own thoughts. It also helped me claim my space in the holiday season. What I see and care about and find important during that time. There is a lot of nostalgia for me around some of the traditional Christmas music that I always hear during the holidays, but none of them felt truly like "mine." These songs help me find my center and I'm looking forward to the holidays a lot this year!
"Meet Me In Stockholm" is the first run of single releases that take us into the holiday period. Why did you decide on such an approach?
Teni Rane: Honestly? Experimentation! For these releases, I wanted them to each have their own chance to shine but not be totally disconnected from each other. Truly I had hoped to release "Meet Me in Stockholm" a liiiittttttle earlier, right at the end of summer, so that there was a little separation between it and the run of holiday singles but I think it will work out just fine this way too. Project managing a release (or 4!) is a lot of work! There's a lot of benefit in terms of promotion that having multiple singles brings because it helps keep fresh and exciting things coming to the listeners for a while and also reminds them of the other recent work. I saw that advantage (I often struggle to feel like I am remaining "relevant" in the social media sphere) and thought I could try it on for size and see how it all went. I'm not sure I would do it exactly the same way again. I've definitely learned a lot about the pros and cons of a stream of releases, and I'm sure I'll log some more info as the holiday singles walk out into the world from now through early December. I hope that this won't be the last time I bring these songs forward for listeners' consideration :)
And will these singles form part of an album at a later date?
Teni Rane: I think "Meet Me in Stockholm" may be a stand-alone for a while. I have an album idea that it would fit cohesively with, and it's on a long list of projects I want to bring to life, so it might be a minute. The title I'm playing with for that hypothetical album is Places after another one of my original pieces – the tracks I have in mind are a pretty cohesive look at my journey from place to place through life, both physically and emotionally. The holiday tunes are the same – I definitely want to put out a full album of winter/holiday songs in the future, and I have to stage my approach so that I can keep releasing without burning out my energy or my finances! I'm hoping up next will be a collection of golden fall numbers for late 2023 – originals and a few covers. I'll keep you updated on how that goes!
Many holiday-orientated songs often seem to only be out of place outside their given season, but yours seem to be of that rare type that could be played all year around. Did you consciously aim for this?
Teni Rane: I'm glad I'm not the only one that thinks they could spin all year! I wanted the songs to "fit" into the holiday theme space, and I wanted them to still be my sound and not feel kitschy or overdone or stuck in one timeframe in the year. The themes are still relevant all year round to me: trying to appreciate opposites in a given moment ("Cozy Inside"), making space for your own ways of marking time together ("Rosemary & Evergreen"), and appreciating the small moments of quiet and ease whenever they are around ("Tennessee Snow").
The basic structure and melodic elements and vocal styling with the layering and "vintage holiday feel" were important to have in there and were in my head for the songs. I think we definitely achieved that and MORE without pigeonholing the songs only to the holidays. I'm really happy with our work and excited to be part of the holiday season and hopefully beyond with these tunes :)
So, what does the future hold for you, both with what you want to achieve musically and also on a broader, more personal scale too?
Teni Rane: I absolutely see myself recording more of my original work and some cover tunes that hold special places in my life. I enjoy live gigs and hope that, over time, I'll be able to be more established in the types of venues that I feel most excited and passionate about. It takes a lot of time and effort to build a local or regional presence. I'm working on it, though! I want to keep music in my life in a sustainable way: sustainable both in the energy it gives me and the energy it takes (which is quite a lot!) and also sustainable financially (a girl can dream, right?). Music and songwriting have become important to me because they help me communicate and tell stories in a way that feels true to me. I'm always really gratified when my stories and the things I see and feel, and share through song connect with others in a meaningful way to them. I want to be able to keep doing that without draining myself. Music can be really helpful in prioritizing and talking about mental health, and it helps me get some ideas, emotions, and thoughts out of my head. There is a dark side of it too, though – the endless pressure to be active on social media, to become someone that is fit for the algorithms and not necessarily fit for life. I want to find the balance in that with music so I don't drive myself crazy.
More broadly, I am still building the life I want for myself and my family. Sustainability and balance are important there too. I've been spending a lot of time learning about the non-profit sector and running thought experiments for myself in what it might look like to work in some different roles and with different organizations. It's always helpful for my music and writing to get outside of myself for a while and see and experience other stories. I want to find the synergy and balance between outside and inside and the cross-sections of the stories of life and live them and write them. I'm always trying to make space for the truth that something can be exciting and exhausting at the same time – whether it's a "life thing" or a "music thing" – and keep reminding myself to rest, to recharge, and to not chase after things that someone else thinks it would be a good idea for me to chase.
Thank you for taking the time to chat to me about everything going on in your world.
Teni Rane on Tour
Nov 04 – Bristol, VA – Radio Bristol (WBCM)
Nov 25 – Chattanooga, TN – Redbud
Nov 26 – Knoxville, TN – WDVX Blue Plate Special
Nov 29 – Asheville, NC – Funkatorium, Wicked Weed Brewing
Dec 09 – Abingdon, VA – Tumbling Creek Cider Company
Linktree
Bandcamp
Instagram
Website