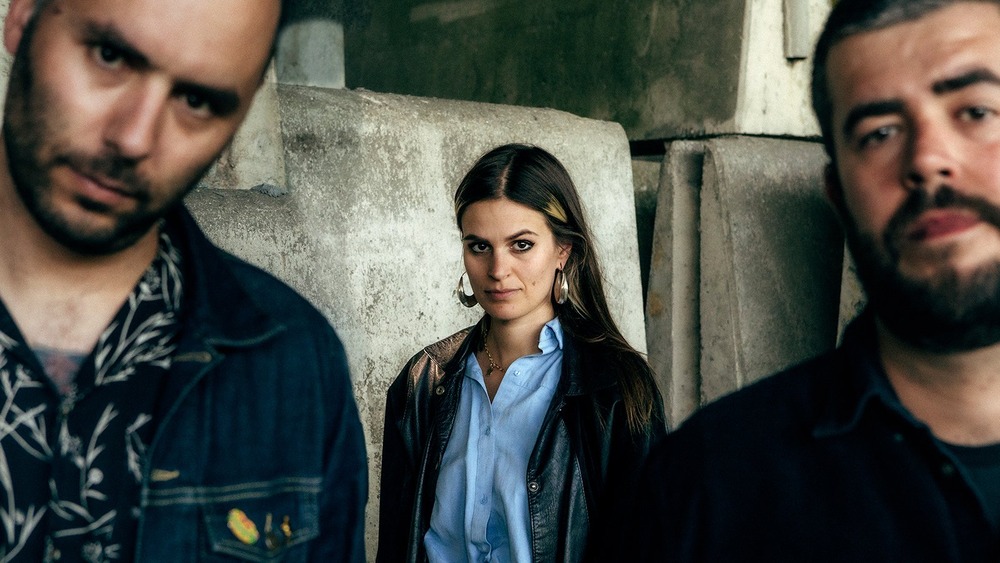 30 October 2022
Photo by Eva Vlonk
Though it's serious business performing a meticulous mix of hard rock, punk, and post-hardcore music, there's a lighter side to the Belgium trio Brutus that comes through in a Zoom conversation on the release day of the band's third album, Unison Life. Bassist Peter Mulders will point to the band's Instagram account and the light-hearted photos that the band shares when asked if it's all work and no play and drummer/vocalist Stefanie Mannaerts spends much of the call smiling and laughing about her love of '90s alt-rock band Jimmy Eat World.
Formed in 2013 by Mulders, Mannaerts and guitarist Stijn Vanhoegaerden, Brutus released its debut album, Burst, in 2017 followed two years later by Nest which exposed the band to a global audience. Shows with Russian Circles, Chelsea Wolfe, Cult of Luna and the Deftones followed, solidifying Brutus as a can't miss live act with Mannaerts' Bjork-like vocals coalescing with the powerful post-rock instrumentals. Unison Life, written without major deadline stress, pushes Brutus to the next level as the band stretches its sound on tracks like "Victoria" and "Dreamlife." The timing of the release is perfect to keep the album in the minds of people like yours truly who are starting to put together year-end lists. Unison Life is harrowingly beautiful, the music driving forward while experiencing peaks and valleys in each of the ten tracks.
What do you do to celebrate album release day?
STEFANIE: We have to rehearse for a live session on Monday that we said "yes" to.
PETER: We have to do a cover song and two of our own songs that we have to rework so it's not the same as the album version. It's for national radio here in Belgium.
STEFANIE: So it means it has to be a bit quieter.
What is the cover song you're doing?
STEFANIE: We're doing The Cure's "A Forest". We're going to try it or they will shoot us.
PETER: All the hate is coming over us when we do that stuff.
STEFANIE: But if you represent it like, "We like this song so much," you can do whatever you want.
PETER: The thing is, Belgium is very small so sometimes you can do stuff that nobody knows about because it's just in Belgium. But, they will put it on YouTube so … ARGH … it has to be good!
Is it feel like a big weight off your shoulders to get the album out or does it feel like it's just part of the job?
PETER: It's very exciting. This is only the third time that we've done this, an album release. It hit me again this week how special it is. It's like getting a baby. We made it in January so it's been nine months (laughs). We released four songs before the album came out. But, the moment you can drop the album in it's entirety, this is what we are or what we worked for, it's a very special feeling.
The last album, Nest, came out in 2019 and it feels like you were just ramping up, getting going and then the pandemic hit. Did that put the brakes on what you were doing in terms of promoting and touring or had you already finished the album cycle at that point?
PETER: The album came out in March 2019. We did a tour in the spring in Europe and then we did summer festivals in the U.S.
STEFANIE: And then three or four weeks with Cult of Luna. We did a lot of touring.
PETER: It's not like Nest came out and then the pandemic hit. We had a full year that we got the album out there and played shows with it. Also, in the States, we played a few cool festivals, like the Deftones festival, and stuff like that and a few club shows in the big cities. They were all very cool. There was also a lot of things planned for May 2020 that were all wiped away.
Did you start writing the new album earlier than you had planned because of the pandemic or were you able to slow down and take a bit of a break?
STEFANIE: It was the first time we had so much free time. It's like you play, and then you write in between. With the last album, we even wrote on tour just to finish it because we were on tour in May and June of 2018 and then in September we had to record the full length album in Canada and we were like, "Oh my fucking God. We have to schedule practices on our days off because we're not getting there." We tried new songs on the Chelsea Wolfe tour just to check if they were okay.
PETER: We had to try new songs live because we had so little time. With the new album, we had a lot more time except for the moments where we were not allowed to come together because there was full lockdown and everyone had to stay in their home bubble. From the moment it was possible, we picked each other for our bubble – in Belgium you could see four or five people. There was a maximum limit to the number of people you could meet and we picked each other. We could meet up all the time except when we were sick. We kept on playing and it was not always very productive because it was so weird times and so uncertain times and we had no idea when to record or when to tour. We just keep making music because that's what we like to do.
Did the downtime give you the opportunity to try different things in your songwriting? It sounds like you're branching out just a little bit on the new album with songs like "Victoria."
PETER: I think we searched a little bit. We wrote 30 demos and I think we made even more non-Brutus songs but they're not on the album, they fell off. But, we tried a lot, we searched a lot. Some parts are in the songs, some are not in the songs.
If we can go way back in time, how did the two of you start getting into music and picking up instruments?
STEFANIE: I have a musical family. I started playing the piano when I was 5 or 6. Then, I was 12 and rebellious and I wanted to drum. Then I did conservatory on drums. For me, I always wanted to do this. My dad plays music. So does my mother, my grandfather. It was the most logical choice for me to do this. You know when you have a family of doctors? I just sucked at math and languages and everything that requires thinking. At some point, my school grades were so bad. My parents, when I was 13, they changed schools for me. I had music classes where you got points and suddenly I had good points. I was like, "Oh my God, I'm not stupid. I'm not dumb." I have a very supportive family, they always pushed doing arts and music so that's why I'm here. There was never another option. Also, my dad didn't have parents, he had to do everything himself and I think when you have done all those things because you weren't given any chances, and then your kid is kind of talented, I think it's normal that you're like, "Oh yeah, please, do this." I think if I was good at soccer, he would be a soccer dad. I'm just super lucky that he's super supportive in whatever I did and my brothers as well, they do something completely different and my dad says, "It's the best thing ever" whatever they are doing.
PETER: I was the total opposite. My family had no music connections. The only music we ever had in our house was the national radio playing, not even albums, not even a record player. Nothing at all. When I was 16 or 17, my best friend back in the day, he picked up a guitar and I picked up the bass and we started a punk rock band covering NOFX and stuff like that. Then we made our band. That's how I learned to play bass. He was talented and I tried to follow him. When that stopped, I kept on doing several projects just for fun. I liked playing music for fun and for the social component and being in a band and doing something together. I'm a little bit of an organizer or the manager type so I like the dynamics of bands. Then I met Stefanie and Stijn and then the real music came into my life, to be honest. I learned more music from Stefanie and Stijn that anybody else in the whole world. They showed me a lot of stuff that I never knew about. In the last four or five years, I started to play bass a lot more than I ever played.
Did you discover music through CDs? Through the internet?
PETER: My first things were tapes when I was in high school. My friend gave me a tape with Nirvana on one side and Rage Against the Machine on the other side. That was my first music. Then it was CDs – Radiohead OK Computer and The Cranberries No Need to Argue. Those were the best CDs I had until we started with the punk rock band. That was my real first music but my parents were like, "Why do you play CDs? What did you buy a bass?" It was only 50 Euros. They were like, "Why spend your money on a bass?" It was different back then.
Regardless of age, it seems like Nirvana really changed so many people's lives.
PETER: I was like 13 or 14 when somebody gave me the Nirvana tape. It was this energy that I had never heard before, especially because before that I didn't have music in my life. My best friend who played the guitar, when I came to his house, he had all the Beatles albums, all the Queen albums. His dad was a vinyl guy and they had all the albums. I was like, "What the fuck is this?"
Stefanie, did Nirvana change your life?
STEFANIE: No, I was still young. I was born in 1989. When I heard Nirvana, I was like, "Why is he so angry?" I was super small when MTV was on television and I saw video clips of Nirvana and The Prodigy. I liked it but I never dug into it until I was older, like 10 years old. When Kurt Cobain died, I was 4. I think I was just too young. When I was 14, that's maybe the first time I took the effort to check out CDs. The first CDs I had were the Spice Girls but that doesn't count because I was 6 years old I think. The first real CD I bought was Bleed American by Jimmy Eat World. That was like, "So fuck all the shit that my girlfriends are singing on the playground at school. Fuck that shit because they are only talking about boy bands. I didn't dare to say, "I just don't get it." And then, at one point, I saw the Jimmy Eat World video "The Middle" on TV and everything changed.
I just saw them a month ago.
STEFANIE: We did too, about three months ago. The songs are so good.
PETER: We saw them on this festival in Germany. It was very hot. We were not on stage, because they played the same stage as us, we went out into the crowd to watch them. It was very cool.
STEFANIE: We saw all these tough people who were like, "Fuck this shit. We're going to watch Jimmy Eat World." When I was in puberty, I was easily ashamed of what I was listening to the year before. I tried to cover for it by saying, "Oh, I listen to metal," but that wasn't true at all. There was this house party I was at when I was 24 and they asked me to DJ and, at one point, I was drunk enough, I was like, "Fuck it. I'm going to put on the entire CD from Jimmy Eat World." And all the guys that I never talked to came up and talked to me. They were like, "Oh my God, this is the best thing ever." Everyone was saying, "This is so good." I never expected it because people make you feel like Jimmy Eat World is a guilty pleasure. I wasn't ashamed of it but I was keeping it to myself for a few years. So many friends of mine, when "Sweetness" is on the radio or in a playlist, it's just something different..
PETER: Now that we're doing interviews for the new album, sometimes people ask us, "What bands do all three of you like?" We forgot Jimmy Eat World! We were asked that yesterday and the classic answers are Cult of Luna and Black Mountain. And Jimmy Eat World! We all like that too.
You watched them play at the festival. Do you know if they watched you play?
PETER: No, we don't know (laughs)
STEFANIE: Good thing we didn't know.
PETER: Their sound guy liked us. But, there was a hurricane at the South Side Festival. It's a mirror festival meaning that there's one in the north of Germany and one in the south of Germany and there are the same bands on both. All of the bands have Nightliners [tour busses] but we don't.
STEFANIE: There were 30 Nightliners and one little ugly van..
PETER: The roadie who does all the drums and stuff, he was setting up while we were setting up. He came up to us and talked to us and said he liked us but we haven't met the band. When people come up to us at festivals, we talk to them but we are very shy. We don't go search for our heroes because you meet a lot of heroes when you're on a festival. We watch from a distance. We go on stage without crossing all the lines. The bands like Mastodon and Idles, we all went to go see them but we're all very shy. We don't want to disturb them.
Are you more comfortable playing in a studio or playing live in front of an audience?
STEFANIE: It's the same but different.
PETER: For her, it's the same. I discovered recently that we did a one-song project and I talked with Stijn and we are totally different. Stijn is very comfortable in the studio. I think he really flourishes. He's like, "If I fuck up, I can do it again." When I fuck up, I'm thinking, "I can't play this." I go negative when I fuck up. If I do 10 takes, the 10th is worse than the first. Live, Stijn is more stressed because he's more like, "Oh no, I can't fuck up. I only have one chance." For me, it's like, "It's this one chance. It will be good. And it's the only chance. It will be forgotten in five second. It's gone. We are so totally different. Stijn likes playing live but he's more at ease in the studio because he knows he can do 20 takes. Me, I'm more on the live side. Live in the moment. And for Stefanie, she's everywhere.
Do you ever catch Stijn messing up on stage?
STEFANIE: Oh, I did the biggest fuck up last week in Porto, Portugal. I never do that. It was the first time we ever made the mistake like that in that song. It's so easy. It's one of our easiest songs. I fucked up and immediately I was angry and thinking, "Why aren't you following me?" But I fucked up. That's how my brain was working. I made it happen but in that same second I'm thinking, "Follow me, follow me, follow me."
PETER: Because I'm a bass player, I followed her. I immediately switched to what she was doing even though she fucked up but Stijn was on his own, just playing the song as it is and he expected us to follow!
I think the biggest fuck up on stage that we had was on a big festival in Belgium called Pukkelpop. We had a 9pm headline spot in a good tent and it was dark and the tent was packed and we had to stop the song in the middle of a song. We said, "Shit, should we start again?"
STEFANIE: Stijn was like, "Yeah, yeah." We started again and he fucked up. It was funny. In the newspaper, they wrote that it made us human. The good thing is, we can say this about Stijn because he'll say it himself. He's very nervous. Stijn came off the stage and was like, "You two, you really fucked up good this time." We were like, "Um, YOU fucked up." And then he turned white. The good thing is he thought we were the ones who were fucking up because, if he thought it was him, for the rest of the set he would have been in total chaos.
PETER: It was a gift from the Gods that he was 100% sure that we fucked up but it was the opposite. We could care less if we fuck up.
STEFANIE: We don't do little fuck ups.
PETER: If we go bad, we go real bad. (laughs)
Speaking of playing live, what are your tour plans now that the record is out?
STEFANIE: The first tour starts in a few weeks in the UK and then it's Christmas time. Then we have a big tour starting at the end of February for four weeks in Europe and then hopefully we get to do some cool festivals. We have a good year coming up.
Any U.S. dates?
PETER: We don't know yet.
STEFANIE: They're working on it. When we come to the U.S., we have to have a work visa. It's bigger than just "Oh, let's rent a van and do a one-off." We really need several dates that have to work out.
PETER: You have to ask for a work visa to go play there. You have to go to the embassy to explain everything. You have to do a lot of paperwork. Our management, Sergeant House, is in the U.S. so we are very lucky but they have to hire a firm that specializes in getting bands from Europe to the U.S. It costs a lot of money to hire them, to get visas, and then after a year it's done and you have to do it again. It's not easy for a European band to come to the U.S.
And you have to make it worth your time and make some money to make it worth all the trouble
PETER: Not even make money, just don't lose any money. If we go to the U.S. and we make zero money, that doesn't matter. We know that we have to invest in our band and build a following in the U.S. But if you lose money, we can't afford to do that.
What's the best way for your fans to support you?
STEFANIE: The best thing is come to our shows and buy merch.
PETER: What I'm really surprised by is, on Spotify, there is a "Donate" button. People will sometimes be like, "I like your music. Here's 40 Euros." Especially during the pandemic, we were getting message like, "I like you guys. You helped me carry this thing I had in my life. Here's $100." We didn't have to do anything for it. When I see an email from PayPal, because the donations come through PayPal, I'm like, "Who is doing this?" That's very special. It's even more special than buying merch. They are just listening to the music and they just decide to give us money.
One last thing. I have to tell you, when I saw the "War" video, you guys looked very serious. I mean, Peter, there are some times in the video where you smile, but, I thought for sure you were going to be very serious in this interview.
STEFANIE and PETER: (laughter)
STEFANIE: I think the music we take very seriously.
PETER: But if you go to our Instagram and see what we post, like stupid selfies, we're also very not serious about a lot of stuff. We use a lot of smileys in our social media and we joke a lot.
STEFANIE: The music and showtime is very serious. When we're on tour, when we open the door of the bus, we get dumb. Lots of childish humor. But not Peter. He's always a grownup. We laugh a lot in the bus and then as soon as we enter the venue, it's like, "Okay, now we have to work. Stop laughing."
PETER: I can imagine when you watched the "War" video we were very focused. That's us. When we're in the studio, it's really focused. But, besides that, we are very funny. We can laugh at everything and joke a lot.