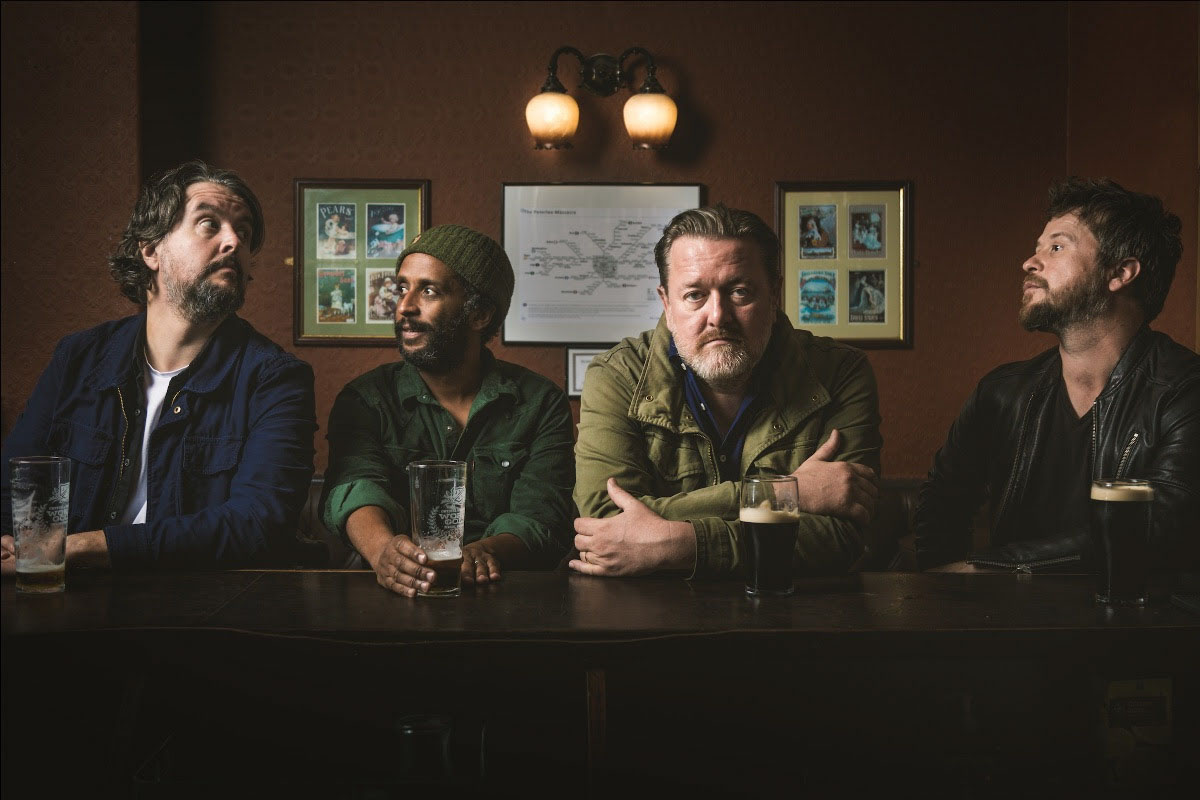 25 October 2019
Photo by Paul Husband
When they first formed in post-Britpop era Britain, the band Elbow seemed like unlikely musical luminaries. From their funny band name to members' unassuming, "everyman" demeanors, they seemed to be the exact opposite of the flashy rock star archetype. But then people realized that the songs on their debut, 2001's Asleep in the Back, are exceptionally well-crafted, with memorably melodic instrumentation that can be quietly touching or unabashedly grandiose. Frontman Guy Garvey's astute and empathetic lyrics often describe the kinds of moments in life that are easily overlooked, but which are instantly familiar once he gives voice to them. With each of their eight albums (the latest of which, Giants of All Sizes, was released on October 11), Elbow have established themselves as superstars in the UK, routinely selling out massive venues; their last three albums all debuted at #1 on the UK album chart. Garvey has gained "favorite son" status in the band's hometown of Manchester, as well as throughout Britain, and he has used this fame to bring attention to issues such as his dismay over the political environment at home and abroad (he is a staunch liberal) as well as championing other artists via his side gig as a popular DJ for BBC 6 Radio. Speaking on a call from Manchester, where he is about to take the stage for an acoustic show to debut songs from Giants of All Sizes, Garvey explains how this album is particularly personal for him.
Congratulations on the new album – it's getting excellent reviews.
GUY GARVEY: I know, I'm really pleased. I was very, very dubious – it's not what we're known for, this record. I wondered if it was going to connect in the same way, but it seems we've connected in a much stronger way, actually.
Do you think it's because your lyrics seem to be deeper than what many musicians write?
GUY GARVEY: I don't know where it sits compared to other people. I know that some of the subject matter that we deal with on the record is the most uncomfortable stuff to write that we've ever done. "White Noise White Heat" is a reaction to the Grenfell Tower disaster. That was difficult, because immediately there's a voice in my head saying, "Who are you, a middle aged privileged white man – who are you to talk about the victims of this awful tragedy? Who are you to speak about it?" But actually, the song is my reaction to it, and my feelings of uselessness and guilt. The main question is about the collective abandonment, the need to escape from reality when it is as appalling as it is now with your leaders and our leaders. When people can burn to death for being poor, in the richest part of the country, you have to accept culpability that we've let it slide like that. Similarly, with the Manchester arena bomb that killed all those kids: I mean, that was a son of the city that did that. That was a Manchester boy that did that. How the fuck have we let that happen? We all marched in this country – the biggest public demonstration the UK ever saw was against the George Bush/Tony Blair-led invasion of Iraq, because we knew it would be a long, horrific and bloody thing. Homegrown terrorism wasn't an issue before then, and now of course it is. So, to see all this unfold… And then the Brexit thing has divided this country. Then, on a personal level, I lost my father and two of my best friends last year.
I'm so sorry.
GUY GARVEY: Yeah, it's been really heavy. So, I just didn't really want to make an uptempo anthem, I didn't want to write about sunshine and rainbows.
Yet there seems like there's a sense of hopefulness to it, still.
GUY GARVEY: Yeah. I really can't help that. But it's full of bewildered questions. The whole album's peppered with them. Really, it's about mourning, both national and personal. That's where it's coming from.
Brexit really does seem to be ramping up now…
GUY GARVEY: It's terrible. The worst thing is that because of the way that people get their news, and the way that social media works, people are just fed more and more arguments for their own points of view, there's no debate, no compromise. So everybody has an opinion. They're just getting further and further entrenched. And obviously men like Trump, and over here Boris Johnson, are using the division. They use wedge issues in order to mobilize folks, because they have no concern for the consequences of their actions. They're willing to incite racial hatred in order to win a ballot. It's happening here in the same way it's happening in the States. It's just these appalling men. It's when businessmen get power – it's just appalling.
Donald Trump and Boris Johnson are like two peas in a pod.
GUY GARVEY: They really are. They both really admire despots and autocrats. That's who they are. That's why Trump is impressed with Vladimir Putin, and Kim Jong Un is also on his Christmas card list. These men are actually dictators. He's as close as any American leader has ever come to being an autocrat, a dictator.
This is why it's important for bands like yours to keep putting out the message that this is not OK.
GUY GARVEY: Yeah. You know, the music is always in reaction to what I'm thinking. I won't pretend for a second that the last two years have just been mourning – my little boy is a daily joy, I have a wonderful marriage, I love where I live, the rest of my friends are all OK – there's plenty to be really positive about. But this had to be written this way. It's also our shortest record, at 40 minutes. There were about three songs that we didn't put on in the end, just because they took it over the precipice. It was important to offer an ounce of hope.
Is there a song on the album that you hope people will notice in particular?
GUY GARVEY: "The Delayed 3:15" is a song about [how] somebody went underneath the train I was on – somebody jumped onto the tracks. It regularly happens on Britain's national train networks. So I was sat in the first class carriage, and people were tapping their watches and using the inconvenience of having their journey interrupted in order to meet one another. And in the case of two people, flirt. Meanwhile, I'm looking out the window and I can see a cop emerging from under the train, ashen, almost green. I just had to write about that very, very casual unkindness. So yes, I was disturbed by the discrepancy of what was happening in the first class train carriage I was in, with the horrific human drama taking place underneath the carriage. It was another example of inequality, the same inequality that ends in tragedies like Grenfell, the different lives being led in the same space. It involves a certain amount of pretending things aren't happening. So I suppose that's one of the main things of the record, is stark inequality.
Why do you think it's been possible for your band to have stayed remarkably stable compared to most bands?
All the members of the band are gentlemen, first and foremost. We all find sleep deprivation hilarious, which is essential. And none of us can believe that we're allowed to do what we do for a living. None of us feel that we deserve any of it. So, take the luckiest men in the world, give them the job that they want, and they'll stick with it. And the other thing is, the money is shared equally. That one thing has split up more bands than anything else you might experience. I regularly get newly signed artists contacting me and saying, "Do you mind me asking how your publishing is divided?" and my answer is always, "50% of nothing, is nothing. Split the money equally, and your band will stay together forever."
How has your work as a DJ for BBC Radio affected your work with Elbow?
The 13 years I've been on [BBC 6 Music] means I'm fed with greater and greater filters through the production team, which is the same one I've had since day one. I'm fed new music. Particularly since being a father, I wouldn't have time to go and see new music the way I did when I was a teenager. So in a weird way, it keeps me current. And also, the lads [in the band] don't have time to come look for the new music, so I quite often present them with a CD of something that I know they'd love, [so] I shape their musical taste, and therefore maintain a Wizard of Oz-like control over their minds!
ELBOW'S UPCOMING NORTH AMERICAN TOUR DATES:
1/18 – House of Blues – San Diego, CA
1/19 – The Wiltern – Los Angeles, CA
1/20 – Fox Theatre – Oakland, CA
1/21 – The Observatory – Santa Ana, CA