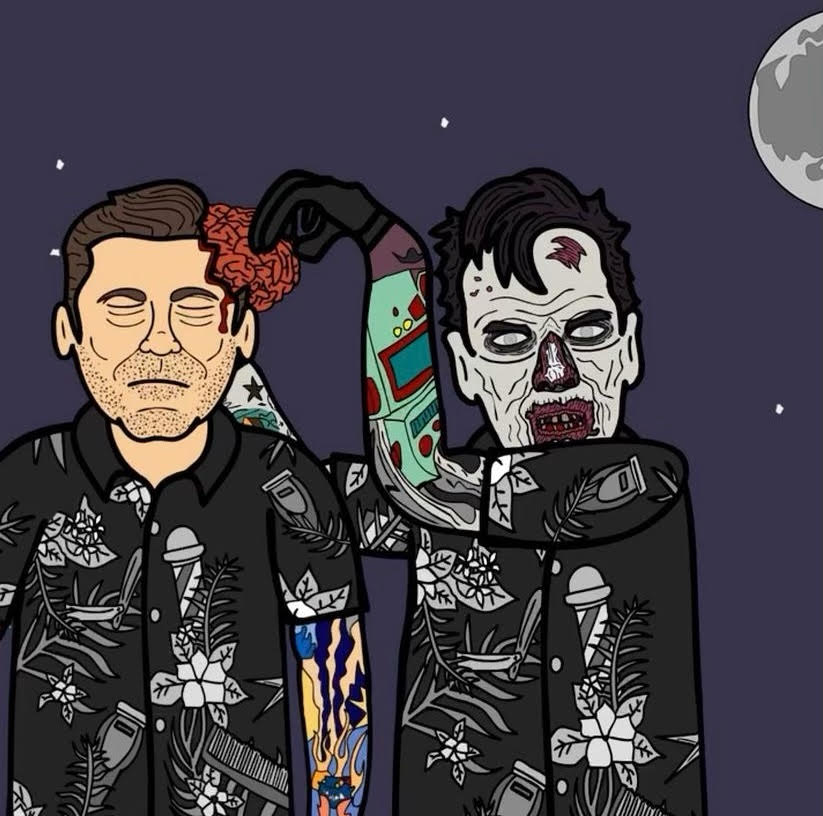 28 October 2021
Playing Favorites is an interview series where creative people pick a topic and tell us their five favorite things about it. Opinions expressed in this series are those of the interviewees and do not reflect the opinions of S.W. Lauden or The Big Takeover.
Fans of swampy punk blues no doubt already know about The Cutthroat Brothers, a bloody barber-themed band from the Pacific Northwest. The stripped-down diabolical duo usually only includes guitarist/vocalist Jason Cutthroat and drummer Donny Paycheck, but they are joined by legendary bassist Mike Watt for their forthcoming album, Devil In Berlin (Hound Gawd! Records).
Conjuring bands like The Gun Club, The Cramps and The Stooges, The Cutthroat Brother's latest single is a crypt-kicking stomp called "Like a Zombie."
PLAYING FAVORITES: JASON CUTTHROAT'S TOP 5 ZOMBIE MOVIES
This list is totally not in any particular order because I love all of these movies so much.
5. Shaun of the Dead (2004)
Shaun of the Dead always has me rolling. I mean, who doesn't love seeing that crap Stone Roses album smashed on a zombie? So good. Zombies are an amazing way to represent different existential threats and put juicy blood and guts all over them. I always laugh so hard at the beginning where zombies are walking around unnoticed because they fit in so well with the overall Suburban MalaiseTM, which would be a great name for some hipster salad dressing.
4. Dead Alive (1992)
Dead Alive wins on guts gallons alone! It got banned in several countries, which is always a sign of something good. I first got this from the cult section of the local video rental place where I shopped exclusively through my high school years. Blue Velvet, River's Edge and Dead Alive were all on the same three shelves. The director went on to make some elf movies or something…
3. Overlord (2018)
Some hardcore horror fans are going to side eye me for this pick, but hey—Nazis pumping chemical goo into themselves and reanimating? That's zombies to me, and this flick is hella entertaining. I always love the monster discovery scenes in horror movies (like dissecting the alien in Alien, for instance). So I love the part where we see the first transformation and get to see some powers and limitations, or when they get to the lab with the freaky, goopy, half-turned folks. Ewww.
2. Return of the Living Dead (1985)
I think I saw this flick for the first time on Night Flight. I accidentally discovered so much stuff that ruined my innocent teen brain on that show. You would see punk docs like Another State of Mind backed with Venom videos. And this soundtrack rips—Cramps, 45 Grave, The Damned, TSOL, Roky Erickson. As a young kid discovering punk I was like 'If I had any money, TAKE MY MONEY, PLEASE!'
1. Night of the Living Dead (1968)
Again proving that all music and film was better in the '60s. The holy grail…the first and only best zombie movie I have ever seen and it still creeps me out. I think it's the LACK of music and sound overall; it just crawls up into your brain and..well..eats it. Night of the Living Dead taps into the gross, overdeveloped id of America and sadly is still just as relevant now as when it came out regarding issues like racism. SPOILER ALERT: Everyone dies. Even Ben who emerges as the lone survivor, but is mistaken for a zombie and shot. Is there another zombie movie with a darker ending that you can name? I didn't think so.
Previously on Playing Favorites:
Jenn Alva's Top 5 Favorite Punk Singers
Joey Cape's Top 5 Favorite Tour Restaurants