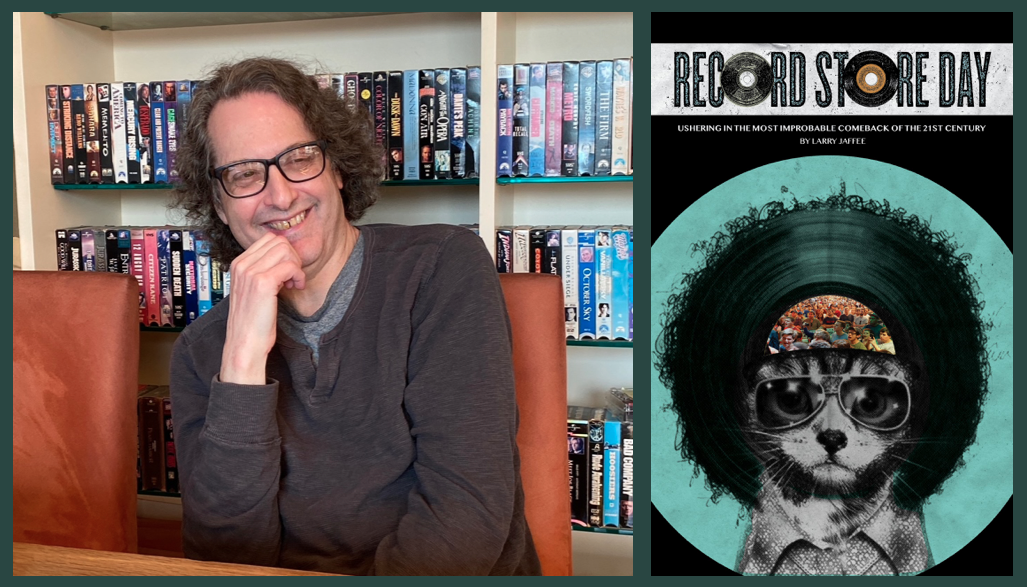 12 May 2022
(Larry Jaffee photo by Zack Hample)
Playing Favorites is an interview series where creative people pick a topic and tell us their five favorite things about it. Opinions expressed in this series are those of the interviewees and do not reflect the opinions of S.W. Lauden or The Big Takeover.
Larry Jaffee is the author of Record Store Day: The Most Improbable Comeback of the 21st Century (Rare Bird Books), which was published to coincide with RSD's 15th anniversary this past April 23. This book details "the official inside story on how Record Store Day managed to revive the vinyl format from oblivion over the past fifteen years with some of the biggest artists jumping at the chance to support independent record stores." Jaffee compiles interviews with artists, record store owners and the creators of Record Store Day to demonstrate the profound impact RSD has had on the music industry in the 21st century. I asked Jaffee to share his five favorite RSD releases.

LARRY

JAFFEE

'S

TOP

5

FAVORITE

'

RECORD

STORE

DAY

'

RELEASES
The picks below reflect a baby boomer's eclectic tastes: this past
RSD
my purchases included limited editions of
Charles Mingus
,
Scott Walker
,
Suzanne Vega
, and
Laura Nyro
, among the dozen or so records that made me nearly $500 poorer. Like many consumers following the CD rush of the late 1980s, in a moment of downsizing madness in 2010, most of my 4,000-LP collection was sold. Within two years, I realized what a colossal mistake I made, and over the past decade I've rebuilt it to its former glory.
5. The Cure — Acoustic Hits
I'll never forget driving back to
NYC
from grad school at Penn State in 1986 with a cassette of The Cure's singles compilation
Staring at The Sea
, as my driving companion. Side One had the hits, while Side Two had sublime B-sides. One of the things labels do well for
RSD
is provide alternative versions debuting on vinyl, as was the case for
RSD
2017 with these two picture LPs. The acoustic tracks were initially thrown in as a bonus CD to its 2001
Greatest Hits
. The stripped-down versions demonstrate
Robert Smith
's greatness as a songwriter.
4. Aerosmith — 1971: The Road Starts Here
I remember seeing Aerosmith perform "Dream On" on
Dick Clark
's
American Bandstand
in 1973. They reminded me of the
Rolling Stones
, but were American. This RSD21 Black Friday release debuts Aerosmith's first known recordings from October 1971. Columbia didn't put out their debut LP until January 1973, showing they had some woodshedding to do. The loose rehearsals on this record gives a glimpse into their future fame.
3. The Pogues with Joe Strummer — Live In London
I first fell in love with The Pogues's Celtic-meets-punk vibe in the late 1980s after a string of strong studio albums. The band eventually tired of
Shane MacGowan
's unreliability and drinking problem, chucking out its lead singer and chief songwriter, but they found a viable substitute in Joe Strummer. I saw this Pogues incarnation at
NYC
's Beacon Theater in October 1991 and remember the rowdy audience bellowing throughout the show "Where's Shane?" This
RSD
record of their next-to-last show together on Dec. 12, 1991 rekindled my memory of what I enjoyed two months earlier.
2. Nick Cave & The Bad Seeds — Live From

KCRW
I've seen Nick perform in London and New York several times over the past few decades, and the electric intensity he delivers fueled by the Bad Seeds is cathartic. This April 2013 concert for the California public radio station comparatively is on the sedate side, which is why I love it, containing some of my favorite Cave songs like "The Mercy Seat" and "Higgs Boson Blues." Nick has several other live albums, but this double-LP released for
RSD
2013 Black Friday is my go-to when I need an aural fix.
1. Patti Smith — Horses: Live at Electric Lady Studios
Is there a better opening line than "Jesus died for somebody's sins but not mine"? I fell under Patti's spell when I was in high school, hearing on the radio her preamble to "Gloria." Within a year, I met her backstage after a My Father's Place gig. She signed the inner sleeve of my
Radio Ethiopia
LP, which wasn't supposed to be included when I stupidly sold most of my vinyl collection. To celebrate
Horses
' 40th anniversary where it was recorded, Patti in 2015 returned to Electric Lady to play it in its entirety with guitarist
Lenny Kaye
and three other musicians. The performance is captured for posterity on this
RSD
2016 two-LP release. I heard Patti tell a great story at a Tower Records
NYC
in-store about how she was too intimidated, despite an invitation, to go into the grand opening party on Aug. 20, 1970 at Electric Lady.
Jimi Hendrix
found her sitting on the stairs, "What's happening pretty lady?" He then shared his global vision for the studio. Elegie indeed.
For more information about the
RSD
book, where to order, and other writing, visit
Larry Jaffee's website
.
Previously on Playing Favorites:
Jim Ruland's Top 5 Favorite Punk Books
Tim Hinely's Top 5 Favorite Venues
Alison Braun's Top 5 Favorite Punk Bands To Photograph