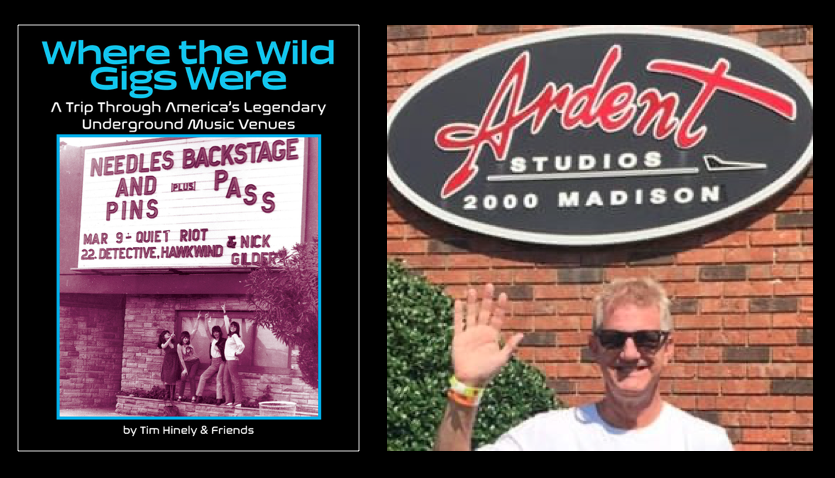 31 March 2022
Playing Favorites is an interview series where creative people pick a topic and tell us their five favorite things about it. Opinions expressed in this series are those of the interviewees and do not reflect the opinions of S.W. Lauden or The Big Takeover.
Tim Hinely is the founder of Dagger, a print zine originally launched out of New Jersey in 1987. These days, Dagger continues as an online-only publication out of Denver, Colorado featuring reviews, interviews and other music-focused writing. Hinely also edited the essay collection Where The Wild Gigs Were: A Trip Thru America's Legendary Underground Music Venues (Hozac Books, 2021). The book features contributions about some truly legendary underground music venues from across the U.S.—many are long gone, a handful are still around today—accompanied by archival photos, gig flyers and pre-internet calendar listings. A few favorites from the collection include Nancy Barile writing about Elk's Center in Philadelphia, Tesco Vee on the Freezer Theatre in Detroit, Jeff Shelton on The Purple Onion in San Francisco and Cynthia Connolly on d.c. space in Washington, D.C., among many others. I asked Hinely to share his five favorite venues.

TIM

HINELY

'S

TOP

5

FAVORITE

VENUES
5. Revival—Philadelphia, Pennsylvania
An old church in Philly that got converted into a most excellent club in the mid-to-late '80s. The top floor was a dance club, but I never ventured up there. I was all about the bands and I saw a ton of great shows there.
Scratch Acid
,
The Feelies
and
Wire
were a few of my favorites.
4. Maxwell's—Hoboken, New Jersey
A nice little restaurant on one side, then you go through this hallway and an unassuming door to a little room that literally every band I love has played. Seeing
Fugazi
set this room on fire in the late '80s was just one of my many memories at Maxwell's. My favorite show there was the
Government Issue/Bullet LaVolta
extravaganza.
3. Doug Fir Lounge—Portland, Oregon
This place changed the game in Portland when it opened in the mid-'00s—thanks to clean bathrooms and accurate starting times, for starters. Yup, all other
PDX
clubs had to take notice. Every band worth their salt has played here. My favorite show, out of many, had to be
British Sea Power
in 2005.
2. The Bluebird—Denver, Colorado
A beautiful old theatre that books a ton of great shows. The staff are friendly and the sightlines are great no matter where you are in the club (The Bluebird has the best neon marquee on Colfax, too). Favorite show?
Ex Hex
lit this place on fire just a few years ago!
1. The Great American Music Hall—San Francisco, California
Going to G.A.M.H. in the '90s was an event. The place is so classic (and beautifully ornate) that it just felt special being there. And they booked a ton of great shows then (and now). Back in about 2000 a 4-band bill of
Aislers Set
,
Ladybug Transistor
,
The Lucksmiths
and
Cinerama
ranks as thee Hinely highest.
Previously on Playing Favorites:
Alison Braun's Top 5 Favorite Punk Bands to Photograph
Jim Ruland's Top 5 Favorite Punk Books
Carolina Hidalgo's Top 5 Favorite Funny Punk Musicians