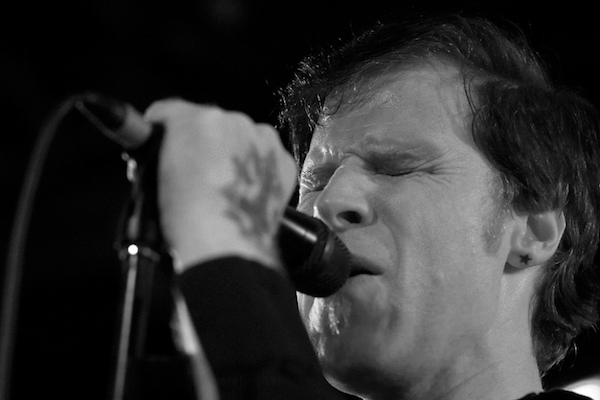 23 July 2019
Photo: Tim Bugbee
On Monday, Mark Lanegan — the gritty yet softhearted, seemingly invincible crooner of lore — busted out a new tune, "Letter Never Sent," from his upcoming album Somebody's Knocking. In addition to sneak-peeking the record, due in mid-October, he unveiled dates for a lengthy U.K. and European tour that will run from around the release of the new record through mid-December.
But a couple of months before the action surrounding his 11th solo album fires up, Lanegan — the 54-year-old singer of Screaming Trees, Queens of the Stone Age and the Gutter Twins — will take a trip to Sin City for a very special engagement: his first performance at Psycho Las Vegas. It will take place Saturday, August 17, at the Mandalay Bay Resort and Casino.
Among the many musicians eager to witness his festival debut are Amenra, Hangman's Chair, Yakuza and Wino. (Stay tuned for our upcoming interview with the Obsessed frontman.) That those fans span generations and music genres is a testament to the broad appeal of Lanegan's 35-year oeuvre.
Earlier this month, the jovial artist shared amusing anecdotes over the phone about his ex-wife, almost getting hit with flying objects while opening for Guns N' Roses in late 2017, his upcoming appearances on "Late Night with Seth Meyers" and having "lots of problems that involve repetitive damaging behaviors."
Hey Mark, what are you up to today?
LANEGAN: Having coffee, feeding animals, trying to apologize for what I did yesterday.
When did you get invited to Psycho?
LANEGAN: Three months ago, I heard about it through my booking agent. I didn't know much about it. Some of the bands on it are friends of mine — Wesley Eisold from Cold Cave, some old timers, Graveyard from Noway. I met those guys in Finland years ago. We're using [Cold Cave's] drummer Ryan McMahon in Vegas.
How did you hook up with them?
LANEGAN: I was a huge fan of Wes' records. He made the kind of music I like to listen to around my house. I actually met him via Twitter — he tweeted about one of my songs being one of his favorites of the year. I tweeted thank you, and [our friendship] grew from there. He supposedly did a piece of music he wants me to sing on. We have a lot in common as far as the things we enjoy musically, literature-wise. Through him I found my new booking agent.
Do you think Wes will invite you onstage to perform with him at Psycho?
LANEGAN: To collaborate with him? Not unless I want to get punched in the face by Wes. Maybe I can convince him to come onstage with me. When you're constantly asking for favors, you're just a pain in the ass.
Will you be tapping heavily into Somebody's Knocking?
LANEGAN: It's too early for that. I never play something that hasn't been released yet. I'll be playing the songs that will have come out, but it's a 14-song record, and I prefer most of it to be a surprise.
The last several years, I've focused on everything from 2001 on. The early records, I'm not really interested in playing those. They're 30 years old at this point and were the only kind of record I was able to make at that time. It wasn't because I wanted to be Leonard Cohen Jr., it was all I could do to barely play the acoustic guitar and write a song.
Then I met Alain [Johannes, another Queens of the Stone Age contributor], and he was able to make my vision real. I wanted to sound like the Kinks circa 2001, and at the end of the day, he did it. Then it became an exercise in making music I'd like to hear.
Will you pull out any surprises for your set?
LANEGAN: In 50 minutes, I can't touch on 25 records. I might be able to touch on eight or nine of them. Generally the way I do stuff — I don't know if it's to the consternation or delight of audience members — I'll play the most recent stuff. I'll play maybe five songs off [2017's] Gargoyle, [2014's] Phantom Radio, [2012's] Blues Funeral, maybe some of that.
I basically play the songs I enjoy and that seems to line up with what the audience wants to hear. Opening for Guns N' Roses, I felt I was on the verge of being hit with something. But the GN'R audience were gracious, they put up with 20 minutes of me. That was a couple of years ago, four shows in Europe. It paid my bills for a year.
Are you a fan of Vegas?
LANEGAN: The last time I played a show in Vegas was 2002. I know it was with Queens. It was two days before my first wedding anniversary in my first marriage. I was handed my papers for the divorce on the day of my first wedding anniversary. I was shocked it didn't happen within the first week I got married! I was playing with them and then a couple of days later was served with the divorce papers.
Tell me something that happened to you in Vegas that was supposed to stay in Vegas.
LANEGAN: I used to — believe it or not, in the '90s and late '80s — go there for vacation. Don't ask me why. When I was a kid, my parents used to drop us off there at Circus Circus. I saw Nipsey Russell, Tom Jones three times, a lot of acts you can only see in that setting.
I went for the free drinks. I hit the jackpot in the dollar slots three times, twice in Vegas and once in the airport. I almost missed my flight, because [the security guards] were no help at all. I was pouring sweat with my $3,000. I have a bit of a gambling problem. I got lots of problems that involve repetitive damaging behaviors. I try to get away from gambling, but I've hit the jackpot a few times.
Who are you most excited to see perform at Psycho?
LANEGAN: I love Black Mountain. We did this thing Brant Bjork does in the desert in a secret spot. It's freezing cold. We did that with Black Mountain, a re-enactment of the [infamous Palm Desert] generator parties. We played with [Bjork collaborators] Mario Lalli and Sean Wheeler, guys in my estimation who are at the top of their game.
Are you going to be there for the duration of the festival?
LANEGAN: We're gonna be there Friday for Cold Cave and then gonna split [after we play]. We're doing Seth Meyers for a week after Psycho Fest.
What will that be like?
LANEGAN: It's a challenging job. Every day they produce new music for the intros and outros. There are 45-second [segments], one rehearsal, and one or two hours to write lyrics to those pieces of music. I can write lyrics pretty quickly, but to remember and sing the same day you've written is tough. Writing four or five pieces of music every day and remember them is daunting.
They usually have guest drummers, like Fred Armisen. I saw J. Mascis on there once but don't know if they've had guest singers.
What can fans and newcomers expect from your performance(s) at Psycho?
LANEGAN: A fairly old man with younger people playing the music, singing some songs they may or may not like, without much interaction with the audience — if any — and probably no movement onstage. I can feel tedious and that can even turn into recalcitrant depending on my mood. If they want to see more action, they need to throw shit or yell shit at me, then it'll get exciting.
It's not the Olympics. I'll just be playing some songs. Whoever checks out the songs can enjoy it. If they don't, they can go somewhere else. I'm not going to have Eddie from Iron Maiden coming onstage or a 800-foot gorilla. I'll be playing songs, man. People will connect to it or not. Or people will be ambivalent. Or maybe fall in love with something they'll listen to forever. Or maybe my PA will blow up. But hopefully I'll still get paid.
For previous installments of the Big Takeover's Psycho Las Vegas preview series, check out our interviews with:
• Colin H. Van Eeckhout, vocalist for Belgian post-metal purveyors Amenra
• Jason Shi and Scott Key, singer/guitarist and drummer, respectively, for melodic hard-rock masters ASG
• Jay Bentley, founding bassist for politically progressive punk pros Bad Religion
• Stephen McBean, singer/guitarist of long-running psychedelic-rock project Black Mountain
• Jean-Paul Gaster, drummer for "the quintessential American rock band," Clutch
• Jeff Walker, vocalist/bassist for extreme-metal behemoths Carcass
• Greg Meleney, vocalist/guitarist for Portland psych-rock mainstays Danava
• George Clarke, vocalist for shoegaze/black-metal powerhouses Deafheaven
• DJ Painkiller, an L.A.-based metalhead who will be spinning between sets
• Darkest Prince, lead guitarist for black-metal punks Devil Master
• Victor Vicart of Scottish progressive-metal quintet Dvne
• Laura Dolan, vocalist for Cincinnati rock 'n' roll purists Electric Citizen
• Todd Fink, frontman for electro-pop punks the Faint
• Zack Simmons, drummer for blackened death-metal demigods Goatwhore
• Emil Amos, drummer for experimental post-rock band Grails
• Julien Chanut, guitarist for French sludge-doom band Hangman's Chair
• Tony Campos, guitarist and founder of thrash revivalists Hell Fire
• Nashville cosmic-riff connoisseurs Howling Giant
• Gabriel Franco, vocalist/guitarist for gothy post-punks Idle Hands
• Joshy, drummer for crusty death/doom-metal outfit Ilsa
• Johanna Sadonis, vocalist for "heavy magic rock" band Lucifer
• Stuart Braithwaite, founding guitarist/vocalist for beloved post-rock legends Mogwai
• Thomas Eriksen, centrifugal force behind true Norwegian black-metallers Mork
• All-female Motörhead tribute band Motorbabe
• Mikael Åkerfeldt, frontman for Swedish progressive-metal kings Opeth
• Ethan Lee McCarthy, frontman for blackened-doom trio Primitive Man
• Tobias Grave, frontman for shimmering post-rock trio Soft Kill
• Experimental rock, alternative hip-hop and dance music guru Tobacco
• Derrick Vella, guitarist of death-metal arsonists Tomb Mold
• Niklas Källgren, guitarist for Swedish fuzz fanatics Truckfighters
• Los Angeles Satanic doo-wop duo Twin Temple
• Kevin Starrs, frontman of British fuzz royalty Uncle Acid and the deadbeats
• Sean Killian, vocalist for cult-favorite Bay Area thrash band Vio-lence
• Bruce Lamont, frontman for experimental heavy-jazz project Yakuza and Led Zeppelin tribute band Led Zeppelin 2
• Aaron Rieseberg, bassist for Oregon doom-metal dealers Yob
Also, don't miss our special feature in which Deafheaven's Clarke and Mogwai's Braithwaite discuss their mutual affection for each other's bands, whether Deafheaven should play their Mogwai cover at Psycho Las Vegas — and the possibility of a collaboration between the two projects.
Lastly, check out our recently posted YouTube playlists for each day of the festival, including the pre-party.