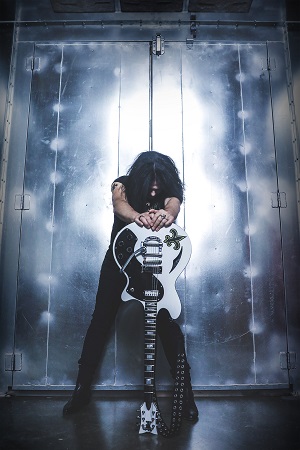 26 May 2019
Photo by Anabel DFlux
The guitarist Michael Ciravolo is a force of nature, he injects enough emotion into his playing, it as if his life depends solely on every riff and distorted crank he can summon from his guitar. In the past, he came to prominence as a member of Human Drama and Gene Loves Jezebel, now he is the curator of his own project, Beauty In Chaos. One of the most innovative musical-ventures of recent times, and one which has yielded both praise and success upon Michael Ciravolo.
In September of last year, Beauty In Chaos released the star studded debut, Finding Beauty In Chaos. Produced by Michael Rozon, who worked on Ministry's AmeriKKKant. The list of luminaries involved in the recording stack up breathtakingly as follows: Al Jourgensen of Ministry, Simon Gallup from The Cure, Ashton Nyte of The Awakening, Michael Aston from Gene Loves Jezebel, Robin Zander of Cheap Trick, Michael Anthony ex- Van Halen, Evi Vine, Ice T, dUg Pinnick of King's X and lastly Wayne Hussey from The Mission
Now, ten months later on June 21st, Beauty In Chaos are releasing a remixed version of the album entitled Beauty Re-Envisioned. The album contains remixes by artists, engineers and Dj's, along with further collaborations including Zakk Wylde of Black Label Society and Rolan Bolan the son of the late-legend Marc Bolan.
Before Michael Ciravolo's world goes stratospheric, he took time out to speak to me about his latest adventure and upcoming release.
Finding Beauty In Chaos was one of the most exciting releases of last year, when or how did you come up with the idea to have the album remixed in its entirety?
MICHAEL: Beauty Re-Envisioned actually happened by accident! God's honest truth. Wayne Hussey invited me to Austin to hear The Mission's Another Fall From Grace being mixed at Tim Palmer's studio in Austin, TX. It was great to meet Tim since he is one of my favorite producers. After a few adult beverages at a Mexican restaurant, I felt we hit it off well and I got the nerve up to ask him if he would mix one or both of the tracks that Wayne would be doing on Finding Beauty In Chaos and he said YES! Well, after Wayne finished his parts on what became "Man Of Faith" and "The Long Goodbye", we sent the tracks to Tim. He sent back two mixes that you will hear on Beauty Re-Envisioned. But in my excitement to have Tim mixing these, I forgot to mention my self-imposed rules I had placed on this record – no synth and I play all guitars. Well Tim added to both! At that point, there was no way I was going to tell him … "Hey your mixes are cool, but would you mute the synths and those added guitars mate!" . That's when the idea struck me for Beauty Re-Envisioned .Sometimes great things evolve from mistakes … and honestly it gave me a bit of a break to start working on new ideas.
There must have be a lot of trust between you, the producers, the engineers, artists and DJ's. How difficult was it to hand over Finding Beauty In Chaos and let people tinker with the tracks? Like handing over the keys of a Ferrari and saying "Take It apart and build it your way!"
MICHAEL: Not difficult at all, really. Everyone that stepped up to do the remixes are total pros and fantastic artists in their own right. The entire process was actually really exciting and to borrow a term my wife uses, it was like a box of Cracker Jacks! Meaning … I never really knew what to expect when I got a mix. They were all pleasant surprises. Your 'keys to the car' analogy is exactly how I described it. I just feel the keys were handed over to some very qualified drivers!
Did you have any ideas or a certain direction that you wanted the songs to go in when you handed them over?
MICHAEL: Honestly, no. While Michael Rozon and I worked really hard to make Finding Beauty In Chaos be cohesive, I was okay with this record being varied and different. Most remix records are pretty similar … focusing a lot on the 'dance club' versions… replacing the drums with a 4-on-the-floor beat, etc. And that is not a bad thing, as I own quite a few records like that. I just wanted Beauty Re-envisioned to be more and I think it is.
Is there any track in particular on Re-Envisioned that you are blown away by? In a sense of how it now sounds compared to the original?
MICHAEL: I still manage to listen to these songs as a 'fan' of the singers. Many of the tracks are very different from the original … almost like having a new song. I really love the mixes where new parts were added. I especially like the newly recorded versions … especially "The Long Goodbye (Au Revoir)". Wayne's lone vocal is so pleading and passionate; and Michael Rozon wrote a beautiful string section. I still get chills when I hear this one. Ashton's acoustic "Storm" is also quite beautiful, as is Michael Rozon's stunning pedal steel version of "I Will Follow You". Lots of great stuff in my humble opinion.
Ashton Nyte and yourself appear to have a definite chemistry when it comes to songwriting-"Bloodless and Fragile", "Storm" and of course the title track, had you worked prior to Beauty In Chaos with Ashton?
MICHAEL: No, I was introduced to Ashton by a mutual friend, Mark Gemini Thwaite. I listened to what he did with Mark and was drawn to his voice and lyrics. After the intro, I delved further into his solo work and with The Awakening. He and I hit it off right away – musical influences, sense of humor and similar faith. We have since become great friends and "Storm" is such an important song. It's really the track that gave me the confidence that I could make Finding Beauty In Chaos. The beautiful 'almost acoustic' version on Beauty Re-Envisioned shows how a great song stands on its own even when it's stripped down. The video, which will be released shortly is pretty awesome too. Our other two tracks, "Bloodless And Fragile" and the album's title track are among my favorites on the album. I sincerely look forward to making more music with Ashton in the future.
The Evi Vine and Steve Hill mix of "I Will Follow (Eclipse Mix)" is diverse and haunting, how do you feel about some of the Re-Envisioned tracks being steered away from a guitar basis into a more industrial-sounding, synth framework?
MICHAEL: I love this version! "I Will Follow You" is possibly my favorite track on Finding Beauty In Chaos, which is probably why there are three amazing and different versions of this song on Beauty Re-Envisioned! I think Evi and Steve did a wonderful job 'deconstructing' the song, which is very dense and layered in its original form. As far as removing guitars and adding synths … I think that added a new dimension to it being a Re-Envisioned song, and Lord knows there are LOTS of guitars on Finding Beauty In Chaos.
Rolling Stone Magazine debuted the first public release from Re-Envisioned-the track "Un-Natural Disaster (Collide Mix)" featuring, along with Ice T, Pete Parada and Doug Pinnick, you now had Zakk Wylde adding solo's, was it a surreal moment to get the track launched in a magazine you probably bought as a kid?
MICHAEL: Yeah .. along with the Guitar World feature – those are both things I never imagined would ever happen. It is not lost on me that Rolling Stone took notice because of Ice-T, Zakk and dug … as they well should! A pretty lethal and talented trio there … and Pete Parada's drumming was monstrous. Lots of surreal moments have been part of Beauty In Chaos … that is for sure.
Zakk Wylde's solo is remarkable, is he a guy that walks into the studio, plugs in and pulls off something like that or is it a long process of jamming?
MICHAEL: Zakk is a true 'guitar hero' in every sense of the word. One of the nicest and hardest working guys I know. I'm very blessed to call him a friend. He came into our studio just one day after an Ozzy Osbourne show to record the solo for me. I honestly expected him to just blaze through it but I was amazed at watching his process. It was a long solo section, 32 bars I think. He broke it down into 4, 8-bar sections and worked out each of the sections. He really took it serious for which I am grateful. His is so talented, it didn't take long … but he did 'listen' and made sure the solo was memorable. Pretty cool to be in the room watching him, for sure. Yes, another surreal moment
Do you use a live setting for laying down tracks in the studio? Or prefer to build piece by piece?
MICHAEL: By the sheer nature of what is Beauty In Chaos, the songs are built layer by layer. That's not to say that playing live with a band and capturing that 'magic' take is not a wonderful thing. It's just not really possible with where BIC is at right now. For Beauty In Chaos, the spark usually starts with a guitar part or a 'sound' that inspires a part. For the new tracks, both have started with a bass part. Whatever starts a spark that we can dump gasoline on!
On the original Finding Beauty In Chaos there is a sense of enjoyment that comes through the music, it sounds like an egoless journey, was the music created in a relaxed atmosphere?
MICHAEL: Very much so! Michael Rozon and I are great friends. He's like a brother to me. Family. We had a great time creating this in our little studio. Even when he pushed me to try something different or to do it better … we managed to laugh and joke. Maybe it was all of the red wine!
The cover of T. Rex's "20th Century Boy" on Re-Envisioned now includes Rolan Bolan on vocals, there are times Rolan sounds like Marc, did that bring about any emotions for you as you are clearly a fan of T. Rex?
MICHAEL: It's just another one of those amazing moments that happen in BIC! Rolan is a really great, down to earth guy and a massive talent in his own right. There's no denying he is Bolan blood and his Dad's influence comes out, even though I don't think it's intentional. Just talking to him a bit about Marc and his legacy was really inspiring and very cool. I'm really happy with this version and feel very honored this was able to happen. I think it captures the spirit of the original. I love the Mott The Hoople glam piano and the growly sax. Of course, Wayne and Ashton backups are a perfect addition, as is Wayne's 'Sisters-esque' outro guitar solo.
What feedback if any did you get back from Rolan regarding the cover of his dad's song featuring Al Jourgensen?
MICHAEL: I showed it to him when he came to our studio to record his vocals. I think he said "Wow, that's crazy" … which is exactly the response I think Al's version should elicit!
The track "Man Of Faith" now sounds so authentically eighties with a vibe of New Order, what do think of Kitty Lectro's Re-envisioned "Man Of Faith" with Wayne Hussey and Simon Gallup's bass so prominent?
MICHAEL: I think Kitty's two remixes on this record are extremely unique. Michael and I really like them. I'm glad I stumbled on to her work online and reached out. I know she spent a lot of time and put in a lot of thought on how she approached each song. I love how she stripped things down and really highlighted different elements. She's quite good with drum programming and on her Casio synths!
Wayne Hussey and you share a lot of musical influences as Wayne is a huge Bolan fan, have you gotten a sneak peek of Wayne's upcoming Salad Daze book?
MICHAEL: I don't have the book yet (Wayne, are you reading this!). Yeah, Wayne is a massive Marc Bolan fan. I have read some excerpts that he sent me where he describes just how much seeing T. Rex on the tube changed his life. I honestly didn't think Wayne was going to have time to be part of this track, but there was no way he was going to pass this opportunity up. I think his voice blends so great with Rolan, and I got to play guitar with Wayne Hussey! Win Win! Actually, we had a nice chuckle at this surreal moment that we are performing one of our favorite T. Rex songs with a Bolan. Life is an amazing thing.
Although the sound is 21st century, there is a nod to glam-rock and a deep rooted seventies sound within your riffs, do you prefer to keep the foundations as old-school as possible before building on them with technology?
MICHAEL: I certainly cut my teeth listening to Slade, T. Rex, Bowie, and Alice Cooper, before I became taken with darkwave. As it turns out, most of the bands I got into in the '80s (The Cure, Mission, The Sisters Of Mercy etc) were also influenced by the same bands. I think my 'style' and inspiration is sparked from different sounds and a 'vibe', if that makes sense? I am far from a virtuoso guitarist, but I think I manage to paint a decent picture for some amazing singers to do their art over, and around on. Sometimes it seems to happen effortlessly, and other times it's frustrating but even then, magic can happen in a bit of a red wine fueled 'rage' chaos.
You have included eleven-bonus tracks to exclusively download on purchase of the Re-Envisioned vinyl or cd, was it a challenge choosing what to include on the physical copy and what to use as the bonus material download?
MICHAEL: Yeah, it just grew to 11 'bonus' tracks! I certainly never intended it to grow into this, but BIC has been blessed to have some amazing people want to be part of it. With 25 tracks, it was a bit difficult to get a running order. I think we nailed it well on Finding Beauty In Chaos, but this was a tougher go. Songs that are on the digital version only, as opposed to being on the vinyl (8 songs) or the CD (14 songs) are certainly not any less of a track or work in my eyes. Actually, several of the 'bonus' tracks are among my favorites. I'm sure some people will ask why a certain song wasn't on the CD, etc. It just didn't seem viable to follow up our debut double-record with another double or triple vinyl! Sadly, it is difficult to get people to actually purchase physical copies of music today. I'll stay off my soapbox for now. I'm hoping that getting the additional tracks will persuade fans to purchase the record in whatever form they chose from our site, as this is the only way to get the additional songs. Not sure yet if it is clever or if it is commercial suicide.
You seem to be someone who can't sit still for long and I'm sure there is something more in the pipeline, are you planning further Beauty In Chaos releases?
MICHAEL: I'm looking forward to having our daughters home from college for the summer! We are planning to do two more videos from this record this summer also. Michael is working again with Ministry on their new album. As for new Beauty In Chaos, we have already started recording. We have 2 tracks moving well along … its stark and dark for sure. We are using splashes of synths this time (!) but these first two have some really nice guitars, too. Being that Finding Beauty In Chaos and Beauty Re-envisioned where such 'massive' releases, like 14 and 25 tracks respectively… my plan is to do at least two shorter EPs next. I have a name for the next one in mind … and I think we certainly have a 'sound' in mind for these next songs. So hopefully a 4 song EP out before the end of the year will be possible. I certainly look forward to working with many of the singers from Finding Beauty In Chaos again, but I also hope to bring some new voices to Beauty In Chaos I love the idea of putting artists into something just outside of their 'norm'.
Thank you Michael, and I'm sure I can safely say we are all looking forward to Beauty Re-Envisioned
MICHAEL: Thank you! I, and everyone involved with Beauty In Chaos appreciate your belief and support!!!