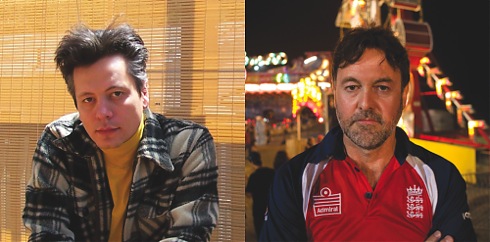 23 January 2012
In 1994, two young men released a self-titled album. Although it didn't set the world afire, it did impress those fortunate enough to hear it. That band was Cardinal, made by the duo of Richard Davies and Eric Matthews, two young men with a fixation for baroque pop and gentle, pleasant arrangements. The pairing would soon split, with both men going on to release some equally enjoyable solo records.
Late in 2011, though, a little announcement was made, stating that the duo had quietly reformed and would soon release its next album, Hymns. The record picks up where the two left off, and features more of the duo's quality pop songwriting and arrangements. Thanks in part to the technological advances, the duo could collaborate via technology—as well as to sit down and answer a few questions about their lovely album and their motivations for Cardinal in the first place.
THE BIG TAKEOVER: What was it about each other that drew you to forming Cardinal? What with it being the flannel age, with the exception of one or two bands, a baroque pop band seemed to fly in the face of conventional wisdom. Was Cardinal a creative middle finger to the louder music of the era? Were you intentionally reacting against the tide loud, heavy, long-haired, stinky bands?
ERIC MATTHEWS: I hated what was happening in music. The 80's had been so great—the first 5 years of it anyway—and in the beginning of the 90's we were getting rap music, bad R&B, shitty pop metal, and then, finally, the so-called "Seattle Sound." I was actually friends with some of the offenders starting to cash in, guys leftover from the Portland and Seattle punk rock scene.
But I hated what guys with guitars were doing. And singing, singing was over. Nothing beautiful or interesting was happening. In England it wasn't even good anymore. When Richard and I started making music together, Oasis and Blur really weren't releasing records yet, not that I knew about, anyway. Neil Hannon (of The Divine Comedy) had begun his thing but it was very underground. Things were about to change. We didn't know it, but we would be part of a small, interior-global music movement where eight or nine guys would try to turn back the clock, or, at the least, to make it jump forward to somewhere better. I was ignoring the bad music; I was writing my own instrumental music that sounded Russian and French, and with a chamber music—this was up to 1991.
In late 1992, Richard and I met through Bob Fay. Richard had good songs and sang in a cool, unique way that appealed to me. Our voices sounded cool together and our harmonies were the great glue, and what would become Cardinal. With my growing comfort in writing instrumental arrangement, it just made sense for us to do a band. Our first EP, Toy Bell, came out in 1993 and was kind of punky and strange, but it was melodic and demonstrated to me that with a budget and some real studio time we could make a great, classic-pop style record. That became our collective mission.
RICHARD DAVIES: By the time we met in '93, I had been working on songs that became Cardinal tunes for about a year. Eric had been working on his sounds for a time as well. The songs and the sounds were naturally compatible. We both liked the Bee Gees, The Beatles, The Music Machine, and just about anything Bob Fay played for us.
Grunge was irrelevant – we weren't reacting to it. There's nothing wrong with loud and heavy sometimes, there's nothing wrong with bohemian intelligentsia sometimes, nothing wrong with outsider music, the blues, soul, commercial jingles, prog-folk, there's nothing wrong with some GBV, some Flaming Lips, or pub rock. Music just is. You are who you are. We made music we liked and we did the same this time.
BT: When you two formed Cardinal, neither of you had solo careers, yet when the group split, you both started releasing solo work. Was this a reaction to having been in Cardinal? Did you feel like the group had been a farm team for something greater?
ERIC MATTHEWS: When we started making the full-length in 1994, we lived in different cites—he was in Boston, and I was in Portland, Oregon. For a number or reasons, we decided to not continue as a band. Richard had a commitment to make solo records for Flydaddy, and I was fielding offers for me to do my own thing. Going into Cardinal, I had ambitions to record my own music. Cardinal was a vehicle for Richard's songs and by 1994 I had a couple of albums' worth of my own songs that I believed were ready for a studio treatment. In those days, guys like me were recording and writing at home on shitty little 4-track tape machines and there were great limitations as to what you could record. Most of my demos were just a guitar or piano, and a small stack of vocal parts, with the occasional trumpet or woodwind instrument. People wanted to hear my songs and Sub Pop gave me a nice offer to record for them. My song "Dream Figure" garnered some attention—it was just a little song I had sitting in wait. We quickly recorded the song with me on guitars, bass, and vocals, and we had Steven Hanford on drums. It was the first and only single off the record in England, yet it made Single of the Week from NME…or was it Melody Maker? It also had a fair amount of airplay at American college radio. That song made some record company and radio people wonder that maybe I had more where that came from. So, yeah, though I had a solo career as my main end goal ambition, my career very much was a reaction to the success that the Cardinal record afforded.
RICHARD DAVIES: For me, a solo thing, and the spotlight wasn't, and isn't, essential. I only started singing songs way back in the Moles in Sydney because no one else was around to sing them like I wanted. I like writing songs so I was going to keep do that, and will keep doing it, whether its Cardinal, solo, Cosmos or anything else.
BT: I find it interesting that both of your records previous to the Cardinal reformation were collaborations. Was the Cardinal reunion due in part to this—thinking, "Hey, I'd like to work with him again?"
ERIC MATTHEWS: You are referring to my record with Christopher Seink as Seinking Ships. That album, Museum Quality Capture, was my most collaborative project to date, so you might have a point. That said, I have never really collaborated on a record. With Cardinal, Richard writes the songs and then hands them to me to do my thing as an arranger/producer. That's very much like what happens with Seinking Ships. Christopher lays down a few guitars and keyboards, massive cool textures, and then send them to me to do my work on the various instruments and the writing of string and sparse vocal arrangements. Perhaps I am alone in thinking this way but I don't believe that this constitutes collaboration. To me, a collaboration is Elton John and Bernie Taupin. I have heard George Martin use the word collaboration in reference to his work with The Beatles. I don't believe him. The notion that he would take input on a cello passage from a couple of stoners is highly ridiculous. Hahahahahah!
RICHARD DAVIES: I'd written a song called "Kal" that's on the album and I asked Eric to do an arrangement for it. We went back and forth on that for a long
time, maybe a year, working around that song. That was before the
Cosmos album. (Cosmos is a superb project with Robert Pollard, who released an album, Jar of Jam, Ton of Bricks in 2009.—ed.)The process of working through "Kal" spread out to the other songs. That process involved not putting up with anything less than the best we could do.
BT: Tell me a little bit about making Hymns. Was it a true collaboration, in the sense of being in the studio together? Or was it more like The Postal Service, a long-distance collaboration aided and abetted thanks to technology?
ERIC MATTHEWS: Thanks to Technology! It was thanks to technology and two guys with plenty of fly-over states between. The other and most major factor that made it all possible are the engineers of the Northeast who worked with Richard in recording his guitar and vocal tracks. Richard does not have a studio and is not an engineer, so without these guys, the record could not have been made. Larry Lachmann really started off the whole album in New York City, recording Richard, and helping him do his thing on "Carbolic Smoke Ball," "Love Like Rain," and "Her." Dave Minehan was a huge help, especially on "Kal," one of the album's centerpieces. And, lastly, Luis Leal. He is a newish guy on the scene and he is a really talented musician. He is a Boston local who drove out to Richard's place on Cape Cod with good gear and guitars. He worked on half of the record and really shaped everything up that they worked on so my production work here was much easier. Nobody got paid all that well and it was a lot of volunteer hours but they were and are big fans of the band.
RICHARD DAVIES: It was postal rock the way Robert Pollard does a lot of his stuff. Although not face-to-face, my position is that it was highly collaborative. Eric may disagree with that, I don't know. I write very particular kinds of songs, they're idiosyncratic. In between recording sessions there was a lot of dialogue about the status of the recording, what was working, what needed more work, what was good and what was not good.
BT: What are the plans for the future? Will this collaboration once again send the two of you off into making quality solo records? Is there more Cardinal material waiting in the wings?
ERIC MATTHEWS: I don't like thinking of the future. The world is a terrible and scary place. That said, I am readying for the release of my next solo record, Too Much World. I have some nice production jobs lining up for the year as well. That's really enough for my plate but I never say never. If we make another Cardinal record someday it will be because Richard hands in ten great songs that excite me.
RICHARD DAVIES: I have a busy life, with an active and rapidly growing law practice,as well as my interest in music. There's no doubt that there's more Cardinal material waiting in the people who make the Cardinal records. We'll keep making music and some of it may include Cardinal. Like Paul Simon said: "No hurry."
comments powered by