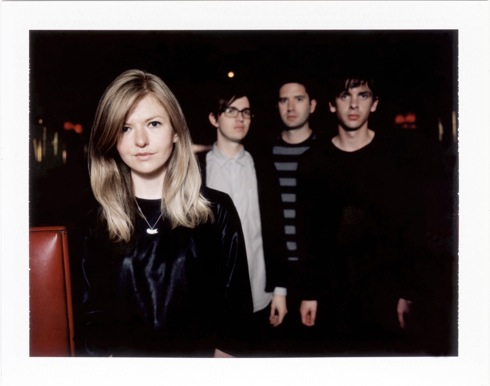 16 January 2012
One of 2011's more intriguing Sub Pop discoveries was British-based Still Corners. The duo of Greg Hughes and Tessa Murray began self-releasing singles and EP's a few years ago, the band didn't progress much beyond the bedroom. Critical acclaim rightly followed these releases, and soon the venerable label picked up the fledgling pop group, and in October they released their debut album, Creatures of an Hour. The band's dreamy atmospherics are composed by Hughes, but it's the breathy, lulling voice of Murray that really makes their music otherworldly—recalling the work of the late Broadcast singer Trish Keenan, while their overall sound places them in the Mazzy Star, The Clientele, Camera Obscura and Galaxie 500 camp. This past fall, the band expanded to a full band lineup, and set about touring America. After conquering our nation, Mr. Hughes sat down to answer a few questions about his lovely music.
BT: Congrats on completing your American tour! Was it as you had hoped? What are your thoughts on our country? What was your favorite moment?
GH: We had a blast! I'm American, so it's good to come back here and visit. My favourite moment was being in San Francisco, seeing my sisters, having Ross do our sound and making us sound big and bold. So thanks to Ross, I want to take him everywhere.
BT: I watched some videos from your recent tour, and to me, the songs have an extra depth that the studio versions just don't quite have. How do you feel that having been onstage for an extended period of time, taking your music out of the studio and into the concert venue, and the addition of two new members has changed what Still Corners is? Do you look forward to taking this new dynamic into the studio with you?
GH: The extra depth could be from eating at IHOP for 4 weeks.(Laughs) No, I think doing live shows and making records are two different things. Playing live is like putting on a play and doing a record is like making a movie. I don't think there's an added depth live that's missing on the record; they're just different. When I see Yo La Tengo I don't want a re-creation of their record, I want to see something on top of what I've already heard, some rocking out and some entertainment. So with the live band we tried to achieve that by injecting some energy into the show and blowing it up a bit. On the other hand I didn't want to translate that onto this record. With Creatures of an Hour, I set out to make a pulled back sounding record, from the song choices all the way up to the way it was EQ'd, etc.
BT: In listening to Creatures of an Hour, I get the distinct feeling that for your band, you take equal inspiration from cinema and literature. It's always amazed me how bands with heavy atmosphere—such as The Clientele, Saint Etienne, Broadcast, and Galaxie 500, bands you're compared to (or could justifiably be)—invariably list authors, painters, and directors as equally influential on their sound. Do you find this to be true for Still Corners?
GH: Certain films carry a vibe and atmosphere, like Don't Look Now with Julie Christie and Donald Sutherland and Alfred Hitchcock's Vertigo. They have an eerie feel that I love and I tried to translate that atmosphere onto the record. Same thing with certain authors, I draw on them for lyrics and words; sometimes there's a poem or phrase that can inspire music. In the end it's still the song that matters, you have to be able to hum it and play it on an acoustic guitar or you don't have much, imagery and authors will only take you so far.
BT:I also get the distinct impression that the visual element is something that you will be pursuing in the future. I love the video of "Cuckoo," and have hopes that your music will be further adapted. What kind of role did you play in the making of the "Cuckoo" video? What are your plans for the visual element of the band?
GH: Thanks! I love the "Cuckoo" video too, Lucy Dyson did that one. Besides being the hand that strokes Tessa's neck I didn't do much, Lucy is great and I trusted her to take the song, direct us, and make something beautiful. At the moment there is a psychedelic vibe to our visuals from the projections we use live to our videos. For the future I'm not sure, I'm thinking something like Cats meets John Carpenter's Dark Star.
BT:So what are your future plans? Studio wizardry? Endless touring of the continent? Watching lots of Joseph Losey?
GH: All those things combined I'd say, some Losey is in the cards, some studio time, and hopefully some touring and traveling and going to strange new places and meeting wonderful and strange new people.