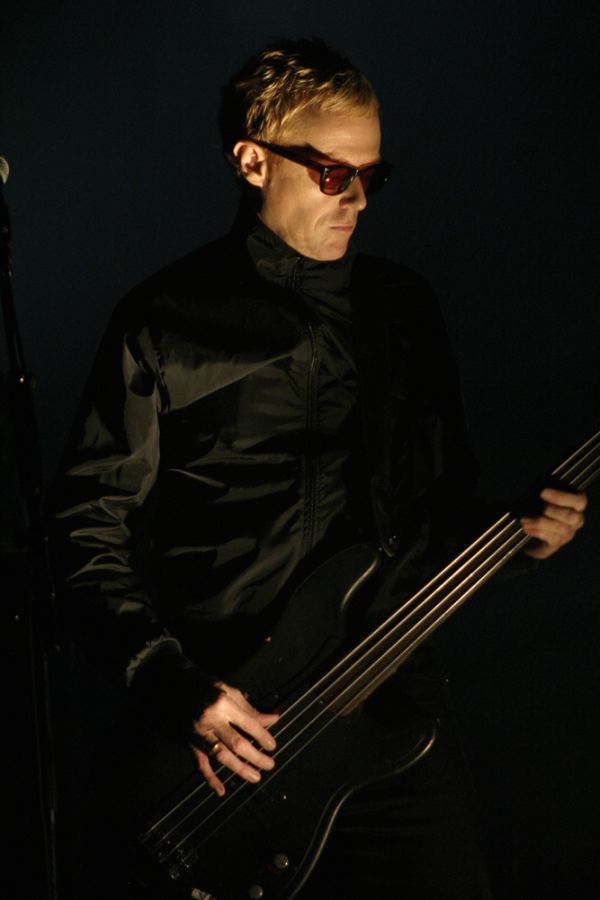 22 August 2018
David J – Photo Credit: Judy Lyon
Renowned co-founder of the legendary groups Bauhaus and Love and Rockets, as well as a respected solo artist, David J (Haskins) has 40-plus years in the music realm under his belt – and he's not stopping anytime soon.
David J is releasing his remastered second solo album and going on a world tour with Peter Murphy.
In the following interview, David J revisits his Bauhaus days, details the reissue of his acclaimed Crocodile Tears And The Velvet Cosh LP, reveals there is new music/visual art/poetry to come from him, and hints at possible Bauhaus vinyl reissues. Find out more below:
Hello David J! It is so good to touch base with you about all the exciting happenings surrounding the upcoming release of your remastered second solo album Crocodile Tears And The Velvet Cosh and your impending world tour with Peter Murphy to celebrate Bauhaus' 40-year anniversary. You also have two solo UK shows taking place amid the tour. That's a lot to take in and prepare for! How are doing these days and how are you getting ready to hit the road and air for the world tour that kicks off on August 15th?
DAVID J: Hello Jen! Doing great, thanks! I have been rehearsing diligently at home. An intensive refresher course to recall and nail all those old Bauhaus bass lines. Also meditating has been helping me to focus.
The remastered Crocodile Tears And The Velvet Cosh LP is appearing via Glass Modern Records on 180-gram heavyweight clear vinyl, with an inner bag featuring all the lyrics, plus new sleeve-notes by David Barker of the original label Glass Records. Is the album available in other formats as well? Why did you pick this LP for reissue and not your debut solo record, Etiquette of Violence?
DAVID J: I was approached by Mr. Barker with the idea of reissuing the album. The original is now pretty hard to get, so the idea instantly appealed to me and I knew that Dave would do a great job regarding all aspects of production. I will also be releasing some new recordings on the label, including my forthcoming solo album and a collaboration with Detroit's premier psych garage rock outfit, Deunde, entitled Oracle Of The Horizontal. It feels like going home!
To commemorate the 39 years since the monumental song "Bela Lugosi's Dead" was unveiled to the public, you'll be performing at the place where it was recorded, Beck Studios in Wellingborough, England, for the Back to Beck event. What can the audience expect from this show? What will the setlist look like?
DAVID J: I am very much looking forward to that special show! I haven't been back there since 1984, so it will be very nostalgic for me. I'm only sorry that Derek Tompkins, the original owner / engineer will not be present to share in the experience as he passed away several years ago. I will be dedicating the evening to the memory of dear Derek. I will be performing several songs that were recorded at Beck, but I am not letting on to which ones! I will also be joined by my old comrade David Stretton who was the guitarist in my first band, Jam. This was back when we were 17. A VERY long time ago! Tim Newman, a very talented musician from Bristol with whom I have been collaborating of late will also be joining in the fun.
Andrew Brooksbank, the author of new book Bauhaus – Beneath The Mask, will also be on hand to interview you. Did you contribute to the making of this book?
DAVID J: Yes, I shared a lot of old flyers and ads, etc… with Andy and he was essential when it came to the writing of my own memoir, Who KIlled Mister Moonlight? (Bauhaus, Black Magick and Benediction), in that he supplied an incredibly detailed timeline which was a great source of reference for me.
Speaking of Beck Studios, what drew you to the studio in the first place and what kept you coming back for Bauhaus releases, as well as your own solo creations?
DAVID J: Beck was simply the first recording studio listed in the phone book. The main thing that drew me back was the aforementioned Mr. Tompkins, who, aside from being a lovely man and a real character, had a very open mind and a good ear and also was not afraid to speak his mind and give a very honest opinion as to what was being played and where the music was going. The latter being an invaluable quality in a collaborator. I also loved the warm funky vibe of the little place.
As a founding member of Bauhaus and Love and Rockets, and the success that ensued, what are the main things that have changed in your life that surprised you, and/or that you're grateful for?
DAVID J: I am extremely grateful to be able to make a living at something that I love. Also to travel the world and meet so many interesting people. To meet the fans and hear their stories of how they came to the music and what it means to them. This appreciation of the audience is one of the main things that has changed, as back when we started out we were pretty much isolated and somewhat cynical, but all of that has changed so radically now.
For your world tour with Peter Murphy, who else will be joining the live line-up? Any familiar faces? Might you give us a hint as to what songs you will be playing (is it only songs from In The Flat Field or will there be others as well)?
DAVID J: Peter and I will be joined by two excellent musicians, John Andrews and Marc Slutsky, on guitar and drums respectively. They are both top-notch players. Peter and I have been encouraging them to bring their own distinctive musical styles to bear, rather than just copy the records. The essence is there for sure, but we wanted to infuse the music with some fresh and vital energy. Aside from playing In the Flat Field in its entirety, we will also be featuring several tracks which span the entire career of Bauhaus.
How do you plan on spending your downtime while on tour (besides the traveling part of it)?
DAVID J: I always have at least one good book on the go. I'll swim when I can find a pool, so long as it is not too loaded with chemicals. I also try to explore the cities if I possibly can. Just go for a wander and get happily lost!
From what I've read, there may be some other goodies on offer by late this year, like maybe even more tour dates and/or some Bauhaus vinyl reissues. Can you confirm any of that now or is it still up in the air?
DAVID J: It's all up in the air at the moment, but coming down to land very soon, I hope! Watch this space!
When you're not a work in the music realm, what do you enjoy doing?
DAVID J: I love to make visual art which is often an extension of the music that I am working on. I am also currently putting together a book of poetry which will hopefully be published towards the end of the year or in early 2019.
Website
Glass Modern Bandcamp
Facebook
Twitter
Instagram
YouTube