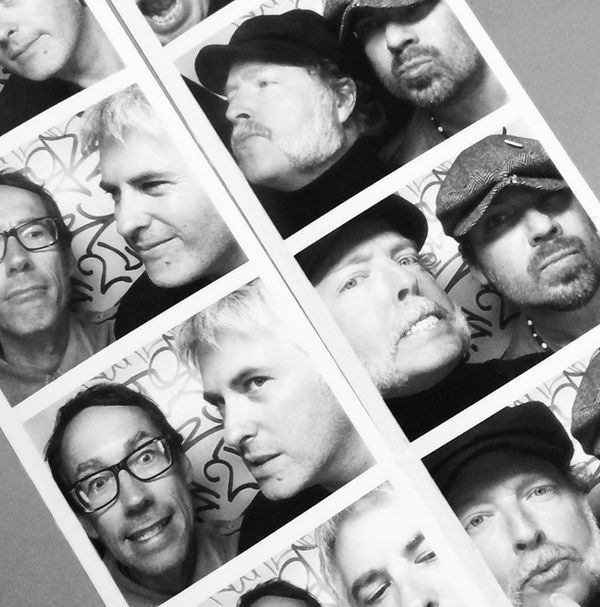 4 September 2017
Mark Crozer and The Rels; Photo Credit: Shawn Lynch
INTERVIEW BY LARRY LEIMHELM
NYC-based singer/songwriter/multi-instrumentalist Mark Crozer is back with his band Mark Crozer and The Rels, discussing their latest LP Sunny Side Down, as well as his ten-year membership in The Jesus And Mary Chain, living in Nashville, his previous band with Ride drummer Loz Colbert, and lots more!
Last we heard from Mark Crozer And The Rels was your epic appearance at the NEW ORLEANS SUPERDOME for a live performance at WWE's WRESTLMANIA XXX – in 2014 followed by a massive JESUS AND MARY CHAIN 30th ANNIVERSARY TOUR of the legendary PSYCHOCANDY LP….When did preparation for the 10 tracks that make up the new MARK CROZER AND THE RELS Sunny Side Down LP begin?
MARK: It was an epic performance wasn't it? I still find it a bit mad that it actually happened. There was so much build up to it and then it was over in a flash. The Psychocandy tour was quite grueling. I loved playing those songs but I'm enjoying touring the new Mary Chain record more.
Getting to your question… Half of the songs on Sunny Side Down date to early 2015 and the other half date back further and had appeared online in earlier demo form. The Rels had been playing four or five of the songs live for a while so the recording process was pretty easy. We really only did a couple of days rehearsal then did a four-date tour before going into the studio.
From a 2014 Interview discussing the Rels' debut album you stated you wanted your next release to include the live band on the recordings – which has come to fruition – did the live band help arrange how the final vision of each song wound up on tape?
MARK: For sure. I'd say the biggest thing for me was just capturing the energy of the band. It's something that really can't be faked. I do a lot of recording where it's just me playing everything and while those recordings generally sound pretty good it's not the same as the feeling that's created by a bunch of musicians playing together. Every song on the record began with drums, bass and guitars played live in one take and then we did minimal overdubs later. When I record alone I tend to layer track after track to create a mood. Playing with the band I found that wasn't necessary. Most of the songs are quite sparsely arranged because the band creates its own energy and there's no need to fill every space with sound.
You've generally self-produced all of your past releases. Rels' – bassist/guitarist/vocalist SHAWN LYNCH has worked with legendary indie producer MITCH EASTER in the past – did that influence the band choosing him as co-producer for Sunny Side Down?
MARK: Yes. Shawn has worked with Mitch on numerous projects and I had it in the back of my mind that I'd like to work with him one day. I figured that if the band was going to make a record then I wanted it to be the best record we could make. And Mitch was the obvious choice to make that happen.
Mitch Easter is credited as playing additional guitar on the LP – was his playing present on all 10 songs? On the topic of instrumentation used, was Mitch responsible for choosing/suggesting additional instruments like the Chamberlin and organ on those specific songs?
MARK: Mitch contributed guitar to the song "Plasma" to help beef it up a bit. To be honest I can't remember very clearly how we came to use certain instruments as there was quite a bit of red wine involved in the making of the record. I think most of the suggestions came from Shawn as he's so familiar with the studio. The organ was my idea because I wanted that song ("Say Hello") to have a bit of a classic rock vibe. Shawn suggested the Chamberlin for "Corners Of Your Mind" and we just got the part recorded before the tape broke. I remember that Mitch emailed me during the mixing process to say he wasn't sure about the Chamberlin as it sounded a little "seasick." But that was what I liked about it. It sounds a little wonky on the first downbeat of each bar which I love.
Several of the songs from Sunny Side Down – were heard in earlier versions which I believe were posted via Bandcamp or Soundcloud, while the other half of the titles – "Lukewarm Love", "Haunted Head", "Plasma", and "Say Hello" – I'm assuming were written specifically for the LP?
MARK: Let me begin by saying that there was never really any great plan to make this record. I'd got to a point after releasing the first Rels record and doing Wrestlemania and being a part of the Mary Chain where I didn't see any great point in putting out anything else. It wasn't like there was any great demand for a Mark Crozer and The Rels record. But I'm always writing songs. Always. And inevitably when you start collecting songs you start imagining how they would sit together as one body of work. It was really my wife who persuaded me I had to make this record. Even if it meant it would only be heard by a handful of people. And once I decided I would do it I got really excited about it.
So to get back to your question… none of these songs were written with a specific release in mind but once I decided to do the record I began to select songs I thought would work together. I had another dozen or so songs that didn't make it because they were either too stylistically different or just rubbish.
We know you are always writing new music – The songs/recording sessions for Sunny Side Down were set sometime during late 2015 and early/mid 2016 (digitally released in fall 2016 and recently released via indie label Planting Seeds Records this past Spring) – at this time are you planning the studio LP follow up? Will Mitch Easter be returning?
MARK: I have no idea. I would love to do another record with the band but whether it's feasible or not I don't know. Right now I'm focusing on writing and recording at home with a view to TV and film placement. I recently signed with a sync agent so I'm hoping this will lead to good things. I'm definitely in a bit of a purple patch at the moment. I've written and recorded half a dozen really strong songs in the last month or so and have a dozen more in the works. I'm just going to keep writing and if the opportunity to do a new record comes up and the stars are aligned then it will happen.
MARK CROZER AND THE RELS LIVE DATES/TOURS have been sporadic the last few years, However the RELS have done dates in the UK (with former INTERNATIONAL JETSETTERS bassist BERT ADUBERT) to most recently a mini tour of the southern USA in support of your other band – The Jesus And Mary Chain. I had the pleasure of seeing a couple dates from that recent tour. I must say, the RELS were amazing! –very tight and solid live unit. The songs from both the s/t debut and Sunny Side Down were just inspiring live! Prior to those dates did you spend an extensive time rehearsing – how did that workout since you have been living in NY and the rest of the band is in NC?
MARK: Well, thank you! It's great to hear that our performance was enjoyed. That mini tour was the most fun I've ever had being in a band. The Rels are such a joy to be with. As you say, we don't play much but when we do it is always a great time. Partly it's because of the fact that I'm in NYC and they're down south; partly it's because I'm so busy with the Mary Chain; partly it's because I'm really selective of what shows we play. We're all in our forties and have families and lives and have played a lot over the years. So there has to be the promise of fun and adventures for us to get together and play a show. And there have certainly been a fair few of those in the last couple of years.
We know JAMC are continuing their Tour in support of their latest LP DAMAGE AND JOY through around November – Are there still plans for any Mark Crozer And The Rels live dates before the end of 2017 or perhaps even solo dates in support of Sunny Side Down?
MARK: There's nothing in the calendar currently but I'm hoping we'll get together to play a few shows around November/December.
Speaking of The Jesus And Mary Chain – It has been brought up via a few JAMC fans that you now take the record as longest tenured JAMC member apart from the Reids – with the exception of a few months during the 2012 tour you have been on board since 2007 starting with the JAMC COACHELLA REUNION (the REID/REID/ KING /CROZER/COLBERT line-up). Did you ever think your musical career would be spending essentially 10 years with an iconic indie band touring the world and playing to thousands of fans? Are the Mary Chain back to releasing more new albums and touring as they did in their heyday? If that's the case, might you be more involved on the studio side of things next go round?
MARK: Am I? I still feel like the new boy though, yeah, I have played with the Mary Chain for quite a while now. There was a period of three years though where nothing happened. This year has made up for the quiet years though. I've barely been home in months.
I always thought I'd 'make it' as a musician but I thought it would be in my own band. Having said that I have absolutely no problem with being part of the Mary Chain. Right now I feel like we're one of the best live bands around. We've become a well-oiled machine on this recent tour.
As for the band putting out new albums… no idea. It wouldn't surprise me if the Reids do another record as this one has been a big success. I doubt I would play on it though. Of course I will if they ask me. I'd love to.
In other band topics – I was also a big International Jetsetters fan and really loved the Heart Is Black EP – kept reading about a follow up but I think the band announced it would go on an extended hiatus. I think the release was called California and may have also included songs by drummer Loz Colbert – any plans for that release to see the light of day in the future?
MARK: Glad to know someone liked it! Ha. It just became a bit of a logistical nightmare ultimately. It's hard enough organizing a band based in different states but when the members don't live in the same country even… forget it!
We recorded four songs for the California EP and one was indeed a Loz Colbert composition called "Painter". Probably the best song we did actually. It has some killer west coast vocal harmonies. It's not a far remove from a song off the new Ride record called "Rocket Silver Symphony" which Loz sings.
The California EP was never officially released but it is available online if you look for it.
You have been a pretty prolific songwriter for all your previous solo and band releases. I also remember reading about your time spent in Nashville, TN – perhaps expanding on your current enormous songwriting skills and even collaborating with other songwriters? How was that experience and do you plan on writing with other songwriters in the future? Has there been a point to where you've wanted to begin writing songs for other artists? Or has there been other artists that have already recorded your music?
MARK: Nashville was fun but ultimately fruitless. I enjoyed the city but I couldn't get into the co-writing thing there. I don't think I had enough discipline at the time. I've got into co-writing in quite a big way though recently. I met a couple of writers at a music conference a few weeks ago and have subsequently written songs with both of them. One guy I approached because he was wearing a Big Star t-shirt. I knew we'd hit it off. I've also co-written with Consequence whose a rapper from Queens and a member of A Tribe Called Quest. That was a really fun and different experience. I seem to have become his go-to guitarist and bass player and have done session work on several tracks he's put out which is very cool.
My brother Paul (who was also in the Jetsetters) is someone I'll be working with more in the future. We just got together and worked on a Christmas song together that I'm pitching for an album due out next year. Top secret of course.
Perhaps it was a year or so ago? But if I recall from reading a previous interview you had begun work on your memoirs? Have you finished it at this time? Are you aiming to get a publisher for it or looking at it as a self-release or even something you release in either a digital format or audio book only?
MARK: Ha. Yes. I have written a first draft. It's a bit crap so far but there are enough amusing stories and anecdotes to make me want to do a second draft. I would like to get it published of course. I just need to find the right angle. There's a lot I'll have to leave out or I might get death threats (again.)
You no doubt have been busy for the last several years can you already see your plans mapped out for 2018?
MARK: Right now I can't see beyond mid November when the Mary Chain starts winding down for the year. My top priority for 2018 is to find myself a little writing and recording space where I can work without bothering the neighbors. I'll certainly be focusing on more writing and recording and see where that leads me.
In closing, with all your travels around the world – you must have picked up some new and exciting music to listen to? What are your current 5 releases/bands your digging at the moment?
MARK: I'm excited about the new Alvvays record. Their song "In Undertow" is currently lodged in my head. I got quite drunk with them one night in Australia and probably made a total idiot of myself.
I'm more of a song-oriented listener than anything. There are not many full length albums that I can listen to all the way through. Radiohead 's most recent was great and the new Ride record of course. I've been enjoying the last ATCQ one too.
Just scrolling through my Spotify playlist I've been digging songs by Warpaint, Beach Fossils, Twinsmith, The Cobbs, Japanese Breakfast, Wussy. Oh, looking forward to the new War On Drugs whenever that comes out.
Thanks for spending some time with us, Mark!
MARK: My pleasure. Thanks for the questions.
You can pick the ultra limited edition vinyl version of Mark Crozer and The Rels' Sunny Side Down at Planting Seeds Records
It's also available via Darla Records and finer record shops around the world.
MARK CROZER INFO:
Facebook
Twitter
Bandcamp