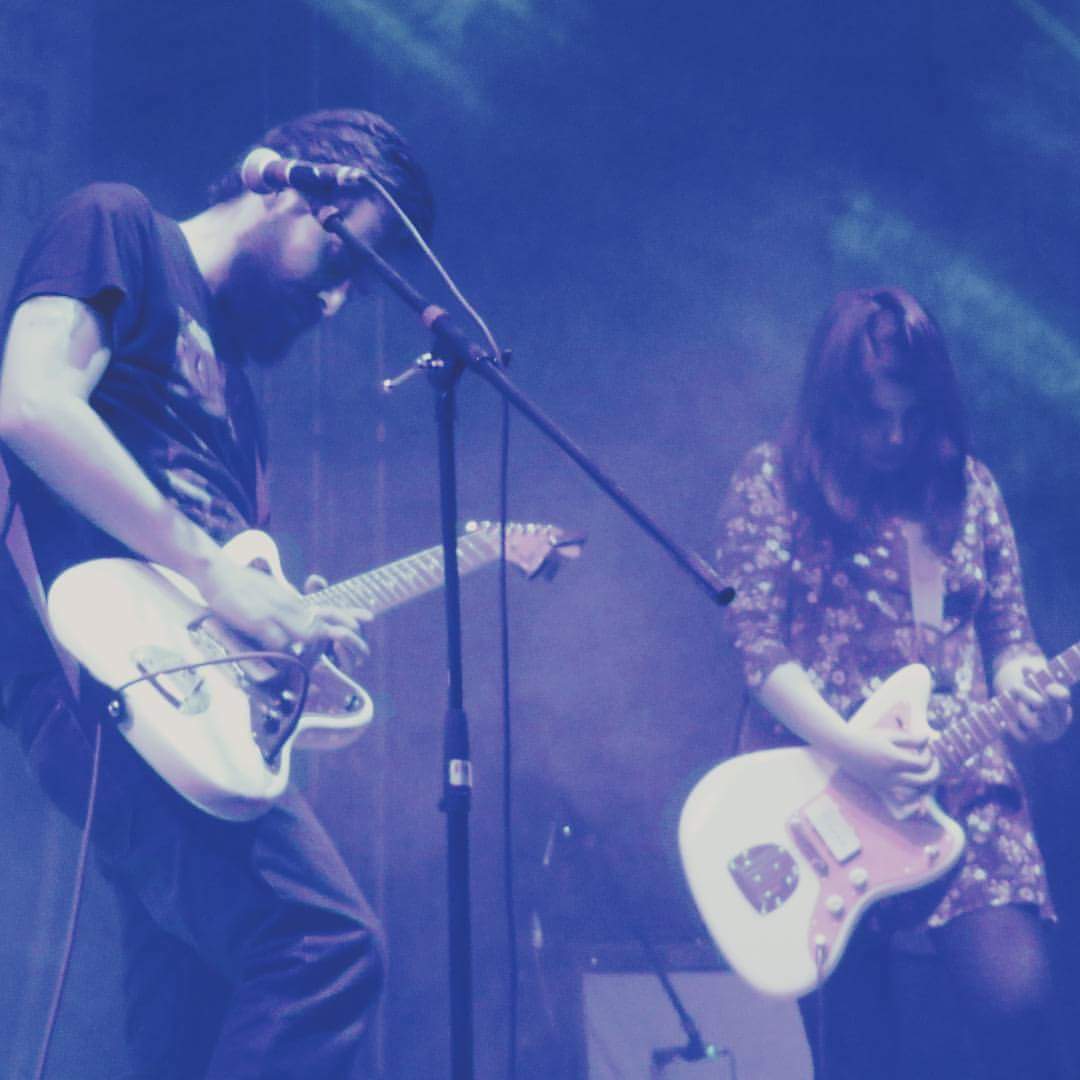 8 July 2017
I first chatted with Mexico's Car Crash Sisters in 2015 when their Crystal Garden EP came out. I revisited them recently to discuss their new album and future plans. Thanks to guitarist/vocalist Kique Jiminez and his wife, guitarist Alma Saucedo, for answering this fan's questions.
EK: The last time we chatted, you had released your Crystal Garden EP. What have you folks been up to since that time? Did the EP sell well?
Alma: We've played in some cities around Mexico and we've spent most of the time writing, rehearsing and recording our new album, which will have more songs than Crystal Garden.
The EP sold relatively well for an independent band with no manager, promoter, etc. We found it very interesting that most of the people who bought our EP are from the US and the UK.
EK: You seem to have a really good following here in the US. How about over in Europe?
Alma: Not as much! But we'd really love to find our way into Europe, some people have sent us messages asking us to go there and we'd love to, we still need to find connections over there.
Kique: I think it was on an English radio show where we were called 'the least Mexican band he (the radio presenter) ever heard'.
EK: Given the current US administration's draconian, heinous policies, it seems unlikely you will visit us anytime soon. Are there any workarounds for such policies?
Alma: It just seems like such a death knell for artists outside the US. Well, half the band already has a US Visa, we (the other half) have been meaning to get it but in what it seems to be a blink of an eye, Donald is now president, we were so sure he wouldn't win and there you have him… so we're kind of afraid they won't approve it, we will still try to get it though, and go play there, it is something we have always wanted to do.
Kique: It has always been kinda hard for us to get the US visa, but now it seems near to impossible. It really saddens me because one of our goals is to tour in the US.
EK: What music has inspired you over the past few years?
Alma: We all have a very varied taste in music, from hardcore punk to classical music, speaking for myself I always find myself going back and listening to bands from the 60's to the 90's. The music I like the most was made in that period of time.
Kique: I've been listening to a lot of power pop and Britpop music. In fact, a lot of things that end with "pop". However, I try not to pay too much attention to that when I write music. I mean, it is very hard to avoid influences while crafting a song, but to me, trying to find inspiration in other bands results in something similar to plagiarism, and that's definitely something I don't want to do.
EK: Does anyone in the band belong to other musical side projects?
Alma: Actually, yes. It is a kind of funny situation with us. We are scattered in 3 other bands with the same or some of the members: Surfucks, a (mostly instrumental) band formed many years ago out of the love we have for 60's bands like the Beach Boys; Bleak Boys, a fellow shoegaze-post-punk band formed by Cristobal –our drummer- and John and Die Dummies, an experimental band our bass player José is part of with John from the Bleak Boys.
EK: New shoegaze and dream pop artists seem to have lots of opportunities that may not have been available before the advent of the Internet, and classic bands such as Lush, Ride, and Slowdive have found bigger audiences than they had in the past. What are your thoughts on this?
Alma: I think it's awesome! I never in my life thought I would have the opportunity to see Slowdive live, and we got to see them last year in Mexico City, it is also exciting to hear new music from them. I still hope I get to see Ride and Lush live (editor: Lush was still together when this interview took place).
Kique: It is funny because I started this band with no expectations at all. I knew that shoegaze was never a super popular thing and I wanted to feel free to do whatever I wanted to do without being worried about success and that kind of thing. And suddenly we were caught in this shoegaze/dream pop rebirth and, well, it's been awesome!
EK: Let's talk about your upcoming album and the process of writing and recording it. Has anything changed in how you do things in comparison to Crystal Garden? What are your favorite songs and can you tell us a bit about them? Are there any plans to pitch the album to shoegaze/dream pop friendly labels such as Saint Marie and the like?
Alma: Well… not much has changed! We have kind of an inside joke about how much time it takes us to record our music because it just takes so long, if we don't like something we just record it over and over and over again. But we're not in a hurry to release something, we prefer to release something we like to listen to instead of something we don't like just so people don't forget about us.
At the risk of sounding cheesy, I like all of them, I do. But there's one in particular called "Blackholeyday", I find that song very intense and when we play it live it just generates a different energy.
About the record labels, we've talked about it and yes, we will. Here in Mexico, it is particularly hard to make a living out of music, so we're very aware of not getting too high over heels about the idea of quitting our jobs and do this for a living. We would definitely love to, though, we just want to keep playing and recording music, that's what we love to do.
Kique: The writing process was a bit different in this album. While The Crystal Garden was all written by me, this time we wrote more songs as a band. Sometimes I had an idea or someone started to play something, and we all finished the song during a rehearsal. We all contributed with ideas.
This time we discarded a lot of songs we didn't think were good enough, so we like everything we included. But if I have to choose, I'd say that "Anne Louise of the Raging Seas", "Descension" and "Blackholeyday" are my favourites.
EK: You contributed some great cover tunes to several Blog that Celebrates Itself compilations. How do you find out about those projects? Does the blog owner contact you for submissions?
Alma: Fortunately many shoegaze blogs, magazines and radio stations started talking about us when our single. "Anyway" came out, and we have found out that the "shoegaze scene" is very like… brotherly, it's like everybody knows everybody and supports everybody, that's how Renato (Malizia, Blog that Celebrates Itself) found us and contacted us and he's been our friend since, we're very grateful for all his support.
Kique: Renato is hands down one of the biggest music enthusiasts out there. He approaches bands to make these tributes just for the sake of helping to promote them by honoring his heroes. If that's not real love for music, then I don't know what it is.
EK: Do you do everything yourself, from burning the CDs to the labels and then the CD art? Cuz I imagine that can be expensive, especially with smaller runs.
Kique: Yes, it is one of the good and (at the same time) bad things of being an independent band. We have total control of everything we do, but we're the ones who have to do it. No external help involved. We love to be able to do and show whatever we want to, but it can be exhausting. We record our music, we mix it, we do the art of the albums, singles and gig posters, and we pay whatever has to be paid. At the end of the day you get burned out, but the biggest reward is the satisfaction of being able to print what you really wished to express.
EK: Will you tour parts of Mexico or beyond in support of the new record?
Alma: Yes, I love playing in Mexico City and Queretaro, people are so nice to us there, they even sing along, it's awesome. I'd also love to go to places we've never played before.
Kique: While promoting The Crystal Garden, we visited many places and met some great bands and people. We faced problems and unexpected things, of course, but I guess we're much better prepared this time. I can't wait to visit new and familiar places and play our new music.
Catch up with the band on Facebook or over on their Bandcamp page.