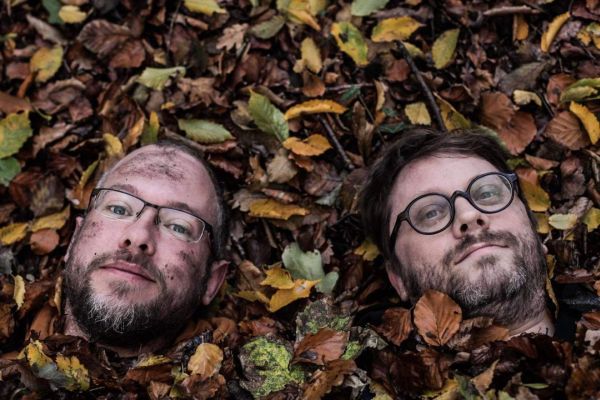 22 February 2019
Broads – Photo Kelly Robb
Norwich, England-based electronic duo Broads (James Ferguson and Mark Jennings) return with their fifth album, A Small Box Over a Global Goal, which comes out on March 1st via Humm Recordings. The Big Takeover is extremely pleased to host the premiere of the LP in its entirety.
Like its predecessor Field Theory, the 11-track A Small Box Over a Global Goal showcases a breadth of focus and influence, ranging from erratic washes of noise ("Glass Top") to the shimmering pop arpeggiations of "Gold Focus" and first single "A Safe Space In Us" (with a rare vocal performance from Ferguson), as well as slow-motion ambient drone ("On a Hillside") and skittering, undulating electronics on "Jugemu".
Beginning as the solo project of James Ferguson in 2013, Broads quickly caught the attention of respected Russian experimental/electronic label Fuselab, who released 2 albums (2014's self-titled debut and 2015's landmark Hellas LP). Following third album Everything Is Spinning, Nobody Is Actually in Charge in 2016, Ferguson recruited long-time live collaborator Mark Jennings as a permanent member of the band and set about writing as a two-piece – culminating in 2018's Arts Council-supported Field Theory album.
Broads have shared stages with the likes of Mercury Rev, Plaid, and JOYFULTALK, have been championed by BBC radio (particularly on Gideon Coe's 6Music show), and the two-piece have been commissioned to write two archive film live soundtracks for the British Film Industry. Field Theory received great reviews and airplay on over 150 radio stations across the globe.
With their new album Ferguson and Jennings continue to experiment with and refine their sound and craftwork. Ferguson explains, "I guess it's a bit more stripped down than Field Theory, more… pure. We involved a lot of guests and collaborators on the previous record, but A Small Box Over a Global Goal is just me and Mark bouncing stuff off each other, exploring ideas, and honing in on a sound that defines Broads – for now, at least. Producer Owen Turner helped us to unify everything, and I think it's our most cohesive and focused album to date."
The result of that cohesion is a slowly-developing set of tracks which evolves fluidly across its 47 minute running time. "There are still surprises and twists and turns on the record, but it feels less haphazard than previous albums – I think we deliberately set Field Theory up to be in opposition to itself in places, and A Small Box Over a Global Goal' is the antithesis of that."
One central theme of the album is mental health support and self-help, as Jennings relates: "I used writing "Glacier" and "Glass Top" to get me out of two bad episodes I had – They came from trying to visualize and confront the episodes whilst they were taking place and the images just came with sounds. I kind of ended up soundtracking the place I was imagining and making the songs got me through. The lyrics on "A Safe Space In Us" are influenced by my experiences on mental health education courses and overall the album has a strong positive mental health connection for me."
Although Broads' sound palette has developed considerably over the past six years, the band's unifying principles of repetition, incremental build, careful texturing, and layered melody have remained constant. A Small Box Over a Global Goal is their most electronic-focused offering to date, but it retains the analog, human feel that has gained admirers across the UK and beyond.
Broads will be launching the album with a very special show at The Octagon Chapel in Norwich on Friday, March 1, followed by a short run of UK dates.
_A Small Box Over a Global Goal_can be pre-ordered via
Bandcamp
TOUR DATES
March 1 – Utrecht (NL) – Studio Patrick
March 8 – Norwich (UK) – Octagon Chapel
comments powered by