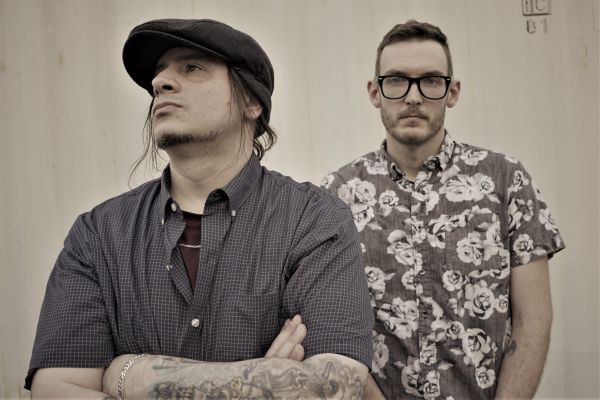 23 July 2021
Joe Pugsley and Ryan Struck of Dread Eyes – Photo Credit: Daily Grime Media
Dread Eyes, the new project from NJ-based musicians Ryan Struck and Joe Pugsley, is a '90s-rock-inspired foray that's full of heartfelt emotions, engaging melodies, gritty guitar layers, and an ambiance of existential dread.
Having worked together for over a decade in other projects (The 65's, Voice of Doom) released mainly via Pyrrhic Victory Recordings, Struck and Pugsley have come full circle with their punk, rock, and pop sensibilities and influences, which flourish on Dread Eyes' raging and powerful tracks that tackle the difficulties of life and relationships along the way.
Dread Eyes' self-titled debut EP arrives on July 30th via Mint 400.
Big Takeover is stoked to host the premiere of the compelling EP today, a week before its official release.
With a nod to the likes of Leatherface and Jawbreaker, the record contains plenty of passion and substance to pair with its tunefulness and well-crafted compositions.
"Dark Thoughts" opens the EP with distorted guitars and a rising snare roll that lets you know you're in for one helluva ride. Catchy, yet potent, the psychological meaning of the band's name materializes from the start with lyrics like "Another day and here I go, with a fake smile and some pinks to cope. The permanence of grief amongst a backdrop of temporality."
On dynamic and longing lead single "Disappear" fiery guitar lines run over a driving, up-tempo punk attack, and Pugsley joins in with gruff, but resonant vocals and lyrical content that's rife with anxiety and uncertainty about a troubled relationship.
Struck takes his turn on exclaimed lead vocals for the restless Smoking Popes-like punk-popper "Do You Really Wanna Work This Out?" The song chugs along with his earnest exclamations, grinding guitar riffs, a rubbery bass line, and scintillating cymbals crashes. The swingin' chorus sections intensify midway into an anthemic miasma with lyrics that question a relationship that's on the rocks.
Last up is "Hidden Scars," which exudes a different vibe than the rest of the EP. Rock 'n' roll guitar riffs comprise the verses, and the duo blend a Bash & Pop feel with Jawbreaker/Knapsack intent through the song's end-half.
Dread Eyes is an impressive first EP from these two well-seasoned musicians who keep cranking out release after release through their various music groups.
Dread Eyes was recorded and mixed by Ryan Struck in his home studio in Lyndhurst, NJ and was mastered by Neil Sabatino.
Struck opens up his heart about what Dread Eyes and specifically his friend Pugsley mean to him, revealing, "There was no pretense or big story about how the project happened; we both had a creative itch and found a way to satisfy it. The pandemic kept Joe and [me] away from The 65's and I think we really missed working with each other."
"I sent him some songs and he came over and put vocals on them. With neither of us having much vision or expectation regarding a final product, the songs were able to take on their own characters as we recorded them. It was a refreshing change of pace that satiated both of our creative needs and put me in a new role as a producer and engineer which was humbling."
"Joe's trust in me in that role was a huge compliment to me as I've always admired his work and looked up to him not just as an artist but as a human being and a wonderful friend and partner. Being impressed with each other's work makes this project fun, interesting, and emotional."
"When we sent the demos out to friends, it was clear they picked up on that sentiment and we felt somewhat urged to put out an official release."
Puglsey feels likewise, succinctly adding, "We sort of loosely agreed that we weren't going to say who played what, or what exactly each of us do on any given recording so as to give us the freedom to have Dread Eyes be a dynamic project that we could do whatever we wanted with, but on this first EP Ryan did everything: played every instrument, sang all backups, recorded and mixed it. It's an incredible accomplishment really, and I'm honored he lets me sing on his tracks."
Mint 400 Records Website
Pyrrhic Victory Recordings Website