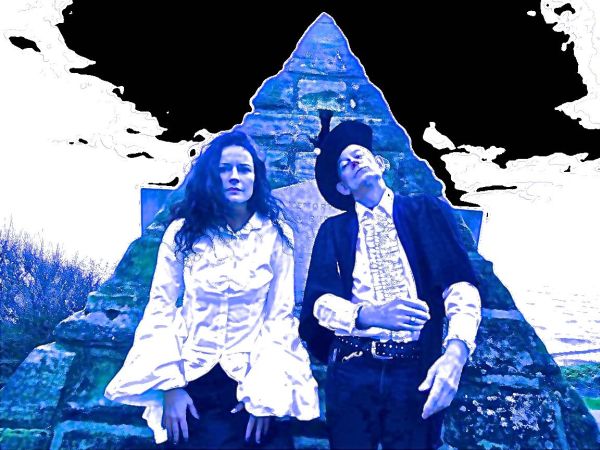 31 May 2019
Eleventh Hour Adventists – Photo courtesy of Eleventh Hour Adventists
Eleventh Hour Adventists is a collaboration between Jasmine Pender (AKA, solo artist Rotten Bliss) and highly regarded post-punk legend Jowe Head (ex Swell Maps, Television Personalities). Pender and Head will be releasing their mesmerizing self-titled debut album arriving June 7th via Emotional Response Records.
Pender and Head met ten years ago at a concert by German avant-garde noise band Einsturzende Neubaten, which is a clue to the depraved tastes that they share, and the way that they get their kicks. Their musical collaboration as Eleventh Hour Adventists is one of equal, but balancing elemental forces; like hot engine oil poured into freezing water, or volcanic lava thrown high into the Arctic air; a weird – and wonderful – kind of alchemy.
Their debut album together is intoxicating and daring, brewed from their diseased imaginations into a strange synthesis of psych-folk, punk sleaze, and ambient drone. Their voices have a unique effect together, unearthly and spine-tingling; with harmonies twisting together in strange ways.
The songs on Eleventh Hour Adventists are no ordinary cozy duets; there are no crooning turtledoves here. The sound and lyrics are dark, dire, and dangerously beguiling. And of course there are a couple of murder ballads that slice through with a stark sharpness, both with the lyrical twist of gender reassignment to keep it all a bit more unsettling.
Album opener "Handsome Billy" is one of those chilling, but thrilling murder ballads. Once sung by KatieJane Garside of QueenAdreena as "Pretty Polly", Eleventh Hour Adventists' gender switch with the lyrics is ingeniously delightful and the song is atmospherically foreboding (a hallmark mood that exudes through all of Eleventh Hour Adventists' tunes).
A menacing Head roughly growls through the macabre storyteller "Isis and Orisis". Reverberating guitar strum and plucks and augmented by a pronounced beating-drum pace. Psych-folk number "Scapegoat" winds with sinuous lines and is accentuated with tambourine jingle and Pender and Head's intertwining vocals.
The culturally relevant "Templehof" stalks with a deliberate marching pace as the lyrics delve into the history of the region of Templehof in Berlin, Germany and its "symbol of freedom / from tyranny and oppression."
A menacing Pender lends her velvety vocals to murder ballad "Crowjane" that bursts out on the chorus sections with lap steel strikes and Head's excited shouts. The lighter and flowing "Memento" features silkier vocals from Pender who is backed by Head's deeper tone. The guitar cycles are gritty, the drum beat is steady, and, well, the lyrics are again bold as Pender sighs, "Every day is one less day to f*ck up."
The spellbinding "Wonder Blunts The Knife" rises from the ashes with reverberating guitar lines, a spare beat, and shivery pull of strings. Pender is at the forefront, seductively weaving through the mysterious accompaniment. Both Pender and Head enunciate clearly and exclaim lyrical oddities on the wildly mordant "Exquisite Corpse".
Last track "Satellite" slowly spins with dreamy vocals from the pair, synth notes glow, and fragments of buzz and noise tucked into the background. It's a soothing balm at least soncially, yet it still hits with spiky lyrics about about the end of the life of a satellite and how it decays and re-enters the Earth's atmosphere. Listeners are left with the takeaway message "nothing lasts forever / even in the Heavens above."
Eleventh Hour Adventists Facebook
Emotional Response Records Website
Emotional Response Records Bandcamp