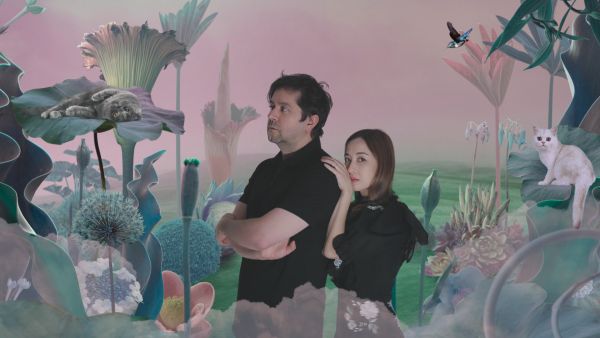 5 November 2021
Shoestrings – Photo Credit: Timo
Today Shelflife presents, Expectations, the long-awaited second album by Shoestrings The long-standing and engaging synth-pop/dreampop duo is composed of Mario and Rose Suau who are best friends, life partners, and quintessential introverts.
Expectations is available on CD and digital formats. The LP vinyl,which will be co-released with Discos de Kirlian (Europe) and Fastcut Records (Asia), will be available in early 2022. The album features exclusive artwork by social realist figurative painter Sean Mahan.
Big Takeover is pleased to host the premiere of Expectations in its entirety. The full length exceeds the hopes of fans of sonically refined, lyrically perceptive, and emotionally reflective synth-pop/dreampop music.
The record is an absolutely enchanting, yet bittersweet delight that's rife with gentle synth- and electronics-based melodic pop songs belie the rueful to melancholic nature of the lyrics that deal with love,change, and separation.
Expectations surfaces nearly 27 years after the release of Shoestrings' first single and is the album the pair wished they could have written 20 years ago, but didn't yet have the experience to bring it to existence. Time in itself can be a gift. In fact, the years that passed were instrumental in developing the album's matured sentiment.
Now well into their adulthood, Mario and Rose have seen their share of friends decoupling. In their close circles, romantic optimism is now replaced with guarded cynicism. The highs and excitement of new relationships have been tempered with anticipatory disappointment and loss.
Narratively, the band recounts these events and collected observations that left the deepest marks, but now, with a clearer perspective. Hindsight is 20/20, and it serves as a visible thread running throughout Expectations.
As teenagers growing up in a northern suburb of Detroit, the Suau's bonded over shared tastes in music, art, and film. In the early '90s, both played supporting roles in a mutual friend's somber, 4AD-leaning band. A fervent interest in the sounds coming from Factory, Creation, and Sarah Records at that time, as well as sophisti-pop bands like The Blue Nile and Prefab Sprout, sparked the idea for a side project.
Shoestrings served as a counterpoint and the two set up a true bedroom studio with a cassette 8-track recorder at the center. The pair's intent was to write heartfelt, memorable songs with layered guitars, simple synth elements, soft vocals, and thoughtful lyrics.
In between their university courses, weekend and late-night recordings resulted in a 7" single, several contributions to indie compilation albums, and a well-received, full-length debut album, Wishing On Planes, on Le Grand Magistery (US) and Flavour of Sound (Japan).
In the early 2000s, Shoestrings' aesthetic was in a state of flux. The band wanted to evolve their naïve, homespun sound to feel more consistent and sophisticated overall. Rather than immediately release a pastiche follow-up album, the pair shifted focus to progressing their engineering and production skills. They had reached the limit with their analog 8-track, and it was time to adapt to music production software.
By 2011, under the moniker Invisible Twin, they were able to put their new proficiency to the test by remixing tracks for Acid House Kings, Alpaca Sports, Red Sleeping Beauty, and Dylan Mondegreen.
In 2015, longtime friend, Johan Angergård (Acid House Kings, Club 8, The Legends), asked Rose to contribute lyrics and vocals for the synthpop project, Djustin. From Stockholm, Johan composed and offered up tracks. From Detroit, Rose wrote lyrics and sang vocals, while Mario engineered the recordings.
Johan's rigorous production approach and no-nonsense, Swedish candor required the pair to fall in lockstep quickly. The two found this novel process challenging, yet refreshing, which ultimately became the catalyst to rekindle Shoestrings. As soon as production of Djustin wrapped, Mario and Rose began writing new material in earnest.
It's no secret that Shoestrings write about the ins and outs of adult relationships in 90% of their music. For Mario and Rose, their main goal is to always create songs that are memorable, sensitive, and relatable. Nothing could be more universal than love. Love and suffering are mutually inescapable, and living through one or both can leave someone enlightened or completely destroyed.
Adult love doesn't travel alone, nor does it ever pack lightly. Shoved inside a weathered suitcase, insecurity, numbing heartache, disappointment, and cynicism await the most inopportune time to spill out onto the floor. Perhaps, most importantly, tucked away at the bottom of all that baggage, time and hindsight await to offer the biggest lessons. These are the themes central to Expectations.
Mario and Rose kindly took the time to reveal insightful details about each track of their beautiful and astute album:
"Gone"
Mario: ""Gone" was one of the earliest songs we wrote when starting to work on Expectations. During one of our writing sessions, Rose wanted to do a simple song with just a couple of chords and an uptempo, driving drumbeat. When I picked up the bass and started playing, I came up with a bassline that Rose thought sounded a bit like The Wake. We thought it would be fun to start the song paying tribute to The Wake with a drumbeat similar to one of their songs from "Here Comes Everybody", and then changing it drastically once the vocals started."
Rose: "Storywise, "Gone" is about running into a long-lost love interest and considering if romance is worth pursuing with them this time around – or never. Both of these people have gone through the wringer and they're pretty cynical about love. We're listening to the voice in their head while they weigh whether to dive in or abandon ship: "Come closer now, 'cause I want to see you in this new light. Let's talk about how we fit together somehow." They go through all the calculations before deciding it was a temporary lapse in judgment and it's best to move on: "The feeling is…gone.""
"I Tried"
Rose: "Over the years, we've collected a ton of seed ideas for songs, and this is one I started about eight years ago. I had always loved the chorus, but could never seem to get any momentum in writing past that. When we were debating whether to include a ninth song for the album, I revisited this chorus, and suddenly the rest of the song came together so quickly. So we figured the timing was right, the song was ready to physically exist in its entirety and be heard."
"Like a lot of the songs on the album, this song is about looking back on things that have happened in the past, but now with a clearer perspective. As outside observers, we watch many people navigate relationships with emotionally unavailable partners. It's commonplace to have one person who is the "giver" in a partnership, and the other person just takes. This is completely exhausting and unsustainable. The fear of being alone can keep them stuck in a pattern of accepting less. In "I Tried", this person is someone who realized their worth, had the power to walk away from that, and will never let that happen again: "Why did I try so hard, too hard to make you love me? Why did I try?""
"Forgive You"
Mario: "This song is unique in that it actually came to me in a dream. I went through a 2-3 week period where I would wake up and actually remember my dreams (a rarity). One night, my dream featured a band playing a really catchy song. As I woke up, I kept singing the chorus of the song in my head and I could still hear the music. I finally got out of bed, still groggy, and tried to record the basic melody on my phone. I recorded my whispered vocals with some made-up words that I remembered from the dream and then tried to go back to sleep. When I woke up again, I played the clip from my phone and it helped me remember the chorus again. I went down to our studio to figure out the chords so that I could record and play it for Rose. She helped solidify the lyrics and then we worked backward from the chorus to figure out the verses. Once recording of the song was complete, it quickly became one of my favorites on the album."
Rose: "Lyrically, this is the story of someone who comes to the realization that their relationship was purely based on desperation. When we're younger, we tend to carry an idealized version of what we think is love, and we project that onto the object of our affection. That's what we think we want. With maturity and a lot of hard lessons, we begin to recognize when someone or a situation isn't right for us. Many times what we were initially searching for was never there – or could ever be there. The person you leave eventually realizes how good you were for them, but it's too late, you've moved on: "With arms outstretched, now you want me back. And you're sorry, yet, I don't need to forgive you.""
"Everything"
Rose: "I had written this song quite a while ago with just sparse piano and voice. It had actually gone through a few different arrangements and remixes before we arrived at the current version. Two of my lifetime heroes are Hal Hartley and Stina Nordenstam, and the choral parts I came up with are an homage to them (See: the closing theme from Hartley's "Amateur" and Nordenstam's "Murder in Mairyland Park"). The percussion and instrument selection are meant to reflect the sentiment of their work too."
"I think there is a simplicity and effortlessness about love that is lost when you grow older. When you're an adult, you have to consciously choose whether or not to make the effort to be with someone. This song is what happens when you stop choosing that other person and the connection is irreparable. These two people have drifted so far apart that it's impossible to ever come back together again. Love isn't enough to fix the rift in this case: "Each hurt, we slip further away. Each wave we drift further from everything.""
"Someone"
Mario: "This song started off pretty simply: just Rose's vocal melody with lots of ideas of how it should sound. I helped her figure out the music with the bass guitar, and then we played around with the arrangement of the song once we had the basics. I love how the verses switch between a 6/8 and a 4/4 drumbeat seamlessly. It also has some interesting parts where it deviates from a traditional pop song structure, but the passive listener probably wouldn't notice."
Rose: "These days, when you break up with someone, you have to go to enormous strides to erase them from your life. It's harder to avoid seeing or thinking of them without having to delete or unfollow them on social media first. Some people are not meant to be together under any circumstances, but it doesn't get any easier learning that your ex found their soulmate after they left you: "I don't want to know she's found the man who was meant for her. Everyone says to move on from someone who used to love me. Someone I thought who'd love me.""
"Expectations"
Mario: "At one point, Rose and I had a short bout of writer's block. We tried an experiment where we would work independently to come up with a song starter, then regroup afterward to share our ideas. From one writing session, all we ended up with was a catchy drum beat that Rose liked. That was enough to provide some inspiration and we ended up with our longest song on the album!"
Rose: ""Expectations" is like a subconscious conversation between two people who like each other, but they would never admit it out loud. There's so much buried emotion, so much potential, but nothing ever comes of it. They're both too afraid of ruining what they have. It's like a romance that can never happen. When you can't be with someone, and you think about the time you were with them, it often feels unreal, like a dream, like you're sleeping. It's kind of morbid, but I imagine the people in the song going to the grave with their secrets, "Words unsaid, our minds unread. We slept with unmet expectations.""
"Minus"
Mario: "Usually, when we work on a new song, we figure out basic music for at least 1 or 2 verses and a chorus. Once we're to that point, we record a rough, scratch vocal, build the song around it, and then re-record a "proper" vocal. Sometimes, those original vocals end up capturing an energy that is not easy to duplicate later. This song was one of those instances. As a result, we ended up keeping the original demo vocal for the final version."
Rose: "Earlier, we touched on the cynicism and insecurity that comes along with relationships. Minus is about someone thinking they were the root cause of all the problems. They are recounting things they could have done or said, and the effort they could have made, knowing they would always come up short. Maybe she just expected too much? In the end, it's always them, alone. If it ends particularly badly, you go from being a 1 + 1, to less than or the remnants of yourself (a Minus): "I always end up a minus. All of my faults keep adding up. Now our lives are divided. You needed love, I couldn't give you enough.""
"Between the Lines"
Rose: "How well do we really know people, or think we know people? We're all just wearing masks and spoon feeding each other curated details of our lives. People talk about being "authentic", but does that actually mean something tangible? Nothing is truly real. We all know this, so why pretend? "You think everybody adores you, only see what you want to see. But everything is just a projection blinded by your fading beauty.""
"R.P.M."
Mario: "We started writing this song on August 18, 2020. I had some guitar that I was working on and Rose started writing these lyrics that were incredibly sad. As I tried to record a scratch vocal, I was having trouble because I would become choked up singing some of the lines. We decided to call it a night and continue later. When we went to save the song file, we didn't have a title for it yet, so we named it "Montgolfier" after one of our favorite bands: The Montgolfier Brothers. The next day, we were devastated to learn that Roger Quigley of the band had passed away the day before, possibly while we were writing/recording the song. We named the song "R.P.M." (his full name is Roger Patrick Martin Quigley) as a tribute to him and his music."
Rose: "It's hard to express just how much of an immense impact The Montgolifer Brothers have left on Mario and [me] as musicians. Speaking for myself, there isn't one song by them that doesn't immediately make me tear up from the first note ringing out. The arrangements are lovely and moving, with lyrics that are so honest and beautifully painful. That is the perfect storm for me; it's music that is aspirational. It also affirms that if even one person in the world is touched by our music, it's worth it to us. When we found out that Roger had passed away, I really felt compelled to write something to honor him. I hope he is listening out there in the ether, and he knows it's for him: "I had a life after you. After you, life was different. Had a life without you. But without you something's missing.""
Facebook
Instagram
YouTube
Bandcamp
SoundCloud