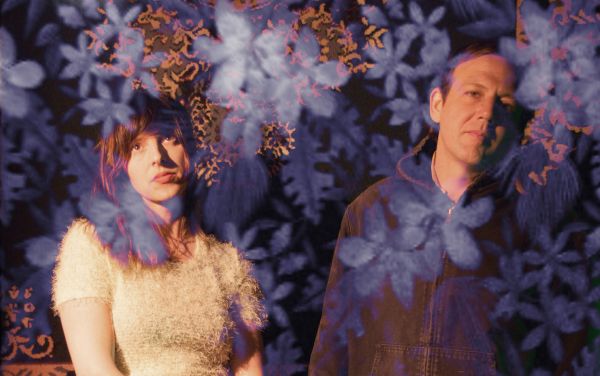 5 November 2021
The Acharis – Photo Credit: The Acharis
Since forming in 2015 in Oakland, California, The Acharis have been a creative outlet for life partners Shaun Wagner and Mila Puccini.
After being in the Bay Area music scene for years in different bands, they decided to create something all their own. Trading off vocals and songwriting duties, they performed and recorded every instrument themselves on their 2017 debut album Lost in the Vortex.
Their dreamy, yet darkly atmospheric and ominous follow-up LP, Blue Sky / Grey Heaven materializes today via Cranes Records, and Big Takeover is pleased to host the premiere of the restless and noise-spiked (with airy vocals) full length in its entirety.
Blue Sky / Grey Heaven finds the pair joining forces with the legendary producer John Fryer (Cocteau Twins, Depeche Mode, This Mortal Coil).
The darker, more produced sound, along with their newly recruited full live band, deliver an enticing spectrum of moods, ranging from delicate, yet dynamic noise pop to fuzzed-out shoegaze textures.
Wagner delves into the details behind the creation of the record, revealing, "This album has been in the works since 2017. A very dark four years for us living in Oakland, California, dealing with death, depression, addiction, betrayal, and tragedy but also love, inspiration, and hope."
"We wanted to make something timeless that truly represents who we are without following any trends or genres. We had the opportunity to work with John Fryer of This Mortal Coil which was a dream come true."
"Ever since I heard "Song to the Siren" in the film Lost Highway by David Lynch, I thought it was the most beautiful thing I've ever heard. I dreamed of somehow coming close to this world in which it was created, never thinking it would actually happen. The result is a darker and more polished sound than our first album, Lost in the Vortex."
Wagner and Puccini both also kindly divulged intriguing and informative details about each song below:
"Traces"
""Traces" is about the connection between two lovers and what happens when that connection is broken. The song opens with a voice that sounds like it comes from the bottom of a well. The call of the lover is so strong that it turns into a spell. The chorus for me feels like a train. It the power of the rhythm which is unstoppable once in motion. Every time we play "Traces", we either latch on to the doors of this train or we miss. It's exciting each time. Once you're on,it just pulls you along; it's comfort in dissonance. Lovers lift each other up."
"Devil Locke"
"This is a song about nothing, like Seinfeld, and also about everything, like The Unbearable Lightness of Being. the latter is where I got the inspiration for the first line "If you want to see infinity, just close your eyes!" I am also prone to thinking in extremes as a Gemini. Nothing is such an unattainable concept, like the ultimate high everyone wants but no one gets until you die, some great reward. The second verse is about betrayal, and seeing things from the other person's perspective. In the our spirit turns into light and our body turns to dust, along with your memories. outside of your perception of consciousness, life doesn't even exist, or does it?"
"Soft Inside"
""Soft Inside" is somewhat about politics, but not really a political song. I wrote it during the Biden / Bernie and then Trump / Biden elections. It was an intense time and I was obsessed with watching the most recent results. After we had Trump for 4 long years it felt so important to know what would happen next. I felt like during the first election in 2016, I was in a deep sleep – like a lot of people – not realizing how much MAGA had already infested the country."
"I thought a lot about political activism and how people bravely protested during the pandemic. I felt very vulnerable at the time. Right after Trump was elected in 2016, our Oakland community experienced a terrible tragedy (The Ghost Ship Fire). The termination of Trump's presidency completed the circle but also reminded me of how it all began. 2016/17 was pure chaos and catharsis. With "Soft Inside" I wanted to address my personal insecurity and vulnerability. What we feel when we open ourselves to the world, feeling wounded but at the same time trying to stay strong and thrive."
"Jesus Thrill"
"Some of the songs I've written are dedicated to a specific memory and then others – like "Jesus Thrill" – kind of just emerge. Maybe it's more like a conjuring, since it feels like most of these songs are written out of emotional necessity. For me, making music organizes the confusion of feelings that would otherwise be inexplicable. I am a visually thinker, and during the writing process I often see visuals right from the start. As an artist who struggles with words, I try to communicate in other ways as much as possible."
"False Positive"
"I came up with this riff when I was a teenager and it's been bouncing around in my head ever since. The inspiration came from the huge sounding guitars on the first two Smashing Pumpkins albums. The original title was "Elephant" as a nod to the Pumpkins track "Rhinoceros.""
"When It came time to write the lyrics, I was walking around just being fucking bummed and wondering what I could possibly have to say to the world that would matter. I feel like often there is pressure to reveal some great truth or intelligent insight in a 3-minute rock song, which is just kind of ridiculous. I remember Kurt Cobain talking about how "Pennyroyal Tea" was about just being hopelessly depressed. So I took inspiration from that and just wrote about how I was feeling at the time. It has that kind of slacker 90's vibe like yeah, everything is fucked, so what? It all comes full circle in the unintelligible screaming at the end of the song "There's an elephant in the room. A rhinoceros. A hippopotamus. It's true.""
"Blue Sky"
"Dedicated to John Smiley, a Michigan born wizard Artist and Physicist. John and I lived together in a warehouse downtown San Francisco, in 2009. He lost his modest family farm, because the church talked his parents into donating it to them after their passing. At 70 something years old he had nothing left and his friend sent him a one way ticket to SF. He smoked rollie's and we went on a lot of walks, drank coffee at Brainwash and I recorded our brainstorming."
"We had this idea of creating flesh colored inflatable humanoid robot seals for an art show, so each time we saw each other, John had a more intricate drawing of the mechanics. The seals never happened. After I moved into my own place in the Mission he would walk across town every Tuesday to my house on Treat Ave, right below Bernal, where I waited for him with coffee and cake. We would sit in my backyard talking about all sort of things. I think John was feeling stuck and depressed. This spontaneous bit is about him looking at the blue sky, when a heavy cloud came in. He turned somber… "My eyes aren't blue, they're grey". "Maybe they reflect the sky because the sky is blue – oh now they're grey.""
"In the Blue Room"
"The working title of "in the blue room" was "mirrors". It's about duality, self reflection and the mystery of life. The song speaks of the house I lived in until I was 7 years old. I remember it as the place where my consciousness was born, because one of my earliest memories is my grandmother teaching me how to write my own name there. My sister was born in that house but she died as a toddler."
"I remember a vivid dream as I slept in her room one night, which was entirely colored blue; Blue walls, blue ceiling, blue bedding, blue velvet carpet. The dream turned into an out of body experience as I was looking down onto the bed as if suspended from the ceiling, then fell. I don't necessarily think it was supernatural, but I even though I was so young, I felt a change, as if I stepped in between the living and the dead. It was a strange feeling to be alone after she was gone. In the blue room is the last place where we were together."
"Grey Heaven"
"We both spent time in the noise scene before starting this band, Mila in Norway and Shaun in Oakland. This band is more about songwriting but we wanted to include some more textural / ambient sound expression to show where we come from. This track contains some clips from a live performance we did in Berkeley with Poncili Creación, a wild pair of Puerto Rican twins who are psychedelic puppeteers / body movement performers. we have done several shows together where we provide the soundtrack of experimental noise. On our first tour we went to PR and played three shows together with Poncili / The Acharis. It was a really amazing time. They are on another level of reality, go see them if you get a chance!"
"(one can only know your name) What a Shame"
"This song is about different people but at the end i realized it's about myself. My father and grandfather are completely different from each other but they are both the kind of people you can never really get to know. My grandfather killed himself last year, he was really a nice guy but very mysterious. He was always joking around with this dark sense of humor."
"I feel like i can relate to them both in the fact that we feel like we can't really relate to anyone. That's the thing about depression, you can't really explain why you feel so fucked-up, the world around you seems sunny and pleasant, but you have a big black cloud inside your head like Charlie Brown. Good Grief."