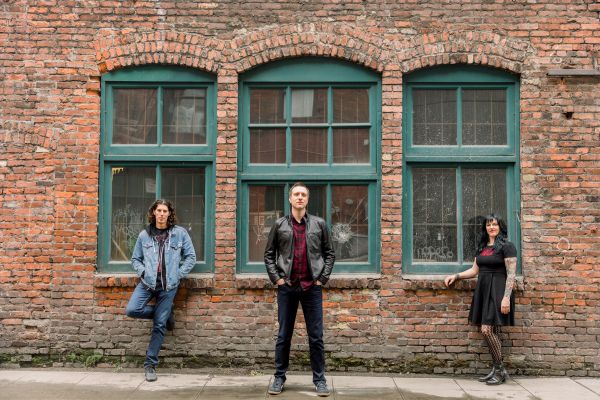 4 October 2019
WaterPenny – Photo Credit: Courtney Bowlden
Seattle-based alt-Americana trio WaterPenny have been moving at light-speed since their inception early this year, composing music in the rock, folk, and Americana genres. Their debut EP, Forward Motion, arrives today, and The Big Takeover is delighted to host its premiere.
Wrestling complex themes together into a six-song record about progress, WaterPenny boasts tremendous collaborations wherein members Wes Speight, Lane Patterson, and Amy Begley often tag-team lyrics, assigning their own meanings as needed. Alcoholism and altruism. Shadows. An attempted military coup in Thailand, seen firsthand.
Heady subjects for a debut record, but still interpretive in meaning to its listeners. Speight states, "I believe that you give your music to an audience of people and it's theirs from then on. It's not gonna be mine anymore. That's the only thing that really makes sense to us."
WaterPenny's biggest concern now, however, is progress. Moving forward. Breaking the rules and becoming better. Forward Motion, in name and intent, incites open-mindedness and keeping a keen eye on the future and not dwell on the past or fret about the present.
Devoted to sparse, but atmospheric arrangements of piano and guitar, tempos range from reflective to dynamic, and compelling harmonies soar to searching heights. Songs are splits between passages that are grounded in distinct folk tradition and tracts that veer more directly into Americana and rock territory.
The line, "there's really nothing I could ever do / to make it mean something to you," from "Gave My All" radiates with a sense of urgent selflessness as the band takes their ideas and turns them over and over in their hands, exploring connection, rupture, putting the pieces back together, and knowing when to let go.
About the EP, Begley reveals, "In Forward Motion, we explored various obstacles which have prevented us from progressing in the past. Whether the stumbling blocks are internal ("Sun Don't Block My Way") or imposed by others ("Rules"), we've had to stay true to ourselves and create our own meaning in life's chaos."
"Each song laments obstructions that have halted us for a time: an imbalanced relationship ("Gave My All"), substance abuse ("Sleepy Bones"), and being paralyzed by fear/confusion ("Crossfire"). While being impeded can feel devastating and permanent, we've had to remind ourselves it's only momentary."
"Desire and passion are always around the corner ("Gift Wrap My Love With Fire"). We'll face obstacles again. Knowing we can persevere makes us optimistic as we struggle to move forward. If we band together, we will be made stronger with hope and motion towards a more accepting future."
Pre-Order Forward Motion EP
TOUR DATES
October 5th – Seattle, WA at The Skylark
November 17th – Seattle, WA at High Dive
January 25th – Seattle, WA at Slim's Last Chance
Website
Facebook
Twitter
Instagram