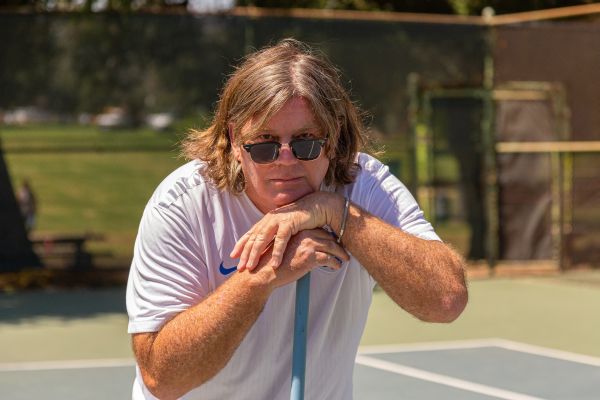 16 October 2020
the black watch – Photo Credit: Brendan Holmes
The latest the black watch album, Fromthing Somethat, arrives on October 23rd via ATOM Records. It's the legendary L.A.-based dreampop / indie pop foursome's nineteenth LP.
The record's tongue-twister title comes from a mistake band founder and frontman John Andrew Fredrick made while singing a line from the song "The Lonesome Death of Mary Hansen." Cleverly self-effacing album titles have been a part of this serious outfits aesthetic ever since 2011's well-received Led Zeppelin Five (along with such song titles as "Jiggery-Pokery," "The Gospel According To John," and "Magic Johnson").
"I think the titles are something of a reminder to ourselves, primarily," Fredrick says. "Not to rest on our humble-anyway laurels. And to keep ourselves guessing as to what we're going to do next. Each record has been a sort of reaction to or against the one that came before it, somehow."
The black watch formed in 1987 in Santa Barbara, California with Fredrick as its lone constant member. The project has been churning out high-quality releases (especially in the last ten years) at an astonishing rate.
Fromthing Somethat was in fact was recorded without a single rehearsal: Fredrick brought the songs in and the band played them once or twice, then overdubbed the necessary Mellotron or percussion or third guitar parts – a way of capturing the excitement and the sparkle that comes off, as it were, a shiny new thing.
There's a certain feeling that a band gets the very first time a song comes together; and the black watch set out to showcase that sensation on the new album.
Big Takeover is deeply pleased to stream the premiere of the vibrant, melodic, and dreamy Fromthing Somethat in its entirety, when all the fresh and inviting tracks are brand spankin' new to listeners' ears.
The album hops, skips, jumps, and drives from dreamy-floaty (the brisk and buoyant opening number "St Fair Isle Sweater") to dance-y (the thumpin' almost-disco of "The Nothing That Is" with its piercing synth line and airy vocals) to sweepingly majestic (the restless "All I Know (Is That the Moon is Beautiful)" to dark and ominous ("Drip, Drip, Drip" with its pushing acoustic guitar and rhythmic percussion) and back again to dream-like (the burnished folk of "For Always Then To Keep" with a side of psychedelic vocals, and the stark, but poignant closing lullaby "I'm Not Hung Up").
The songs exude a timeless vibe, yet also hark back to the sounds of the '60s, '80s, and '90s, and are unmistakably from the black watch.
John Andrew Fredrick divulges some details about the making of the album, revealing, "The title of the new new one comes from a kinda/sorta Freudian slip I made as I tried to sing 'something from that' in the song about Mary Hansen of Stereolab. I think the notion of a happy-silly mistake's a good metaphor for Fromthing Somethat on account of it's awash with happy accidents—the best kind of accidents to have, don't you know."
"We consider everything we've ever done happy accident, and a 'brilliant failure'; hence the title of the LP that came out earlier this year."
"All we knew, going in to Rob Campanella's studio this time, was that we wanted to work with Rob again, and we wanted to eschew doing too many overdubs. Another failure! Seeing as there are lots of lovely layers of guitars, guitar effects, and Melotrons galore that we just couldn't resist, try and we might. Rob's great ideas—and musicianship—pushed us to come up with ever greater (in our estimation) layers of things."
"And of course it didn't hurt to have three wonderful female singers adding oo's and coo's and ah's to the melodies. At one point, I think I asked Lauren Tannenbaum to imitate a mermaid having an orgasm. Not quite as esoteric as our hero Lennon's infamous 'Make it sound like an orange!' but still. Come to think of it, the climaxing seagirl is an even better metaphor for the otherworldly aims we had for our not-so-humble song-dreams this time round."
"We're preposterously proud of this one. And thrilled that Jack & Co. wanted to share it in its entirety with readers of our—without a doubt and without a hint of flummery—favorite music zine. I'm pretty sure I have every copy dating back to 1989!"
Website
Facebook
Twitter
Instagram
Bandcamp