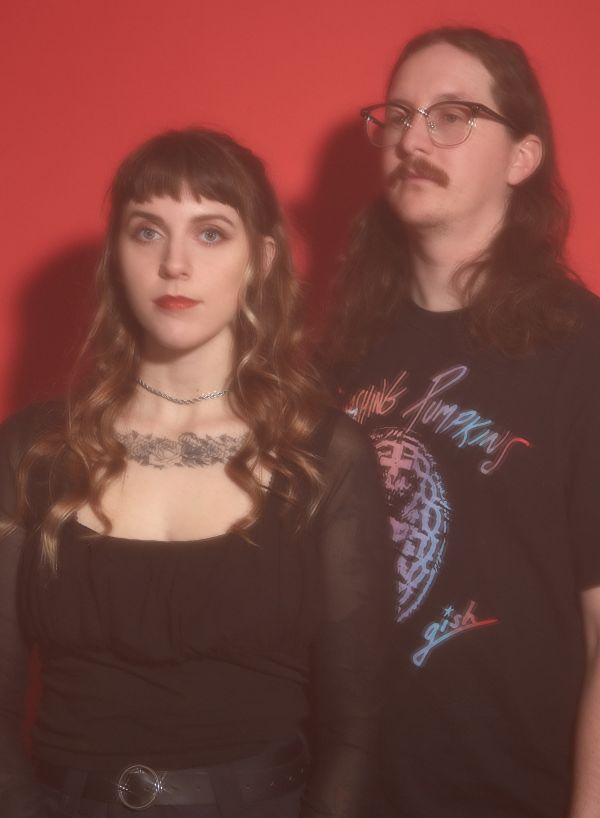 12 February 2021
L to R: Cheyenne Avant and Devin Nunes of Fawning – Photo Credit: Jennifer Christo
Oakland, California-based Fawning is a Gothic-styled dreampop duo featuring Cheyenne Avant (Night School) and Devin Nunes. Avant and Nunes met many years ago while playing shows together with their previous projects. Bass guitar player Eddie Salgado completes the line-up for live performances.

Recalling the haze-laden sounds of Julee Cruise, Slowdive, and The Cure, the Bay Area two-piece merge or alternate atmospheric dreampop musings with dance-driven, post-punk momentum. 

While Fawning's music is in the main serene and beautiful, at times a foreboding disquiet creeps in like an intangible specter haunting the psyche. A delicate balance exists between the heavenly luminescence and deeper shadowy recesses, with Avant's angelically diaphanous vocals keep the spirits captivatingly aloft.
Big Takeover is deeply pleased to host the premiere of Fawning's debut album, Illusions of Control, in full today, on its release date. The LP is is a stunning eight-song run that finds its footing somewhere between prime Cocteau Twins-era 4AD material and Manchester's grittier Factory Records output, all while retaining its own dreamy aesthetic.
Illusions of Control materializes today via Graveface and NeverNotGoth.
Brief album-opener "At Fault" diffuses like a placid reverie, suspended in glistening guitar strokes and gentle synths press, while Avant's sweetly airy vocals float among the soft sonic ambience.
Blissfully aerial "Uptight (Her Eyes)" brightens the mood with echoed drum beats, crystalline synth notes, and a cavernous foundation against which Avant sighs out her baby's breath vocals, sounding like a calmer and less sharp Alison Shaw (Cranes).
Shimmering instrumentals envelope "Wait" while Avant murmurs a bit more directly amid ringing guitars and a strictly smacked drum beat. The lyrics of this track, and for the album as a whole, are bittersweet, but half-buried in the mix, so the meanings have to be puzzled over, but usually speak to love, loss, change, and fate.
"Nothing Matters" features a brooding Avant whose crestfallen vocal tone flows like a reflective stream along with the shining guitars and mournful synths press. Blazing synthwave number "You're Not One To Cry" marches forth with prominent drum strikes, darker and noisier synths, and propulsive industrial guitar grind that are all leavened by Avant's pensively longing emotions.
The title track is a quieter affair gliding by on mellifluous guitar reverberations, lower-register synths, and an emphatic drum beat. Avant's little-girl-lost vocals drape languidly over the restless fray, but reveals mordant sentiments.
The menacing and noir "All I Have" swirls with gritty blasts of scouring guitar lines and ominous synths summits, and is led by a measured, but heavy drum pace. Avant sings in a resigned tone, shadowed by the consequences of loss.
Spare and lamenting album-ending "Linger" actually delivers a message of hope lyrically, as Avant declares that things can get better, but that it takes initiative and not just wallowing in memories and what-ifs. Her gauzy voice may sound sad, but the mists of melancholy clear up just a tad (with the help of dawning synths and glorious guitar glow) on this closing track.
The band members give some insightful detail about how their debut album came about, commenting, "We recorded and wrote most of the songs over the course of 2020 when the Bay Area was under lockdown and both of us were unemployed, with the exception of You're Not One to Cry and All I Have, which we've had written since 2019. We self-recorded all of the songs between both of our houses, really nonchalantly, with cocktails in a bedroom. Then had them mixed and mastered by Nick Bassett."
"All of the instrumentation was written by Devin (aside from saxophone) and the vocals, by Cheyenne. All of the songs began with a simple synth progression and were expanded from there. Most of the lyrics were written over the course of 2020, many drawing from our personal relationship, but a few songs inspired by other people in our life."
"We're especially stoked on "Nothing Matters". The lyrics were written as sort of a nod to Bob Lazar's struggle with the government and the realization that time means nothing (a realization fueled by lockdown). The sax solo is actually done by Cheyenne's upstairs neighbor, Larry Schneider. His studio is right above her room and we hear him shredding on the daily. Originally, we talked about having a sax solo from Larry as a joke but decided to ask him seriously. He sent his first run-through to us to make sure he got the timing right, and we thought he killed it, so we kept that as the final solo. He and his wife, Margret, are the sickest neighbors. You can find him on Spotify!"
"We're super grateful for being able to survive through the pandemic and the entire shit show that has been the last year. We know not everyone was as lucky as us to be able to spend the time creating music. It's easy to get weighed down by everything and having a creative outlet has made things a hell of a lot easier. Shoutout to Graveface Records for being such an amazing label and to anyone out there that supports us. Hope to be able to tour and play shows again safely one day soon."
Order Illusions of Control at Graveface Records & Curiosities Bandcamp