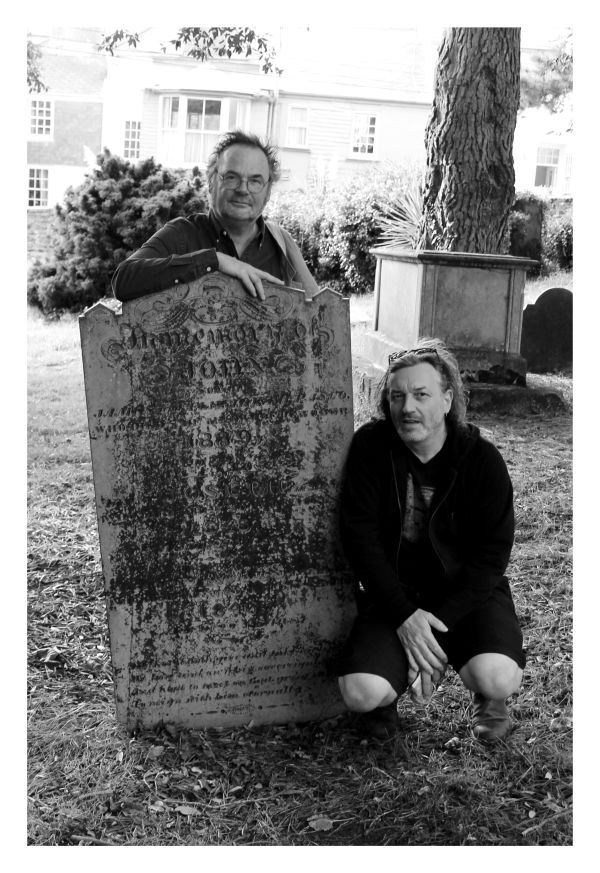 11 February 2021
L to R: Niko Röhlcke and Marty Willson-Piper of MOAT – Photo Credit: Olivia Willson-Piper
Coming off their recent successful Indiegogo album campaign, melodic pop/folk/rock duo MOAT is set to release their new fan-funded album, Poison Stream, on February 12th via Schoolkids Records.
MOAT is the collaboration of Marty Willson-Piper and Niko Röhlcke, and these two prolific artists have been working together again for the follow-up to their self-titled debut album, which was released in 2013.
Englishman Willson-Piper is best known as a founding member of and for his long tenure of over 30 years with revered Australian neo-psych-/space-/indie rock band The Church. He was also a part of English Gothic folk-rock band All About Eve for a decade.
Currently Willson-Piper is in the long-term project Noctorum with Dare Mason (producer for The Church, Placebo, Blow Monkeys), as well as progressive rock band Anekdoten and the acts Atlantaeum Flood and Space Summit.
Willson-Piper's fanbase continues to grow with his impressive catalog of continued music projects and his fan-favored daily blog, To Where I Am Now.
Swedish-German musician Röhlcke, who eschews the spotlight, is a multi-instrumentalist who has composed for theater, film, and TV, as well as being the guitarist, keyboard player, and co-writer in Weeping Willows, one of Sweden's most popular music outfits.
Big Takeover is deeply pleased to host the premiere of Poison Stream today, a day before its official release.
Willson-Piper and Röhlcke co-produced Poison Stream with Dare Mason, and Mason engineered, recorded, and mixed the LP at the VIP Lounge in Penzance, England. Willson-Piper is the lyricist and singer, and he co-wrote the songs with Röhlcke, with some of the original ideas coming from Röhlcke's evocative soundtracks
Musically, Poison Stream covers an eclectic stylistic range, but it maintains a moody and mysterious atmosphere that mixes in the eccentric nature of an English village with the long, dark nights of Scandinavia.
The modern compositions of the 10 tracks nostalgically evoke the past, through memories, emotions, and sounds that have traveled over distance and time.
Willson-Piper and Röhlcke's artistic qualities shine in each other's light as each one brings out the other's creative nature as they mix acoustic and electric instrumentation with perceptive lyrics and guarded to melancholic emotions.
Lead single "Gone By Noon," which Big Takeover premiered this past September, is a dreamily ruminative number that is both tantalizing and bittersweet, and speaks of love, betrayal, and loss, recurrent themes of the LP.
Second single "Acid Rain," which premiered at Stereo Embers Magazine is a brisk and bracing melodic indie rock number that forgoes the hazy contemplation of "Gone By Noon," for a gently direct, yet still entrancing sound
Recently released "Helpless You" was spotlighted at Backseat Mafia and glides by on shivering to piquant violin strings (courtesy of Marty's wife, Olivia Willson-Piper) and Willson-Piper's velvety vocal reflection.
The spare and foreboding folk song "The Ballad of Sweet Marie" is a traditional murder ballad replete with really bleak lyrics, the pattering of acoustic guitar notes, and the addition of wistful, but bright accordion pulls.
"The Roadmap To My Soul" treads a softer instrumental path, but still features stark lyrics about the detrimental influence of a loved one who has left the relationship, and with the protagonist left in emotional tatters. The acoustic start of the narrative morphs into a fuller indie rock number as a slow burning, yet potent guitar line breaks out amid the strong bleat of various horns.
"Judgement Day" haunts with a menacing vibe as Willson-Piper draws out his vocals, pressing them with a dark urgency, while the restless "Black and White" continues the sense of tension amid a relentless drum beat and shaken percussion accents.
"The Folly" is a classic troubadour lament, lightly touched with weeping strings and Röhlcke's mellifluously plucked acoustic guitar. Glistening guitar lines from Röhlcke reverberate through the delicate "Lover" that's also steeped in bittersweet lyrics, regretfully sighing vocals ("I've given you everything I had"), a plethora of muted horns, and a sedately dignified pace.
The acoustic folk song "Tears Will Come" caps off the album and continues the LP's overarching aesthetic of mordant and insightful lyrics and rueful, yet alluring vocals contrasted with more warmly welcoming, pastoral-based instrumentation augmented at times by horns, rock-oriented guitars, keyboard notes, and/or a bit of piano, depending on the tune.
Those who enjoy thoughtful and timeless Anglo-Scandinavian-style folk-pop with lyrical twists and turns and atmospheric and intriguing sonics, then this album will definitely satisfy the ear and the mind.
Pre-Order Poison Stream at Schoolkids Records
MOAT Facebook
Marty Willson-Piper Facebook
Marty Willson-Piper Website