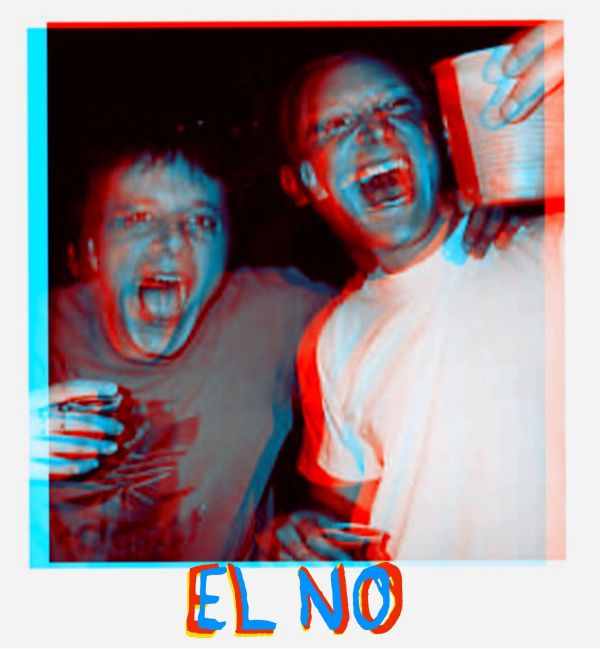 26 March 2021
El No – Photo Credit: Michelle Bodine
Texas/Ohio-located duo El No are set to release their album Nothing Is Possible on April 2nd via Overthought Musik.
Formed during pandemic-stricken 2020, the band is composed of seasoned musicians Nate Farley (Guided By Voices, The Amps, Robthebank, The Breeders) and Craig Nichols (Bellringer, Fur Coats, Dumbell, Shesus).
Both have roots in the Dayton, Ohio, music scene, and they are now both ex-pats living in Columbus, Ohio, and Austin, Texas, respectively.
In the past, Farley and Nichols have performed in many bands and projects together, and they recently decided not to let the 1,500 miles between them get in the way of making music together. Armed with a bunch of demos, they met in the middle (Memphis, Tennessee) and let it rip.
They've already dropped a video for the track "Shinin' On Me" as a taster for the full length, and today Big Takeover is please to host the premiere of the whole album ahead of it's official release date.
In the true spirit of creating DIY music, the two did it all on their own and on their own terms. Nothing fancy or long-thought-out about their composition and recording process – but full of raw passion and heart – and crammed with 16 tracks.
The production may be lo-fi, but there's an energetic current that electrifies the songs, from high-jumpin' sing-song lead single "Shinin' On Me" (albeit with bleak lyrics about "all my friends are dead and gone") and pumpin' and tuneful garage rock/power popper "Ima Run" with sneering vocal tone to casual-seguing-into-vivid reminiscing of "Fall Back" with lamenting vocals ("I already miss you") and strung out guitars, and the noise rock title track that attacks with frustrated vocals, warped sounds, and deep drum beats.
Nate Farley generously took the time to put his thoughts down about his and Nichols' new album, revealing details about each song off the LP:
"El No was not something we planned on doing. Craig and I have been making music together since we were teenagers, but wound up living on opposite sides of the country. We had been talking about meeting up and writing some stuff, and when things started to get weird we made the reservations, packed up our stuff, and met halfway between Columbus, Ohio and Austin, Texas."
"We had an Airbnb in Memphis, an IPad, a 4 track, some mics, and a bunch of groceries. We never left the house, and we had everything we needed to just hang out and make music. We never really talked about releasing anything, we just wanted to make some music before the world blew up. In hindsight, this may have been slightly irresponsible, but it was early in, and we didn't know any better."
"Keith Hanlon at Secret Studio mastered the album, taking our pile of songs and turning them into an actual album."
""Shinin' On Me", the first song on the album is actually the first song we worked on. I'm really slow with lyrics, but I wanted to sing SOMETHING, so I tried to come up with some characters to write about. Nancy and Sally are two of my mom's friends, they are in this song by name only."
""Ima Run" is about not sticking around in a bogus situation, a "quit your job" song. I wanted to write a song that starts like "Suspect Device" by Stiff Little Fingers."
""Cedar Falls" is about getting arrested for attempting to free children from a corrupt Civil War orphanage in Iowa."
""Mr. Shurricane" is a song Craigo had been working on, it sounded like The Cars and the working title was "All I Can't Do". I wanted to write some Dolemite-style braggadocio, so I came up with a character that can "tame a lion with a solo", and "put the lightning in a chokehold". Mr. Shurricane is like Gary Oldman if State of Grace was set in outer space. He's my Sir Nose, and I write from his point of view in a few songs. I overheard my nephew mispronounce Shuriken, that's where the name comes from."
""Silent Eyed" is a slow, sad song with two bass tracks and some fake strings. Most days it's my favorite El No song."
""Hunting On The Moon" – Craigo wrote this song front to back, lyrics and all. It's about a family friend that was staying with Craigo and his family when we were younger, he drops acid and has a psychotic break. "I need to get into my smaller body" is a direct quote."
""Fall Back" is a song I'd been working on for a long time, but couldn't get the guitar part to sound right until we were sitting around and I started strumming it with my thumb instead of a pick."
""This Place Sucks" is about Earth, and people talking and talking no matter how uninterested we are. Craigo had all of the music together for this one, and I sing the chorus in my worst Axl Rose."
""Case Quarter" starts Side 2. It's a guitar part that I sang into my phone a long time ago, and one of my favorite drum sounds. We are not studio engineers, we barely know how to use the equipment we have, but we figured out how to get things to sound the way we want them to. That's the important part."
""Fear Response" is my first attempt at singing in a round. It was super frustrating, but in the end the song sounds exactly how I imagined it. This song is about a recurring dream I had for about two years."
""Nothing Is Possible" is the title track, but we had the album title before the song. Craigo had the music to this one for a while, I love the break in the middle, and the chorus says "Look in my mind and all you'll find is two busted six-by-nines". If you were a teenager in the '80s, you know what it feels like to have busted six-by-nines."
""Comrade" sounds awesome in a car. Trippy keyboards over a cool beat, and just enough effects to make my voice sound good."
""Jewels" is some stuff I recorded on my phone; a twelve string acoustic with 2 capos, some street sounds, my wife laughing, and a tour guide during a night tour of the Colosseum in Rome."
""Slozzy" is my jam. Craigo had the bass line, drums, and arrangement already. I wanted to write "Killer Queen", didn't, but I'm still happy with the result. Slozzy has "extensive tastes and an expensive face" and a lot of other problems."
""Move In Twos" – Craigo and I have played together for a really long time. If I want to write a sad country song, he knows how to make it sound like us."
""It Costs", the last song on the album, but actually the third song we started working on. We wanted to end the album with a fast one, and this is my attempt at Scarf Rock- that mid-nineties, kinda glam, grimy music. I dig Scarf Rock, but it always seemed like a big commitment. I had this song for a while, our friend Jamy Holliday wrote the guitar tag at the end, he's been known to dabble in Scarf Rock."