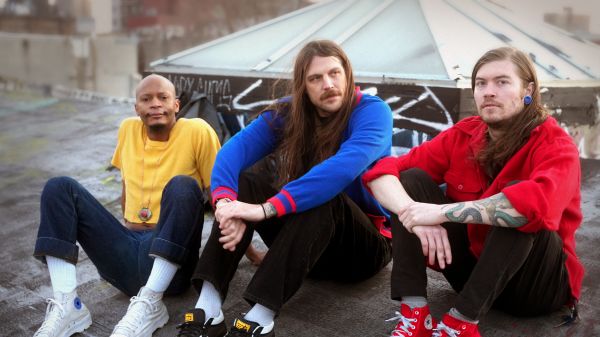 5 February 2021
San Salvo – Photo Credit: Jake Calonius
San Salvo is the collaborative efforts of Jared Schapker and Matt C. White, both also in the band Grandpa Jack, along with Sean Smith of Rubblebucket and Kaleta & Super Yamba Band.
While its members come from diverse musical backgrounds, San Salvo creates an interesting sonic union between Grandpa Jack's trippiness and Smith's urge to frame the picture. It's an altogether unique sound composed of a grooving rhythm section, soaring horn lines, and fuzzed-out guitar tones reminiscent of classic '60s psychedelica.
Recorded in White's studio in Brooklyn, and mastered by audio wizard Rich Morales, the band's new Rarities EP is start-to-finish nothing but Matt, Jared, and Sean. Each track reflects the trio's mood and focus.
Rarities was started by sonic experimentation between Matt and Jared that was later refined through layering elements of Smith's signature keyboard and horn sounds.
Big Takeover is pleased to host the premiere of the instrumental EP in its entirety today, a week before its official release on February 12th.
All 5 tracks of the EP are steeped in deep grooves, slow to fiery moves, and hazy, but intense moods. Evoking a heady trip into the morphing jazz of the '60s and into the swagger of the '70s, each number rolls off like an atmospheric take for a cinematic soundtrack.
Burnished horns bleat and weave through the squelchy guitar notes and unhurried pace of reflective EP-opener "Therp," while next track "Harpey" steps with a rubbery tread, chin-up and eyes open to what's what, burbling with guitar globules and lightly dancing keyboard notes.
Sultry "This Thang" gets down with a slinky sway, reverberating keys, muffled low bass line, horn and organ accents, and a determined drum beat. "R // Y // B" adds a gritty and winding guitar line, sporadic cowbell clangs, and strutting tempo. A brace of horn blasts and a psychedelic twist rub against each other, keeping it both grounded and aiming for space.
Swingin' EP-closer "Khanta" keeps the groovin' vibe alive, bringing in similar elements from the previous songs, at times resounding with organ trills and sharp horns, and at others digging down into casual tempo. Occasionally most of the instrumentation fades for a brief lull, before the return in full force.
"The way we went about writing this EP was a totally different creative experience." Matt Explains, "I would write these drum grooves and basically just pass the beats off to Jared who would then write whatever basslines he wanted. Then, I would layer guitars and pass that off to Sean. After subsequent polishing and some restructuring, we kinda of just got spat back out the other side and before we knew it, had an EP of songs that weren't really anything like music we had made before."