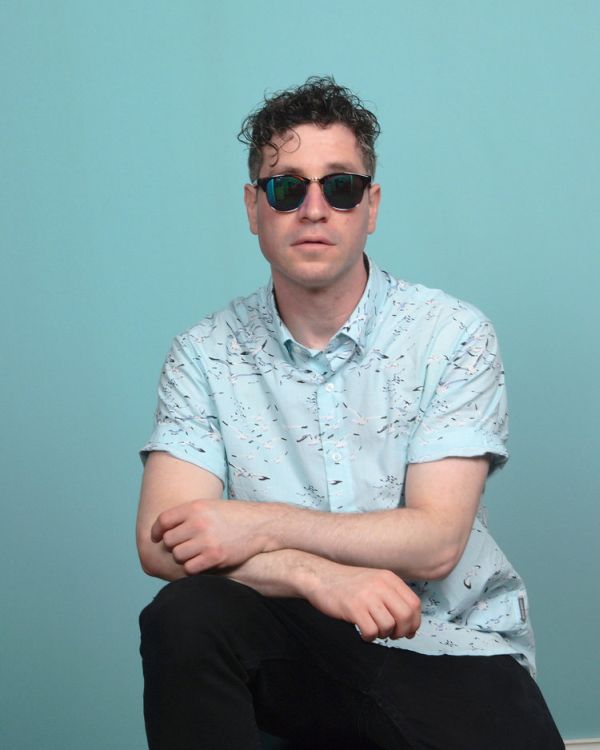 17 July 2019
Richard Spitzer – Photo courtesy of Richard Spitzer
Richard Spitzer is a solo artist from Brooklyn (also currently in the band Loveskills) making the musical antidote for the internet age. He crafts acoustic tracks that feature thoughtfully composed songwriting and relevant lyrical motifs.
Richard Spitzer, his debut self-titled full length, drops on July 19th and The Big Takeover is deeply pleased to host the premiere of the LP in its entirety a couple of days in advance of its official arrival.
While Loveskills offers pulsating electro-pop, Spitzer's solo project delivers quick-lipped acoustic tunes about rejecting those electronic devices we're so attached to, as well as the current overcrowded digital and political nightmare of living in post-2016 USA.
Singles such as "Synthesizer" and "Russia Collusion" show Spitzer's tight-knit lyrics above lightning quick acoustic strumming. Vocally soft, tracks like "Girlfriend" offer an Elliott Smith-esque texture; the simple combination of acoustic guitar and whispery vocals making for a crowd-pleaser. Striking a balance between sentimental and frustrated, Richard Spitzer is a snapshot of life in 2019 and one man's continued hope despite the laundry list of wrongs that need to be righted.
Since his childhood, Spitzer has been confronting the forces of misinformation, group-think, and consumerism head-on with musical rebellion. Raised by an Orthodox Jewish family from Queens, he grew up under the restrictive grasp of strict rabbinical law.
Feeling mentally held captive as a teenager, he sought out the attention of a neighborhood girl from the outside world. He started collecting music of every genre and learned to write songs in hopes of one day serenading her. His interest in music grew, but his efforts to win the girl's heart came to naught.
Feeling rejected, Spitzer dove into the social camaraderie of indie bands where he played keyboard, guitar, bass, and drums in various Brooklyn acts. In the political unrest of the U.S. in 2016, a searching Spitzer happened upon a workers strike against giant media mogul Time Warner. At its helm was then presidential candidate Bernie Sanders chanting loudly on a megaphone, "Enough is enough!"
Feeling inspired, Spitzer went to bed listening to an audio book of Karl Marx's The Communist Manifesto. That night, Marx visited Spitzer in a dream warning him of Donald Trump's inevitable win and prophesied that the American people would lose their collective sanity in the wake of the 2016 election. Corporate media would levy for power with social media influencers. Through mass misinformation America would be divided on a new level.
In the dream, Marx commanded Spitzer to go onto social media to communicate directly from the heart to the masses unfiltered – with only guitar and voice. "Remind society," Marx told Spitzer, "through music we can communicate clearly and by sticking to its core we can create a new type of spiritual dialogue that will unite and enlighten the people."
Richard Spitzer is eleven tracks of a man and his acoustic guitar on this Marxist mission to "unite and enlighten". The sonic result is as if the lovechild of Rivers Cuomo and Elliott Smith woke up next to a cell phone stacked feeds-deep in memes about modular synths, news of yellow vests and Russian collusion, and the occasional text from his girlfriend.