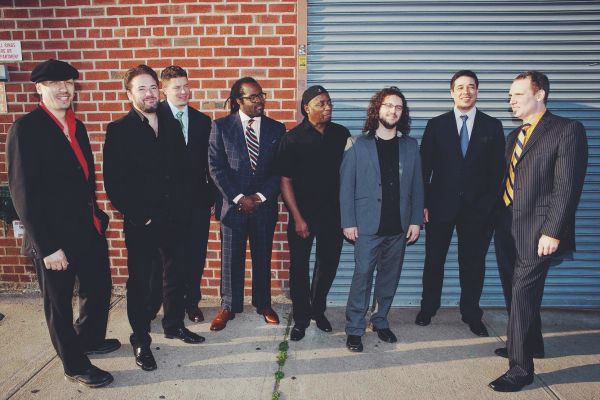 25 June 2020
Jeremy Beck & The Heavy Duty Horns – Photo courtesy of Jeremy Beck & The Heavy Duty Horns
Inspired by his humble beginnings growing up in rural Alabama and raised in an Evangelical church, Jeremy Beck's debut EP, Take Me By The Hand, is the keyboardist's first foray into band-leading. The result is a 4-track compilation of songs ranging from influences rooted in vintage soul, gospel and rock, directly inspired by Beck's own musical journey spanning church tunes and studying keys in The Big Easy.
Fueled by a phalanx of funky horns and anchored by Beck's mesmerizing keyboards and vocals,Jeremy Beck & The Heavy Duty Horns is an 8-piece NYC-based band that draws on decades of influence in their music, filtering everything from Prince and Lou Rawls to Tower of Power and Blood, Sweat & Tears through a modern lens.
In addition to Beck, who makes a breakout performance, Take Me By The Hand features seven additional musicians to round out the core octet, including drummer Joe Strasser, bassist Tetsuya Sato, guitarist David Cinquegrana, tenor saxophonist Justin Flynn, trumpet player Andy Gravish, trombonist Matt McDonald, and baritone saxophonist Carl Maraghi. Additionally, Doug Hinrichs adds extra zeal to the opening title track with bongos, setting the stage for one funky ride.
"Ever since I was a kid, I've always had the dream of having a 70s style horn band," remarks Beck. "Growing up in the Southern church, so much of the services have to do with music and a large music ensemble. I love having the horns as part of the rhythm section as opposed to being a background part."
The EP opens with "Take Me By The Hand," a track Beck says is heavily influenced by the music of the 70s with the bass shining as a lead instrument. However, lyrically, as Beck explains, "How many times have you been in a relationship and you just can't figure out how to make your partner happy? That's where the phrase 'Take Me By The Hand' comes from—it's similar to taking a child by the hand and showing them how to do something. Just 'Take Me By The Hand' and show me what I need to do to make you happy."
Southern gospel ballad "Oh Baby!" is a love song at its core, as Beck croons, "Oh Baby! Oh I need you, I neeeeeeeed you right next to my heart" over pronounced organ tones. The instrumental break and the 4-minute mark clearly displays the southern gospel influence Beck sourced from his church upbringing.
"Somebody Call Frank" turns things back up, with a fast-paced rhythm as Beck sings of a woman who's a liar, a cheat, a woman "weighing down my heart with pain." The horns drive the track forward, emphasizing the painful intensity of this toxic love throughout the song.
Closing track "Sing Hallelujah" leaves us off on a positive note because here, Beck sings of a perfectly imperfect love, a woman that makes him sing Hallelujah despite all of her perfectly human imperfections, like singing off-key and waking her partner up with cold feet in the morning.
For Beck, "Sharing the music is a little like sharing my personality with the world." So world, please help us formally welcome Jeremy Beck & The Heavy Duty Horns. This is only the first release from the powerhouse octet, and there will surely be more to come.
Take Me By The Hand EP drops tomorrow, June 26th, on all major streaming platforms. Pre-order is happening now via Bandcamp, so you can add the compilation to your collection before the release date.
Website
Facebook
Instagram
YouTube