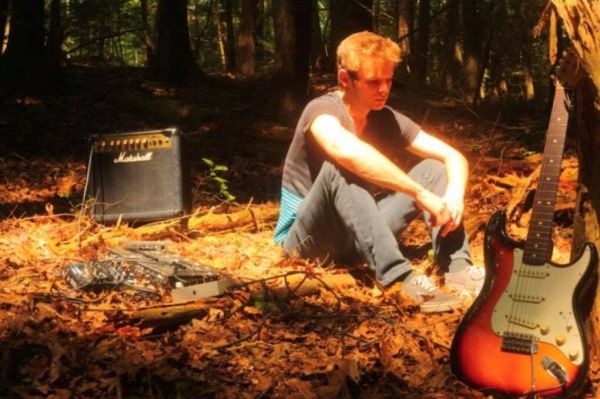 8 February 2019
Outward – Photo courtesy of Corey Philpot
Outward is the solo music project of London, Kentucky-based Corey Philpot. His deeply personal and powerful second album, That's Life, will see the light of day on February 15th via Somewherecold Records.
The Big Takeover has the pleasure and privilege of hosting the premiere of Philpot's LP in full, along with an exclusive track-by-track rundown that Philpot recorded to video just a few days ago for The Big Takeover's readers and viewers.
On That's Life, Philpot demonstrates his keen ability to meld and flow through a range of compelling alternative music genres, from nostalgic '80s synth-driven melodicism, grimy '90s grunge and sludge rock, and the extension and gravitas of slowcore to the ascension and expansion of shoegaze and post-rock.
Somewherecold Records' owner Jason Lamoreaux has coined the descriptor "sludgegaze" for Philpot's output, an apt merging of words that blends the heaviness and force of sludge rock with the dynamism and propulsion of shoegaze.
That's Life, however, is not all about the textured and potent sound; it's also about Philpot's perceptively and poignantly written lyrics on all 15 album tracks. Life itself – and the inward struggle to live – is the overarching subject; a universal concept that faces each and every one us.
Consequential topics about self-identity, toxic relationships, disconnection and self-doubt, depression, and just dealing with daily reality are detailed and feel like pages ripped out a journal. And maybe that's because they are all thoughts that have resounded in Philpot's head which he's now put to words and music on That's Life.
Don't think of this album as a downer though. It's a record to relate to lyrics-wise, for sure, but was also made to be cranked up to the max in order to release the pent-up emotions within and get them out of your system. Catharsis and connection, all through one man's passionate music and lyrics.
Philpot recorded That's Life in his bedroom over the course of two years, His DIY aesthetic is raw, open, and honest, moving from tender, heartfelt moments to explosive, in-your-face aggression. Philpot is a totally self-taught musician since he was a kid; from playing various instruments, songwriting, and recording to mixing and mastering.
That's Life will be Outward's debut on Somewherecold Records and will be released on limited edition CD, as well as digitally and on streaming platforms.
Philpot has generously recorded an exclusive, in-depth video stream where he dives into the meaning of each song on That's Life, and how every track reflects some challenge in life's unpredictable and unknown journey.
The hopeful message that shines at the heart of the LP is the idea that our outlook on life is how we perceive it – and we can try to change our state of mind and make things better.
Depression and anxiety shouldn't be taboo subjects. These are serious and universal struggles that need to be brought to light and not hidden in the shadows. We need to reach out, connect with, and help each other and be able to freely talk about our inner battles. And that's exactly what Philpot does on That's Life, and in his insightful and relatable video chat below:
Somewherecold Records:
Facebook
Bandcamp