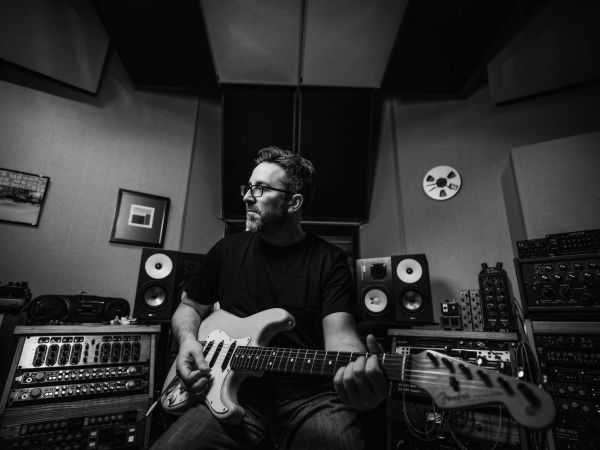 24 May 2019
Tim Cawley of The Flashpot Moments – Photo courtesy of Tim Cawley
The Flashpot Moments is the longtime music studio project of Boston-based singer-songwriter, guitarist, and occasional drummer Tim Cawley. Simultaneously indie and anthemic, this is power pop music that would sound good with sixty- or seventy-odd-thousand fans singing along at, say, Red Rocks or Castle Donington.
The Flashpot Moments' eponymous debut album was played on over 60 independent radio stations in the U.S. and charted for 9 weeks on the Muzooka Independent Radio Charts. Their music has been featured in over 250 network and cable TV shows on channels such as Fox, ABC, Bravo, VH1, and MTV.
Now Cawley's new 10-song album, titled The Chronicles of Sydney and Nathan, arrives today and The Big Takeover is bursting with excitement to premiere the LP in its entirety. It was recorded and mixed in Boston, Nashville, Hollywood, New York, Portland, Oregon, and Fort Collins, Colorado and features players and technicians who have worked with the likes of U2, Bruce Springsteen, The National, R.E.M., The Hold Steady, Weezer, Decemberists, Manchester Orchestra, Thermals, NOFX, Descendants, David Bowie, Cheap Trick, Beck, Dandy Warhols, Rise Against, Harry Styles, Aimee Mann, Modest Mouse, Wilco, Kelly Clarkson, and Dinosaur Jr.
Crawley gets candid about The Chronicles of Sydney and Nathan, explaining the sound and themes on his new LP:
"You know when you're at a concert, and there's a big, over-the-top moment in the song – a soaring vocal, a shift in dynamics, a dramatic key change, a crescendo into the final chorus – and the fireworks go off? Those little pyro cannons onstage are called "flashpots". That's the vibe I'm always chasing. This album is different takes on that sonic palette. Whether it's an acoustic song or arena-sized rocker, I am aiming for that moment of catharsis and release."
"Thematically, it's actually kind of a concept album. It's titled The Chronicles of Sydney and Nathan. Here's the idea: When you think of rock and roll, you think of those romantic notions of young love, freedom, debauchery and excess. I love all those notions, of course! But I'm older now, and I wanted to explore what happens to those rebel archetypes as they age. So, I got this idea: What if Sid and Nancy had survived, gotten old and soft, and moved their on-again-off-again relationship to the suburbs? Writing about these characters set me free to imagine all manner of sad, chaotic escapades. There's "the 'let's party' one." "The jealousy one." "The regret one." "The reverie one." "The 'I'm heartbroken and I want to die' one." The cover art even references the classic "Sid and Nancy" handcuff photo. Except now, the punk dog collar is, appropriately, on the dog."
"I wrote, recorded and mixed the album over almost two years, bit by bit, in Boston, Hollywood, Nashville, New Jersey, Portland, Oregon and Fort Collins, Colorado. And had some amazing collaborators along the way, learning a ton, and having a lot of fun in the process."