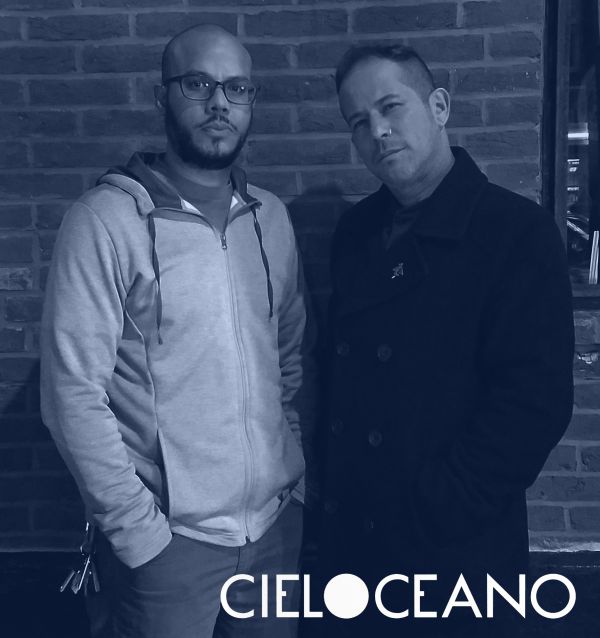 11 February 2020
Cielo Oceano – Photo courtesy of Cielo Oceano
Cielo Oceano is the dreampop/shoegaze/ethereal rock project that was founded in 2018 by Puerto Rican indie artist Andres Lugo and Philadelphia-based noise-pop artist Tom Lugo.
The duo's debut album, The Space Has Always Reduced Me To Silence, releases today (February 11th) on cassette via Jak Jonson Tapes, with artwork by Gardy Perez Ruiz (of the Puerto Rican shoegaze band Un.Real), and digitally at Bandcamp as a A Patetico Recordings / 3 Robot Records Production.
The Big Takeover is excited to host the premiere of The Space Has Always Reduced Me To Silence, an LP that's a
lusciously atmospheric and cavernous exploration filled with whirring guitars, melancholic vocalization, driven bass lines, and insistent drums that shimmer like diamonds against the darkness of space. Time, space, memories, and relationships all inform the bittersweet and questioning lyrics.
Echoed contemplative vocals float through opener "Hard To Breathe" that also shines with airy, sky-high synths and fast-jingling percussion. The Slowdive-reminiscent title track winds with a shadowy intensity, aiming for both the zenith and the abyss.
The lighter number "Seasons" unfurls at an unhurried pace with chiming reverberation and a muffled beat, while skyline drive guitars touch the lowering clouds. An encroaching darkness fills the foreboding post-punk "The Possibility of Only," marked by deeply reflective vocals and a funereal sonic pall.
The Cure-like "Woven" balances heavy and bright with a churn of noir sonics and vocals and tendrils of brighter instrumentation reaching out of the mire. The luminous and thoughtful "Distant Memories" softly resounds with arcing guitars and celestial synths, sometimes breaking out with tambourine jangle and passionate vocals.
The Space Has Always Reduced Me To Silence was recorded at Where Are We Going Studio Lab in Baltimore, MD and Laboratorio Soniko Studio in Middletown, PA during the 2018-2019 time period. Andres Lugo is featured on guitars, bass, and drum programming, while Tom Lugo is showcased on vocals, guitars, bass, keyboards, and drum programming. Tom Lugo also provided the lyrics and arranged, mixed, and mastered the album.
Andres Lugo is known for his work with sonically charged projects like Pneuma, Los Dientes Hundidos En La Garganta, and Astrid Proll, as well as for his work in the independent music and arts scene in Puerto Rico.
Tom Lugo's music projects include the bands Stellarscope, Panophonic, and Under The Wire, and he is also the owner of indie label Patetico Recordings.
Cielo Oceano's first-ever single, "Moth To A Flame," bowed in the summer of 2018, and in the fall of that year they dropped a remix of a previously unreleased track titled "Nada Mas Que Decir" on the international compilation Tsuitachi No Tori via Chip Music.
In October of 2019, their single "Emptiness" appeared on the compilation and visual art event the Años Luz IX by the Alianza Exploradora Intergalactica, a semi-autonomous society of musicians and experimental artists who share their knowledge and resources in mutual cooperation in sound, plastic arts, and visual movement exploration in Puerto Rico.