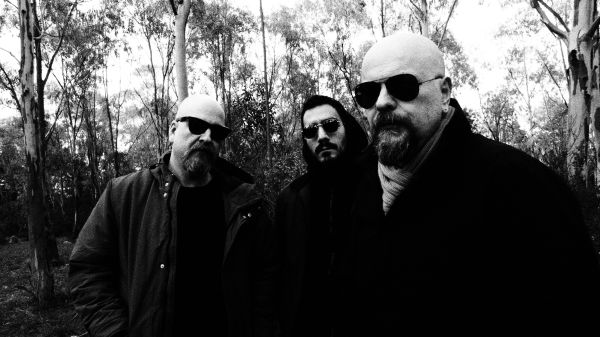 10 February 2020
Mechanimal – Photo Credit: Bianca Bogdanou
Mechanimal is an industrial/synth-punk audio-visual unit hailing from Athens, Greece that was founded in 2011 by songwriter and music producer Giannis Papaioannou. The act's latest, and fourth, album, Crux, just came out via Greek label Inner Ear Records.
Mechanimal's musical language draws upon influences from a wide range of genres, and features male (and female) vocals against a backdrop of repeating mechanical beats, shoegaze guitar drones, and pulsating synth sequencers.
Their eponymous debut was released in 2012 by Inner Ear featuring Freddie Faulkenberry on vocals and Tassos Nikogiannis on guitars.
Secret Science, their second album, was released in 2014 by Inner Ear. The line-up for their third album, symbolically titled by the acronym Delta Pi Delta, consisted of Eleni Tzavara on vocals, along with both past guitarists and released by Inner Ear in January 2016.
On new LP Crux the dramatic vocals of Faulkenberry meet the guitar distortion of guest contributors (Jimmy Polioudis on "Easy Dead" and George Theofanidis on "Red Mirror"), at the point where shoegaze sonics break the Motorik drone 'n' roll, which Mechanimal have defined in each of their songs for over a decade.
The Big Takeover is stoked to host the premiere of the visually frenetic video for "Savages," an aurally battering track that lives up to its title. A relentless push of pummeling beats, buzzing guitar abrasion, electro-grind, and even a pensive, wandering violin line, greets the ear, as well as Faulkenberry's stark spoken-word vocals where he parses out bleak lyrics like, "Look how at how lucky I am … / I grow up in the dark / Violent city / full of death and despair."
The bold, hyper-driven music video with audacious speed-freak editing was directed by Gerasimos Domenikos, a photo-journalist and founding member of FOSPHOTOS, a Greek photo agency offering a comprehensive proposal for the collection, production, and distribution of contemporary Greek photography.
The intense video clip is composed of an overloaded multitude of photographic images that follow each other and overlap at a breakneck (breakeyes?!) pace, creating a dizzying, still-shots visual world that captures the vividly lively, yet unsparing streets of Athens, Greece. As Faulkenberry forebodingly intones, ""We're all standing here / on the edge of doom / with no exit strategy…"
Papaioannou delves into the meaning behind the song's serious lyrics, revealing, "Everyone carries a suitcase with their personal treasure inside and this may be different things for each one of us; objects, ideas, memories, material goods or useless things for me and you. And yes, this is a romantic or theoretical idea about what we all consider precious. But real life is beyond us: there're also those who go round in a city with no mercy, and all they have in their bag is an old pillow and a dirty blanket. So, this is a song dedicated to all homeless people."