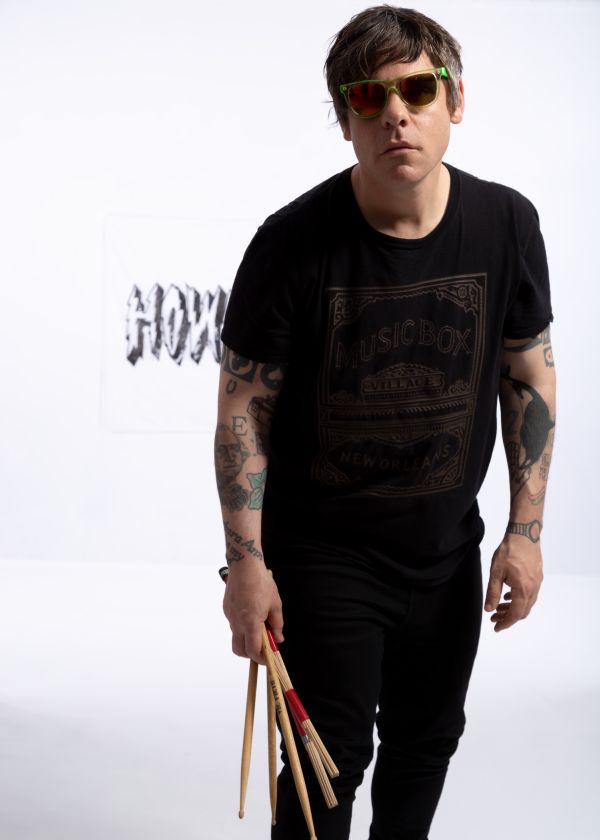 21 February 2020
Howardian – Photo Credit: Tudor Vasilescu
Howardian is an American art-pop/punk collective fronted by Ian Vanek (ex- Japanther) that includes Justin McKaughan, Gardner Allen, Troy Marrero, and Mustafa Daka. The group just released their 7th album, Are You A Frienda Brenda?, on February 20th via Rad Girlfriend Records.
The LP spotlights Vanek's unique craftsmanship with tasty notes of post-punk, New Wave, punk, and garage rock that are sure to delight even the most discerning sensibilities. The group uses loose polyrhythms, sticky synth and piano-based melodies, analog drum machines, and dynamic vocal hooks to make strange, yet catchy songs.
The resulting infectious art-rockers are authentic and enjoyable, featuring fuzzy, distorted walls of sound and plenty of samples, all with a scuzzy garage-rock vibe.
Vanek's penchant for being prolific is only overshadowed by the quality of songwriting. Some songs brim over with sly lyrics, while other tunes run on more thoughtful and straightforward sentiments.
Album opener "Rock Candy" is a brisk jolt of punchy punk/rock/pop that we hosted its video premiere of in January. The post-punk-leaning "Downer Grove" runs on a jazz-punk vibe with its extended sax glow and a contrast of swaying and agitated rhythms.
A warm sax line and pushing bass line forms the core of "Cabrillo Beach," while limpid piano notes dance around the Ramones-like dispassionate sing-talking vocals. The jauntily stuttering "Pacific County" is a bittersweet slice of lyrical nostalgia, with Vanek reflecting back on a relationship at a specific time and location.
The galloping "Gravely Lake" goes full-bore punk rock with its flailing pace, bashed drum beat, and thick guitar fuzz. "Tecate Divide" is more laid-back with hazy vocals from Vanek singing about a destination unknown amid bursts of cymbals crash and the trill of velvety saxophone. The album ends with the jumpy number "Villa Stray" that presses forward with a speedy tandem of drum strikes and bass line urgency. This is juxtaposed, however, with contemplative piano notes, sax diffusion, and Vanek's dreamier vocal musing.
Howardian and this record transcend the lines of rock 'n' roll with genre-bending style, all the while preserving a connection to each listener through their sincerity and independent spirit.
RAD GIRLFRIEND RECORDS
Rad Girlfriend Records