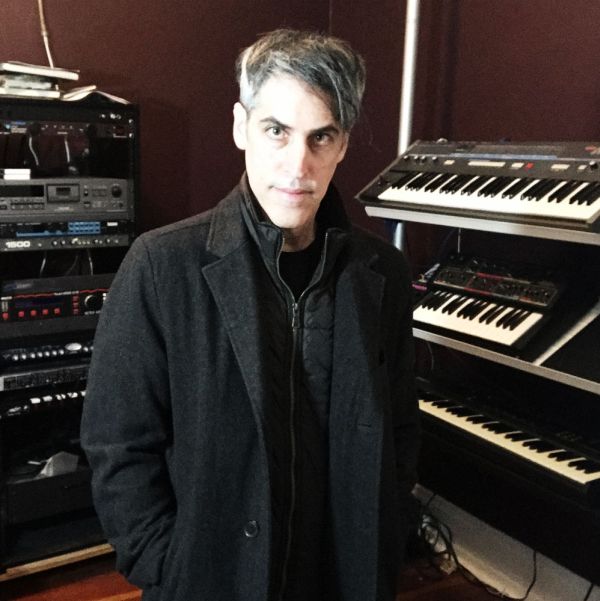 3 March 2020
Sam Rosenthal – photo courtesy of Sam Rosenthal
Given where Black Tape for a Blue Girl began over thirty years ago with founder Sam Rosenthal's exploration of brooding, extended electronics and strings meshed with deeply revealing lyrics and darkly textured, melodramatic vocal performances, it's striking to see his muse and inspiration reach a new peak with his recent 11th and 12th albums (These fleeting moments, and To touch the milky way). The ethereal, Gothic, and dark ambient stylings that made the band one of the originators of American darkwave are in full force on these recent releases.
Rosenthal's recent compositions as Black Tape for a Blue Girl feel as if they were born from the same place as their '90s classics Remnants of a deeper purity and A chaos of desire. Sam's lyrics explore the existential predicaments of time's passage, choices questioned, and loves lost.
Rosenthal's pensive electronics and revelatory songwriting has made fans of director David Lynch, former adult actress Sasha Grey, writers Poppy Z. Brite and Caitlín Rebekah Kiernan. Supporters of the music regularly tell Rosenthal that it was the emotional and personal connection to the music they felt during times of stress and personal crisis that drew them to the band's moving sound.
The Projekt Records founder just released on February 28th the remastered, expanded 30th anniversary edition of the album Ashes in the brittle air. The original LP was released in 1989 was the Black Tape for a Blue Girl's third full-length. And this magnificent new edition now includes 6 bonus tracks and well over a dozen demos and early mixes.
Rosenthal looks back at the original album's release and how this remastered and expanded edition came to be:
"I closed out the '80s with Black Tape For A Blue Girl's third album, Ashes in the brittle air. As I recall, it was the release that finally got the band noticed. No doubt it helped to have a somewhat more traditional goth rock song ("Across a thousand blades") with guitars and drums on the album. It could get played on the radio (which it did); Oscar had a chance to sizzle with dramatic and passionate vocals. The other side of the album is a softer, sensitive approach in the vocals of Sue-Kenny Smith. We recorded in London, where she lived, most of the songs were one or at most two takes. She brought a spontaneous, organic English-folk quality to the album; mixing that with my electronics and ambience — and Oscar's vocals — created a diverse collection of songs that arrived at just the right moment. There wasn't really anyone else in America doing this ethereal style."
"Ashes was the first Black Tape released on CD; the improved sonic quality over the previous two (crappily-pressed) LPs really benefited the music. With this expanded re-release, my mastering guy went back and worked from the original quarter-inch mix down tapes. It sounds amazing, so much subtle detail can be heard, everything warmer and more present. I really love it! I added six bonus tracks (on the second disc) from that era — something special for the album's fans. There's no way I can go back in time and write more pieces in this exact style; these tracks from back in the day — they are completed songs I never released for artist-angst reasons — is a wonderful addition to the album. Also included are a bunch of demos, and early mixes to round out the 21 bonus tracks."
"I crowdfunded this release; 267 backers pledged nearly $10,000 to create this expanded deluxe edition. It is amazing knowing people care about this work enough to help me make an even-more-special version for them. I really appreciate this positive loop that crowdfunding creates."
Bandcamp
Spotify
Website
Facebook
Twitter
Instagram