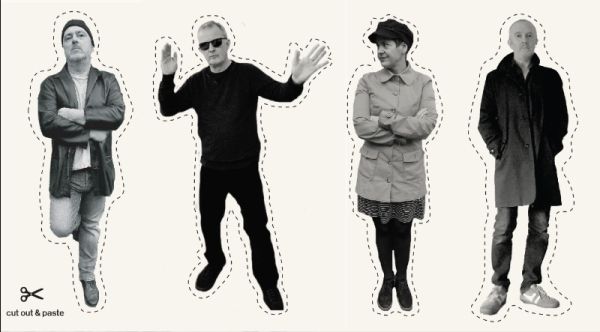 19 October 2021
Swansea Sound – Photo courtesy of Swansea Sound
Swansea Sound: a band that came into being during lockdown and decided that fast, loud, political indie pop-punk was the answer to being stuck indoors. Who needs introspection?
Hue Williams is reunited with Pooh Sticks singing partner Amelia Fletcher (ex- Talulah Gosh, Heavenly). Rob Pursey (also ex-Heavenly) and Ian Button (Wreckless Eric's live collaborator, ex-Death In Vegas) provide the noise. Fletcher, Pursey, and Button also perform in The Catenary Wires (and released album Birling Gap this past June).
Swansea Sound are the funny, angry, gleeful and savage past, present and future of indie. The band has played just one gig in real life – but there will be more in 2022.
Their debut album Live at the Rum Puncheon will be released on November 19th on vinyl/CD/cassette/digital. It will not be available on streaming sites.
In the UK, it is released on Skep Wax / Lavender Sweep. In the US, via HHBTM / Austin Town Hall. In Indonesia, though Shiny Happy Records. In Japan, on Hayabusa Landings.
Opening track "Rock N Roll Void" catches you up on the past: a two-minute revision session to make sure you haven't forgotten The Kinks, The Ramones, and the brief explosion of noise pollution that was C86 pop.
The track puts its arm round The Buzzcocks and The Undertones (and maybe even The Pooh Sticks), gives them a great big kiss, and then kicks them into the here and now with a raucous, singalong, punk/pop blast.
The guitars are loud and sweet and demand your attention, while the lyrics ask profound questions: "Who am I? Where do I come from?", and "Where's the volume control? 'Cause I need to play this song REALLY LOUD!"
"Rock N Roll Void" is a good illustration of the album. Witty, sardonic, catchy, anti-corporate pop, fizzing with life. Which is perverse in a way, given that the album was recorded in lockdown without the band members ever meeting. But not quite as perverse as naming the album after a notorious pub in Swansea that closed down decades ago and was demolished in the 1980s.
In the performance music video, Hue and the rest of the band enter their own rock 'n' roll twilight zone, surrounded by posters, fanzines, and cassette tapes (What are those?!) from their previous lives.
Swansea Sound took their name from a radio station, and they even use its abandoned logo. Something modern and acidic has taken up residence in a familiar, borrowed frame, just as it has in these indie punk-pop songs. You can throw yourself around to Swansea Sound like it's 1986, but if you catch the lyrics you'll remember you're in 2021. Sorry about that!
Pre-Order Live at the Rum Puncheon at Bandcamp at the Rum Puncheon_