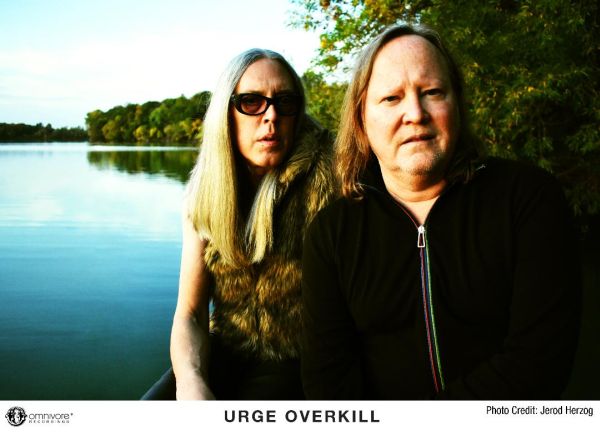 18 October 2021
Urge Overkill – Photo Credit: Jerod Herzog
The acclaimed veteran rock band Urge Overkill is composed of two unique voices and singer-songwriters, Nash Kato and King Roeser.
Oui, their first new release in more than a decade, is an album full of their signature mix of gritty rock, catchy hooks, and a certain 'je ne sais quoi', which is exactly what a post-pandemic planet has needed for far too long.
Omnivore Recordings will release Oui on CD and digitally on January 28, 2022.
Roeser and Kato, two Minnesota native sons, met at Northwestern University in Evanston, Illinois. Pulling their name from Parliament's title track "Funkentelechy," Urge Overkill was born in 1984, releasing their debut EP Strange I… on fellow Northwestern student Steve Albini's Ruthless Records (with Albini in the production chair).
Touch and Go Records founder Cory Rusk championed the band as well, and Jesus Urge Superstar appeared on that classic Chicago label, once again helmed by Albini (while the band was housed in his basement).
Next came 1990s Americruiser, this time produced by Butch Vig, featuring a sound and style that influenced fellow bands like Smashing Pumpkins and Nirvana, who would consequently use Vig.
1991s The Supersonic Storybook (named by Material Issue's Jim Ellison) brought Albini back to the production role, and Urge Overkill opened for Nirvana on American and European legs of Nirvana's Nevermind tour. At that point, Pearl Jam tapped them for their Vs. tour, and Urge Overkill was playing huge arenas.
Urge recruited Kramer (Bongwater, Butthole Surfers) to produce 1992s Stull EP, which included a cover of Neil Diamond's "Girl, You'll Be a Woman Soon" and the original "Goodbye to Guyville" — whose title was adapted by Liz Phair for her acclaimed debut. Even as just an EP, the release proved that Urge was ready for the big leagues, and they signed to Geffen Records later that year.
1993 brought the world Saturation, produced by the Butcher Bros. (Cypress Hill, Nine Inch Nails, Anthrax). Featuring radio hits like "Sister Havana" and "Positive Bleeding," the band rock 'n' rolled on.
While working on Saturation's follow-up, Quentin Tarantino picked Stull's "Girl, You'll Be a Woman Soon" for inclusion in his 1994 film Pulp Fiction. The movie and soundtrack became a massive hit, rocketing Urge into the public consciousness. After 1995s Exit the Dragon, Urge's whirlwind first decade came to a close. It was time for a break.
Kato and Roeser reunited in 2010, playing a set at Tarantino's Friar's Club Roast, and sat on the podium alongside Samuel L. Jackson and Uma Thurman. Two years later, Rock & Roll Submarine was released to great critical acclaim.
Now, a decade later, Urge Overkill returns with Oui — 12 new tracks, including 11 originals and an Urge-ified cover of Wham!'s "Freedom!"
Big Takeover is stoked to host the premiere of Urge Overkill's dynamic reinterpretation of Wham!'s track, turning an upbeat pure pop song into a punchy rock 'n' roll number with a gospel touch.
On the lead single Kato and Roeser kick up a romping racket of bright and rollicking guitar riffs, running bass line, crisp and emphatic drum and cymbals strikes, and heartfelt main vocals. As the song progresses, the addition of soulful backing female harmonizing give "Freedom!" a spirited rave-up vibe.
It's the logical extension of everything everyone loves about Urge Overkill: killer riffs, memorable hooks, and the style and swagger of Nash Kato and King Roeser.
Nash Kato gives some insight into the creation of their uplifting cover, revealing, "The King&l were wrapping up a rather odd (albeit pleasant) acoustic 'DynamicDuo' tour through EuroTown and enduring our rather fortunate exodus from Moscow."
"Naturally, our TM/chauffeur was tuned into some crazy station (and anything goes on Radio Free Europe?) whence we heard "Freedom!""
"It sounded vaguely familiar, but instantly catchy? After returning home, we eventually found it online (the word "freedom" our only clue) and were flabbergasted to discover it was indeed penned by George Michael?!"
"We demoed the tune, then somehow shelved it, as we began writing what would become Oui."
"Upon receiving the dreadful news of his premature departure in 2016, we felt compelled to include that track on the album."
"We as UO are proud to represent a true music legend with this inaugural offering, from a record we've dedicated to another rock legend, Bobby Vee (who also passed later that year), in whose studio we recorded "Freedom!""
Website
Facebook
Twitter
Instagram
Omnivore Recordings Website